Looking for the best Search and Destroy Class setups in Black Ops Cold War? 
After our article on the best SnD class setups for Modern Warfare was such a success. We decided to make a new article for Cold War. 
This Cold War SnD guide goes in-depth into the best class setups to run in the latest Call of Duty title. 
Search and Destroy has been one of Call of Duty's fan favorite game modes since forever. It's certainly in the top three most played game modes along with TDM and Domination. 
Cold War has taken Call of Duty away from a more realistic style and returned to more arcade-like three lane maps. This is perfect for Search and Destroy because it opens more opportunity to rush and learn the routes. 
Most importantly, the weapons are quite manageable this year with a good variety to choose from. We went through a variety of class setups and did a lot of testing to find these top 5 Search and Destroy class setups. 
This guide will go through the gunsmith and discuss each attachment and why it was chosen. We will then discuss the rest of the class setup in regards to perk selection and equipment. Perks and equipment are often overlooked in SnD, especially by those who may not have much experience. 
Best SnD Gunsmith & Class Setups
Below are our 5 best Search and Destroy class setups in Black Ops Cold War. Our class setups take into consideration that everyone will have their own playstyle as well as wanting to use the META weapons. At the end of the day, Call of Duty always has those select few guns that are super high powered. 
SnD Class 1 – MP5 Gung-Ho
The Gung-Ho class setup is perfect for rushing and staying aggressive. The MP5 is one of the best weapons in the game so you'll see it more than once. 
9.5" Ranger Barrel
SFOD Speedgrip
40 RND Speed Mag
SASR Jungle Grip
No Stock
This gunsmith setup focuses on a balance of weapon attributes. It gives you an extra 10 rounds in the mag while increasing Firepower, Speed, and Accuracy. The MP5 needs to be quick and snappy especially in game modes such as SnD where one second lost could cost you the game. 
The Hauer 77 is a beast shotgun with great firepower. It really is perfect for Search. If you run out of ammo in your primary make sure to whip it out and finish off your opponent.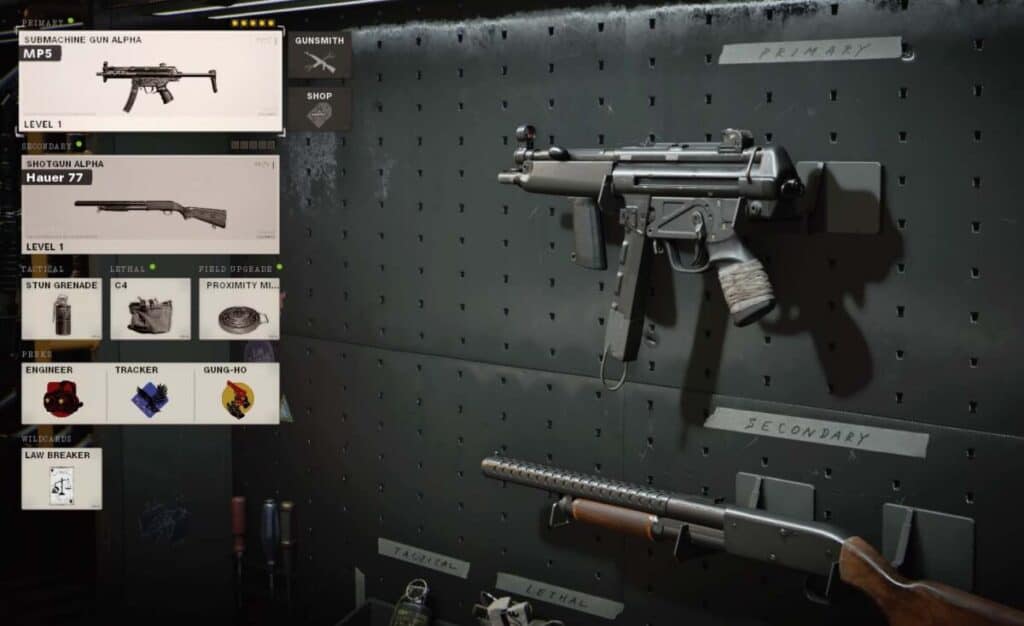 The remainder of this class uses Engineer, Tracker, and Gung-ho. Engineer and Tracker are great for gaining the heads up on enemy movement and equipment. Gung-ho gives you a range of abilities including firing and using equipment while sprinting.
SnD Class 2 – AK47
This AK47 class setup is excellent for SnD. The AK47 is an absolute machine in Cold War and it's shaping out to be one of the META weapons. 
KGB Eliminator
18.2" Reinforced VDV Barrel
Spetsnaz Grip
Serpent Wrap
40 RND Speed Mag
This gunsmith setup focuses primarily on improving Firepower and Accuracy. The Serpent Grip combined with the Spetsnaz Field Grip really improves the weapons ADS time. In fact, they increase by 35%. 
Secondary: Gallo SA12
Run the Gallo SA12 as secondary for this class setup. This shotgun is a better option over the Heuer 77 because of the improved fire rate. So it's a better option if your aim is not so good.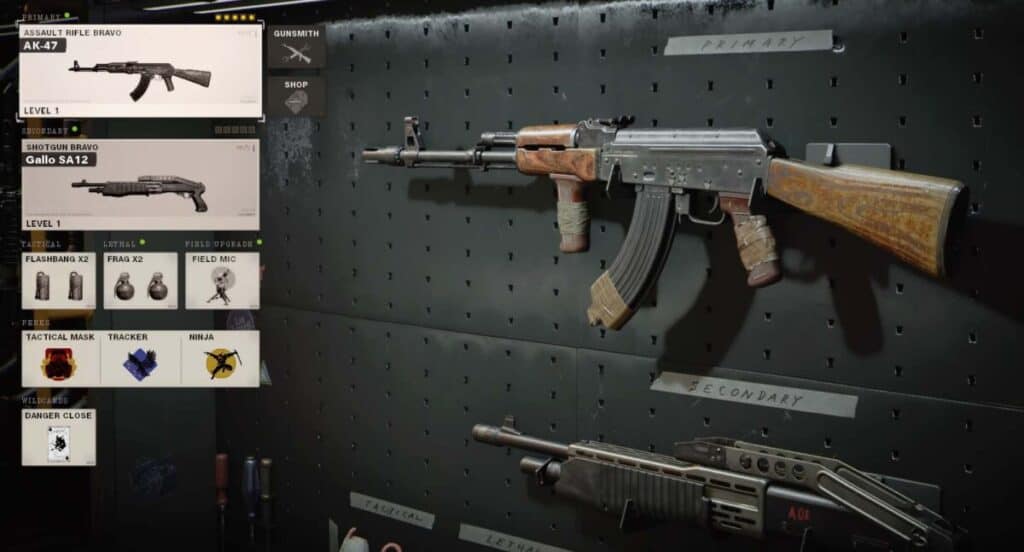 The AK47 class utilizes Tac Mask, Tracker, and Ninja. Tracker and Ninja combined enable you to sniff out snipers and flank them unexpectedly. In this class, we will use Danger Close to get two Flashbangs and two Frags.
SnD Class 3 – MP5 Sniper
This MP5 class setup is tweaked for a combination of stealth and reconnaissance. Here we are going to use the same attachments as the first one above. However, we need to change out the no stock to the Raider Stock. This is provided you have the weapon leveled up this far.
9.5" Ranger Barrel
SFOD Speedgrip
40 RND Speed Mag
SASR Jungle Grip
Raider Stock
The addition of the Raider Stock gives you an additional 30% Sprint to Fire Time and adds 10% to your Aim Walking Movement Speed. However, you do lose some hip-fire accuracy as a result. Just stick to ADSing enemies with this setup.
Secondary: Pellington 703
This class uses the Pellington for those long-range engagements. It's always a good shout to have a sniper on hand especially when the enemy has planted the bomb and you need to pick people off from a distance before moving in.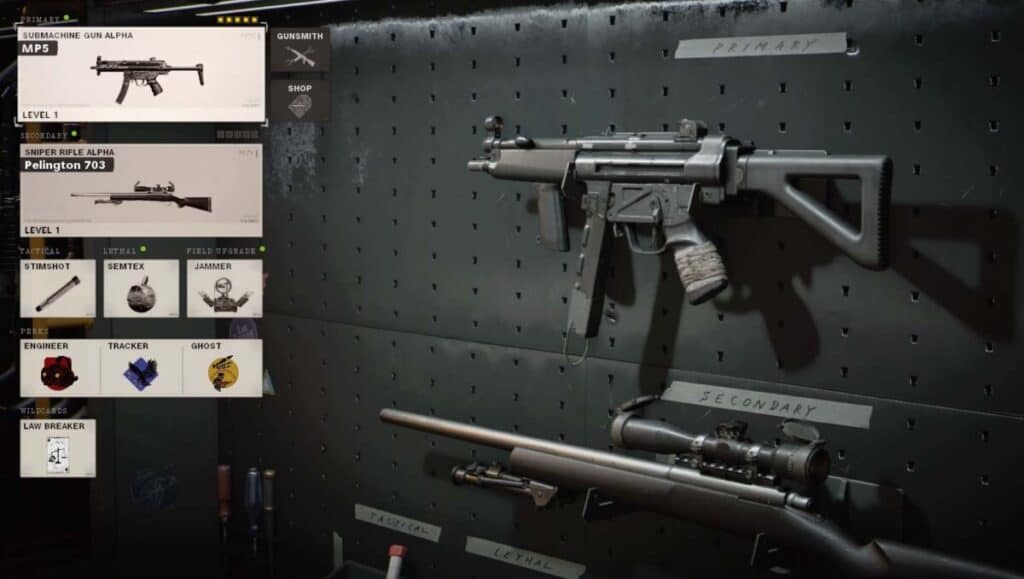 The rest of the class setups uses the Stimshot so you can hop back into the gunfight quicker. It's very useful when you've taken a few hits and need to jump back out at the enemy.
SnD Class 4 – AUG
The AUG SnD class setup is geared to maximize the weapon's firepower while adding additional speed and accuracy to the weapon. 
Axial Arms 3X
19.8" Taskforce Barrel
Field Agent Foregrip
SASR Jungle Grip
CQB Pad
The AUG gunsmith is fitted with the Axial Arms 3x scope for more accuracy at range. This combined with the Task Force barrel makes the AUG very accurate and powerful at range. The Field Agent Foregrip and SASR Jungle Grip allow for snappy ADS.
Secondary: Gallo SA12
Run the Gallo SA12. It's powerful and very effective at close range. With shotguns as secondary this year it's really hard not to run one as a backup. Except when you run the magnum as we will suggest in the next class.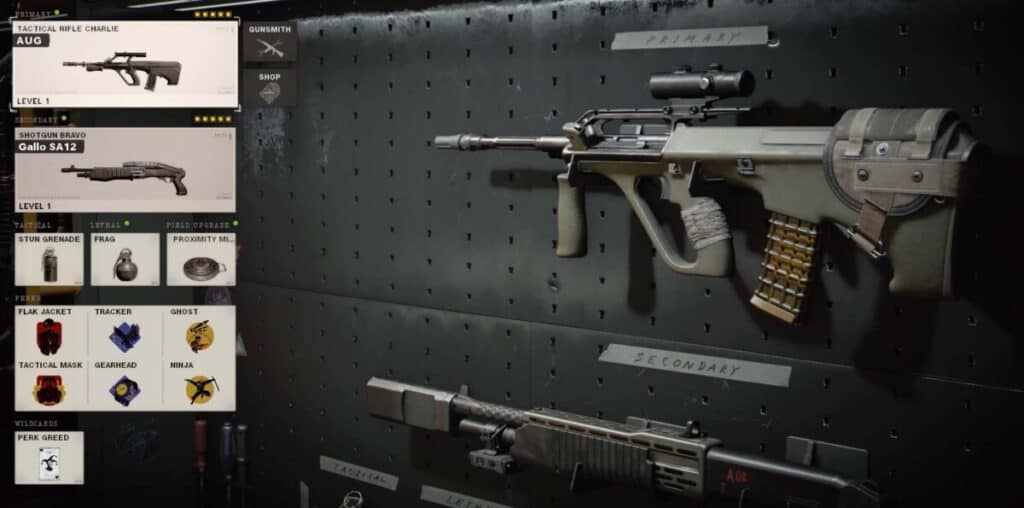 This class utilizes the benefits of 6 perks. These perks are by far the best 6 to run in search. It allows you to have protection from pretty much every annoyance in the game. The best part about this setup is Ghost and Ninja. These two perks make search and destroy much more enjoyable.
SnD Class 5 – Krig6
The Krig6 class setup is great for players that want a balance of stealth and resilience. Load the following onto the AR:
Quickdot LED
Muzzle Brake 5.56
15.5" Contour
SOF Target Designator
Bruiser Grip
40 RND
SASR Jungle Grip
Wire Stock
This Krig6 SnD Gunsmith loadout maximizes the speed of the weapon by utilizing the Contour Barrel, Bruiser Grip, SASR Jungle Grip, and the Wire Stock. These 4 attachments drastically boost the weapon's speed attributes.
Secondary: Magnum
The Magnum is the only secondary worth running over the shotguns. If you're going to run a pistol other than it we recommend the Diamatti.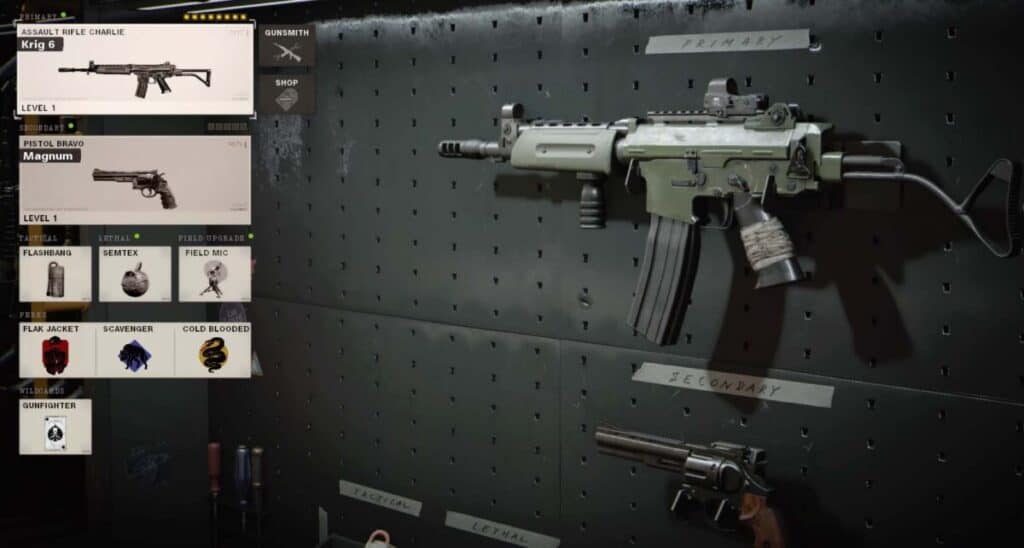 This final class setup utilizes Flak jacket for protection from explosives, Scavenger for ammo replenishment, and Cold Blooded to hide you from snipers using thermals. It also can confuse enemies who don't see an enemy GT over your head. We also use the Gunfighter Wildcard so we can load 8 attachments on that baby.