Whether you're an eSports pro, spending a few spare minutes on your phone, or immersing yourself in an endless fantasy realm for hours, who doesn't adore online gaming? However, it's important to remember that racking up points shouldn't lead to lowering your cybersecurity defenses. Here are our top 10 tips to ensure your online safety while gaming with a joystick, or even an angry bird in hand!
1. Use strong passwords
To safeguard yourself against threats such as brute force attacks, credential stuffing, and other password attacks, it is advised that you utilize a distinct and random password consisting of at least 16 characters for each of your gaming accounts.
Recalling all of your unique passwords can pose an incredibly challenging task. Therefore, we suggest employing a password manager to keep track of them on your behalf. A password manager utilizes an encrypted vault to securely generate and store passwords. These passwords are safeguarded by a master password of your choosing, which is the sole password you will need to remember.
2. Turn on MFA
Use multi-factor authentication (MFA), also known as 2-factor authentication, to enhance the security of your accounts. Some games and gaming systems now support MFA. MFA options include biometrics like face ID scans or fingerprint access, security keys, or apps that provide unique, one-time codes for logging in.
We strongly recommend utilizing MFA whenever available. It's like fortifying your loot crate with a castle!
3. Install a VPN
When you use VPNs for browsers and separate applications, you can guarantee that no one knows your actual location and IP address, making it impossible for a DDoS attack to occur. If you choose a good VPN without logs, you can prevent any consequences even in the event of lawsuits.
When we talk about no-log VPN, we mean that while playing online games, your VPN does not collect data about you. This is one of the most important parameters for choosing a VPN for online gaming safety. Additional VPN features include a double VPN, strong encryption, a kill switch, and protection against IP and DNS leaks. One of the best solutions by all the listed criteria is VeePN.
For instance, VPNs conceal your IP and encrypt the data. VeePN even enhances response, reduces latency, and optimizes your internet connection, while enabling you to select the server worldwide. This proves especially helpful when games require connecting to a server based on your place of residence.
4. Don't share PII
Sometimes, online gamers become friends or engage in conversations while working together towards game objectives. However, it's important to remember that conquering a digital fort together doesn't guarantee the safety of sharing personal information with your gaming partner.
You should avoid disclosing personally identifiable information (PII), such as your location, even if you provide a broad answer. If necessary, it can be a legitimate strategy to lie when asked questions like this. This approach helps prevent threat actors from piecing together a profile of your identity and location.
5. Unlink your social media accounts
For online gaming security, disconnect your social media accounts. Game companies like Riot Games, Blizzard, and Bethesda Softworks monitor all your in-game conversations, as well as external postings. To safeguard your privacy, avoid linking platforms such as Facebook to any game account.
6. Use only reliable resources
You should download games only from official websites to keep your computer and data safe. Although game downloads might be available for free or at a discounted price on pirate websites or other non-official sources, they often expose you to malware and other cyberattacks.
Of course, you can download a VPN and this will increase your cybersecurity, but you still should not use pirated sites. It's only a matter of time before you encounter hacking, viruses, etc. Remember, it's better to wait for a sale than to risk your computer and data by downloading a suspicious game file.
7. Block data collection
Did you know that some video games secretly collect data about you? You can take control and block these invasive programs by making a few adjustments to your Windows host file. Simply add an IP address (0.0.0.0) and hostname associated with the service, and watch as they're rerouted away from troublesome remote servers!
Another option is to install a VPN to trick the system and prevent the game from collecting real user data. Learn more about connecting to a VPN and its role in the life of a gamer in the reviews. These reviews provide up-to-date, reliable information.
8. Block suspicious people
If you come across an online user exhibiting odd behavior, sending you messages containing suspicious links, or harassing you, take immediate action and block them. Such behaviors have the potential to escalate into targeted attacks, jeopardizing your cybersecurity, physical safety, and emotional well-being. Ignoring the situation is not recommended, as failing to block the user grants them continued access to your account information, providing them an opportunity for cyberattacks.
9. Avoid using cheat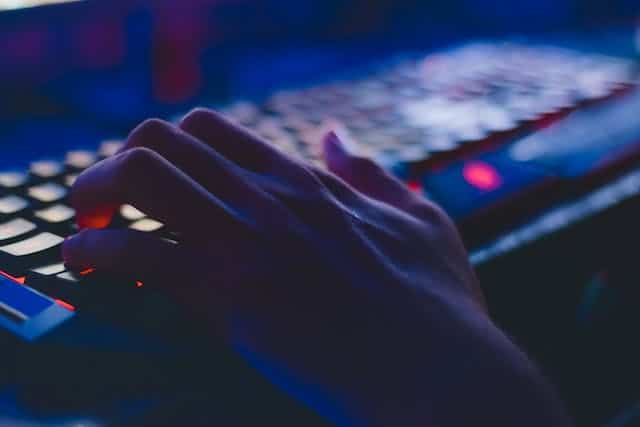 Most of us strive to win when playing a game, but it's crucial to exercise caution when it comes to cheating. Downloading certain applications that give your character superhuman abilities can have severe consequences, not just for other players' gaming experience but also for your own security.
Hackers may seize the opportunity to steal personal information or even exploit your computer for unauthorized cryptocurrency mining. They might even lock you out of the game until you pay a ransom, resulting in complete isolation. So, before you risk losing everything for the sake of one victory, think twice about downloading cheats.
10. Check your settings
Once you acquire a new gaming console or experience a new game, promptly access its privacy and security settings. Customize them according to your preferences. It is important to note that several game developers automatically opt for the least secure settings, therefore, assuming that the default settings align with your preferences is not advisable.
For instance, your game might automatically share your behavior and location data with the manufacturer. Assess the type of data you are comfortable sharing and make your decision accordingly.
Conclusion
Any online activity is a potential risk area. Hackers are trying to target both gamers and travelers. However, the listed methods allow you to minimize risks. Yes, anyone can experience online scams in certain circumstances, but you need to be prepared.