The MP5 is a fully auto submachine gun in COD Black Ops Cold War. The MP5s strong point in the SMG category is its low recoil in comparison to the AK74u. This makes it easier to control than the other subs. It also has a fast fire rate which makes it lethal in close range.
It has the second-best time to kill among the SMGs after the AK74u at 280ms. Its only downside is the bullet velocity which can be corrected using attachments. We will get further into that below.
Weapon background
The MP5 is a Call of Duty classic. It has appeared in nearly every Call of Duty title except Black Ops 3 and 4 and titles pre COD 4. 
Stats
Damage: 32 -23 Headshot Damage: 1.4X Multiplier
Rate of Fire: 857RPM
Recoil: Moderate to high
Time to Kill: 280ms
From the weapon stats above we can see that the MP5 is a 5 to 7 shots to kill. The weapon will deal maximum damage from anywhere within 10 meters. Its main strengths are its strong time to kill combined with its fast fire rate.
MP5 Cold War Best Attachments
The best attachments for the MP5 in Cold War are the:
9.5" Extended Barrel
Socom Eliminator muzzle
Field Agent Grip
Speed Tape
The 9.5" Extended Barrel will give you an added 40% bullet velocity which makes the weapon more viable in long-range engagements, the Socom Eliminator and Field Agent grip combined turn the weapon into a laser beam. Literally no recoil.
Best Class Setups
Class 1 – One For All
The One For All class setup does exactly what it says. It's great for all game modes and playstyles.
Gunsmith:
SOCOM Eliminator
9.5" Extended
Field Agent Grip
Jungle-Style Mag
Speed Tape
Class Setup
Here you can switch up the secondary as you feel fit.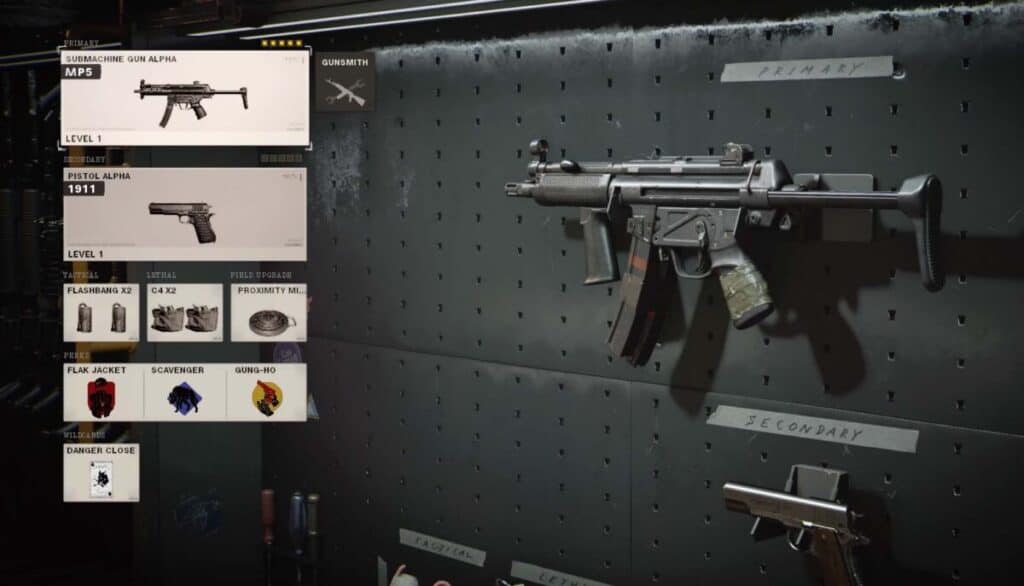 Secondary: 1911
Perk 1: Flak Jacket
Perk 2: Scavenger
Perk 3: Gung-Ho
Lethal: C4
Tactical: Flashbangs
Field Upgrade: Proximity Mine
Wildcard: Danger Close
Class 2 – Objective Gamer
The Objective Gamer class is our favorite, especially for game modes such as Domination.
Gunsmith:
Microflex LED
SOCOM Eliminator
9.5" Extended
Steady Aim Laser
Field Agent Laser
40 Round Speed Mag
Speed Tape
Collapsed Stock
Class Setup
The remainder of the class focuses on perk balance. Here Gearhead is used in order to charge your Field Upgrades faster. Remember you'll be capping and defending objectives so Trophy Systems are very effective.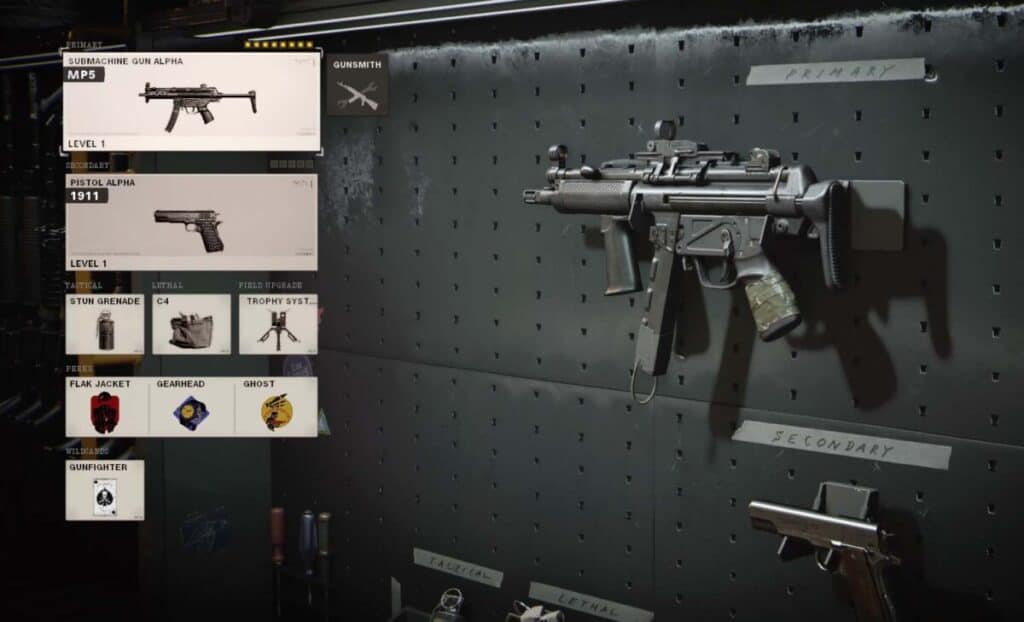 Secondary: 1911
Perk 1: Flak Jacket
Perk 2: Gearhead
Perk 3: Ghost
Lethal: C4
Tactical: Stun Grenade
Field Upgrade: Trophy System
Wildcard: Gunfighter
Class 3 – Search and Destroy Expert
The final MP5 class is a perfect class for search and destroy. Perfect for staying fast and stealthy.
Gunsmith:
Sound Suppressor
9.5" Reinforced Heavy Barrel
Foregrip
40 RND Speed Mag
Serpent Wrap
Class Setup
The rest of the class utilizes the Perk Greed Wildcard in order to stack the best perks.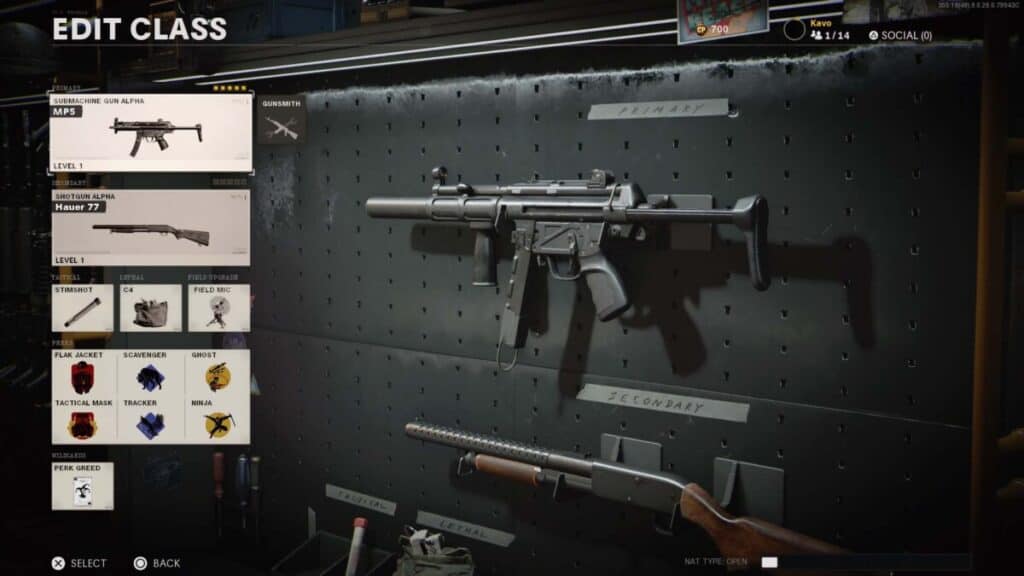 Secondary: Hauer 77
Perk 1: Flak Jacket / Tactical Mask
Perk 2: Scavenger / Tracker
Perk 3: Ghost / Ninja
Lethal: C4
Tactical: Stimshot
Field Upgrade: Field Mic
Wildcard: Perk Greed