The AUG is a burst fire tactical rifle. The weapon deals high damage and takes out an enemy with 1 burst if all shots land. It has a slower movement speed than the M16 but still fairs well when compared.
As with all the tactical rifles, ADS times and fire power are naturally lower so our focus on attachments will be to address these downfalls. 
Below you will find a review of the weapon stats, best attachments, and class setups for the AUG in Black Ops Cold War. 
Weapon background
The AUG has featured in many Call of Duty as different variants down the years. It has been an LMG, AR and SMG throughout various titles. 
Stats
Damage: 54
Rate of Fire: 857 RPM
Recoil: Low
AUG Cold War Best Attachments
The best attachments for the AUG in Cold War are the:
Quickdot LED
17" Titanium Barrel
Serpent Wrap
Raider Pad
The 17" Titanium Barrel adds 21% to the fire rate of the weapon, the Serpent Wrap boost ADS times by 25%. In terms of a stock, the Tactical Stock is fine for starting off until you unlock more on the weapon, then move onto the SAS Combat or Raider Pad.
We also recommend changing out the optic on the AUG. You can find some great classes below which does just that.
Best Class Setups
Class 1 – Speed and Power
This class uses the gunsmith to maximize the speed and firepower of the AUG. 
Gunsmith:
Quickdot LED
17" Titanium
Infiltrator Grip
Serpent Wrap
Tactical Stock
Class Setup
The remainder of the class is tuned to maximize equipment and field upgrade abilities.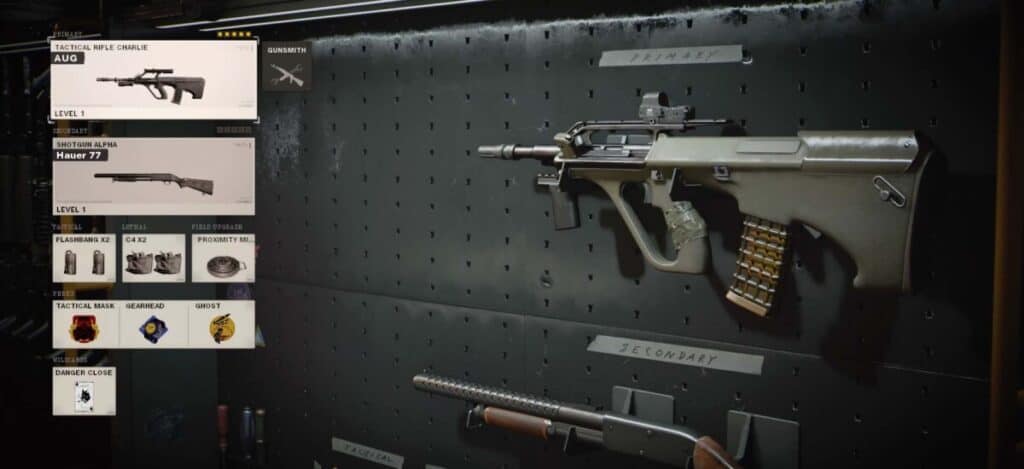 Secondary: Hauer 77
Perk 1: Tac Mask
Perk 2: Gearhead
Perk 3: Ghost
Lethal: C4 x2
Tactical: Flashbang x2
Field Upgrade: Proximity Mine
Wildcard: Danger Close
Class 2 – AUG Rusher
The AUG rusher setup is maxed out and built for speed. Perfect for rushers.
Gunsmith:
Millstop Reflex
Infantry Compensator
17" Titanium 
SOF Target Designator
Patrol Grip
45 Speed Mags
Serpent Wrap
Marathon Stock
Class Setup
The rusher class setups' key parts are the Stimshot and Scavenger. Stimshot is a must-have for aggressive players and Scavenger keeps you supplied in case you run low.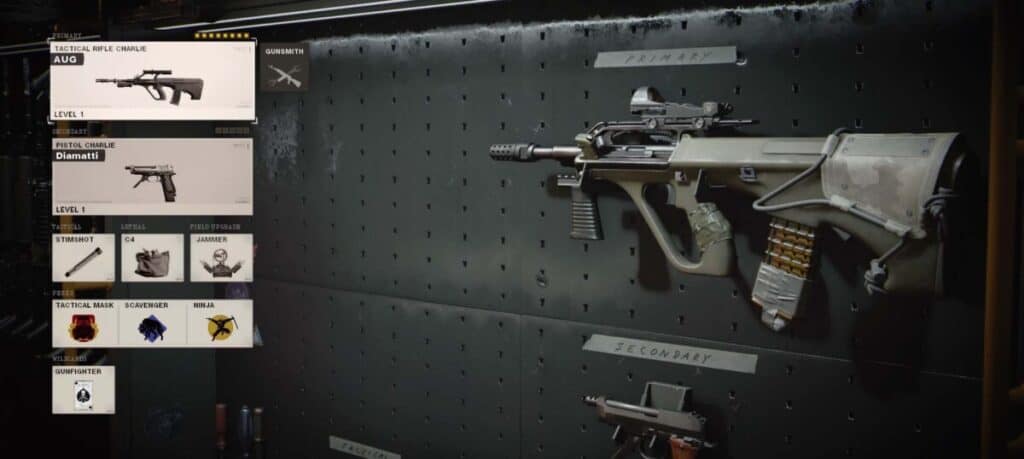 Secondary: Diamatti
Perk 1: Tac Mask
Perk 2: Scavenger
Perk 3: Ninja
Lethal: C4
Tactical: Stimshot
Field Upgrade: Jammer
Wildcard: Gunfighter
Class 3 – AUG All Round
The AUG All Round class is suited to a range of game modes and playstyles. There's a fair balance in the stats after these gunsmith adjustments.
Gunsmith:
Axial Arms 3x
Silencer
17" Titanium
Stanag 54 Round Drum
Serpent Wrap
Class Setup
The rest of the class setup utilizes the benefits of Perk Greed Wildcard. Kit your perks out as much as you want. Below is a good setup.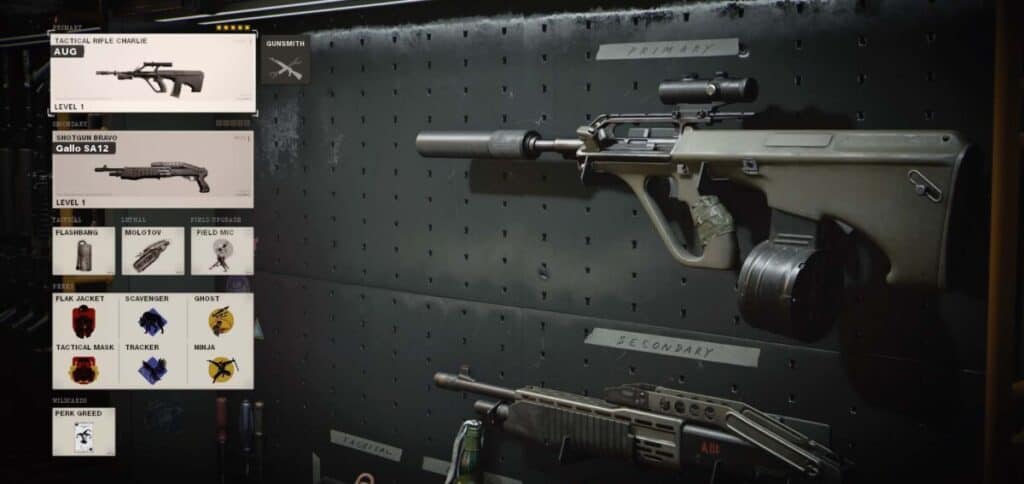 Secondary: Gallo SA12
Perk 1: Flak Jacket / Tac Mask
Perk 2: Scavenger / Tracker
Perk 3: Ghost / Ninja
Lethal: Molotov
Tactical: Flashbang
Field Upgrade: Field Mic
Wildcard: Perk Greed