The Krig 6 is a fully automatic assault rifle in Black Ops Cold War. The weapon provides decent accuracy and damage along with a very controllable recoil. 
It's most certainly one of the best assault rifles in the game. It wins over the AK-47 because of its higher accuracy and less recoil. 
These settings guides go through the weapons stats, best attachments, and best gunsmith setups to use with the Krig 6 in Black Ops Cold War. 
Weapon background
The Krig 6 is the first of its kind in a Call of Duty. Under that specific name anyway. The weapon is most like the Galil from previous Call of Duty titles. Similar to the Galil from Black Ops 1. It has decent damage with great accuracy.
Stats
Damage: 35
Rate of Fire: 652 RPM
Recoil: Moderate
Krig6 Cold War Best Attachments
The best attachments for the Krig 6 in Black Ops Cold War are the
Kobra Red Dot
19.7" Takedown Barrel
Airborne Elastic Wrap handle
Infiltrator Grip
Speed Tape
The 19.7" Takedown barrel extends the weapon's effective damage range by a whopping 150%. The Airborne Elastic Wrap drastically increases ADS speed and makes you much more flinch-resistant.
Finally, the Infiltrator Grip gives you a balance of speed improvements.
Best Class Setups
Below are the top recommended class setups for the Krig 6 in Black Ops Cold War. There is a class that suits the weapon's different play styles below. 
Class 1 – Krig 6 War Season
The first class is called War Season and is great for people who want to max out the Krigs performances but they might be only on a low level for the weapon. The requirements are low for this weapon so you don't need to unlock many attachments.
Try this gunsmith loadout in your next few games.
Krig 6 Gunsmith:
Kobra Red Dot
16.5" Ultralight
Infiltrator Grip
40 Round Mags
Speed Tape
Class Setup
The rest of the class is great for objective-based games such as domination or hardpoint.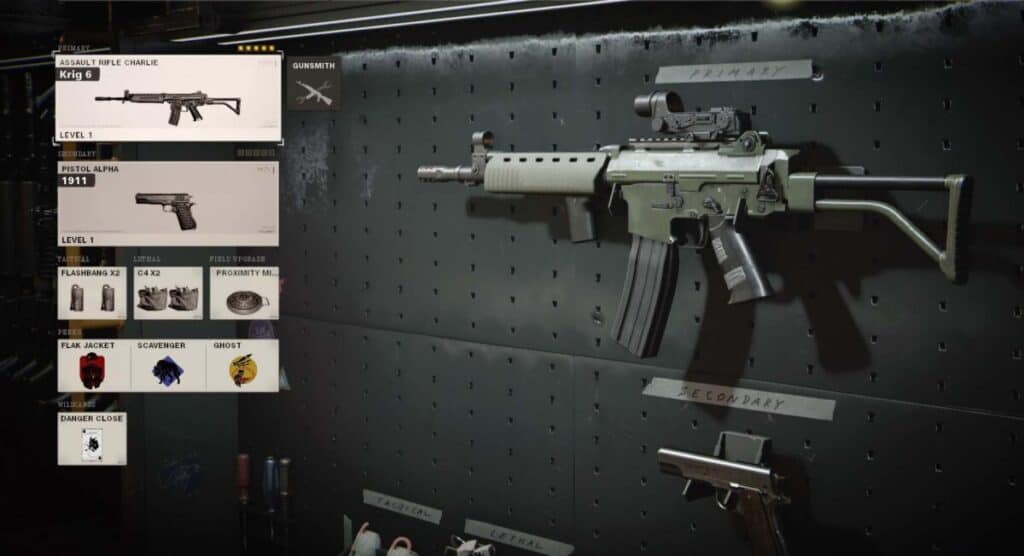 Secondary: 1911
Perk 1: Flak Jacket
Perk 2: Scavenger
Perk 3: Ghost
Lethal: C4
Tactical: Flashbangs
Field Upgrade: Proximity Mine
Wildcard: Danger Close
Class 2 – War Krig
This second Krig 6 class is called the War Krig and is geared toward those who like to maximize ammo capacity. It works really well when going on higher scorestreaks. Attach the following to the weapon. 
Gunsmith:
Axial Arms 3x
Socom Eliminator
Infiltrator Grip
40 Round Speed Mags
Dropshot Wrap
Class Setup
The remainder of the class works really well for staying loaded with ammo and keeping stealthy. These two things are important when you're trying to go for higher scorestreak games.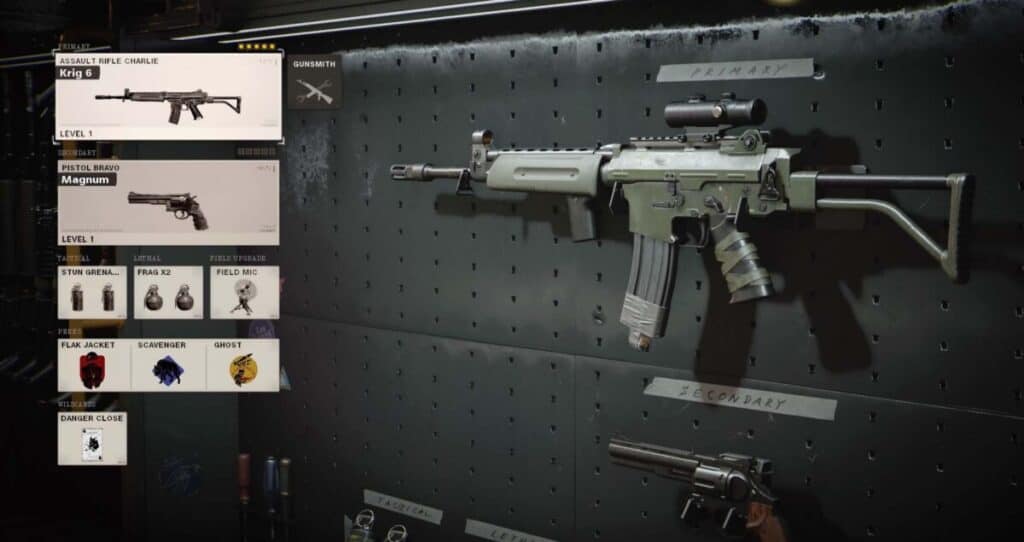 Secondary: Magnum
Perk 1: Flak Jacket
Perk 2: Scavenger
Perk 3: Ghost
Lethal: Frag
Tactical: Stun Grenade
Field Upgrade: Field Mic
Wildcard: Danger Close
Class 3 – COD Cold
This is our favorite Krig 6 class setup. It's a perfect all-rounder class that works great in all situations. Load these attachments onto the AR to feel its snappy effects.
Gunsmith:
Microflex LED
Socom Eliminator
19.7" Takedown
Airborne Elastic Wrap
SAS Combat Stock
Class Setup
The remainder of the class setup is built for versatility. This is why we use the Gallo SA12 as secondary. Perfect for close-range firepower. Try this next time you jump on a game of Black Ops Cold War.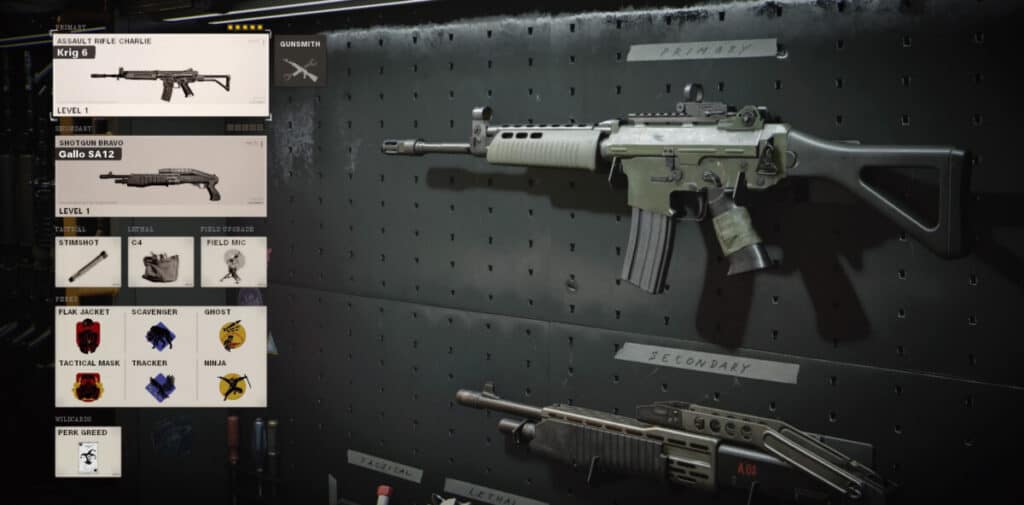 Secondary: Gallo SA12
Perk 1: Flak Jacket, Tac Mask
Perk 2: Scavenger, Tracker
Perk 3: Ghost, Ninja
Lethal: C4
Tactical: Stimshot
Field Upgrade: Field Mic
Wildcard: Perk Greed