Looking for the best AK47 class setups and attachments in Modern Warfare? Today's guide goes through the AK47 stats including damage, range, and fire rate.
We will also take you through the best class setups and attachments for the AK. We discuss the best attachments along with why they are they are best.
Weapon background
The AK47 is a fan favorite in Call of Duty. In fact, it has made an appearance in every Call of Duty title since COD 4 Modern Warfare. It has always been a heavy-hitting, high recoil assault rifle. However, if players learn to master the weapon, it is unstoppable.
Stats
Damage: 35-32
Shots to Kill: 3-4
Recoil: High and kicks vertically
Rate of Fire: Moderate
Best Attachments
The best attachments for the AK47 in Modern Warfare are the:
Stippled Grip Tape
Commando Foregrip
5.56mm conversion kit
Skeleton Stock
40 Round Mags
The first twp will speed up your ADS and sprint out time, drastically. 
Another beast attachment for the AK47 is the 5.56mm conversion kit. This attachment has undergone patching and is now a very powerful attachment. It turns the AK47 into the 2 headshot killer up close.
The AK47 is a heavy-hitting assault rifle. In terms of damage and range, it handles itself quite well without any attachments. It truly depends on what you need to use the weapon for.
The remainder of the slots is up to you. However, we have found some very good classes that work really well. Check them out below.
If you're looking for God Tier stats in MW2. Try Modern Warfare 2 boosting today!
AK47 Best Class Setups
Class 1 – For Mother Russia
This class is great for running and gunning as well as defending and attacking objectives. The AK47 is built for speed. Attach the Tac Laser, Skeleton Stock, Commando Foregrip, 40 Round Mags, and the Stippled Foregrip.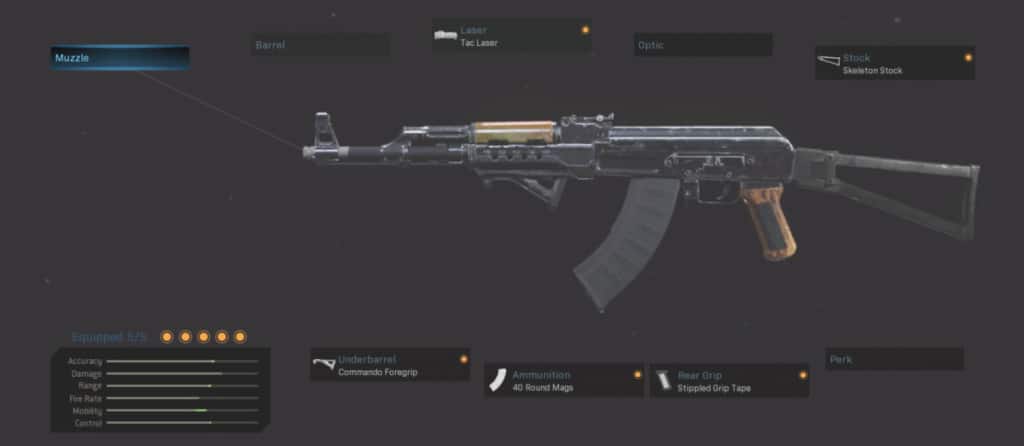 Class Setup
The remainder of the class is geared towards a balance of everything, fun, and destruction.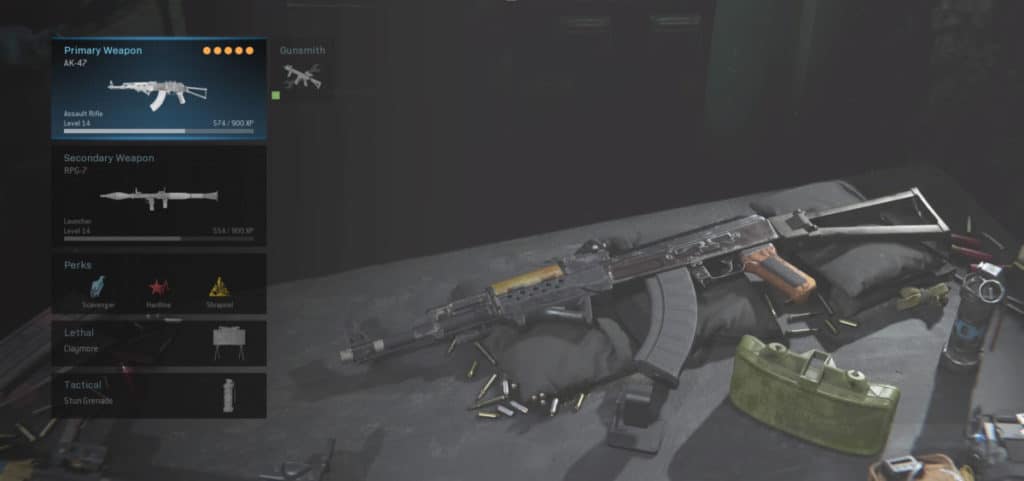 Secondary: The RPG in the secondary makes it easy to clear objectives.
Perk 1: Scavenger keeps you stocked up on ammo.
Perk 2: Hardline helps you with killstreaks.
Perk 3: Shrapnel gives you 2 claymores. Plant them near or around the objective.
Lethal: 2 Claymores thanks to Shrapnel.
Tactical: The Stun Grenade is an old handy.
Class 2 – Old Skool COD
This class is great for SnD. We used to run a near-identical class back in the old skool Black Ops 1 days. The AK47 is loaded with the Tactical Sniper, 1mW laser, Commando Foregrip, Stippled Grip Tape and Sleight of Hand.
This combination makes the AK47 a beast for rushing and running and gunning.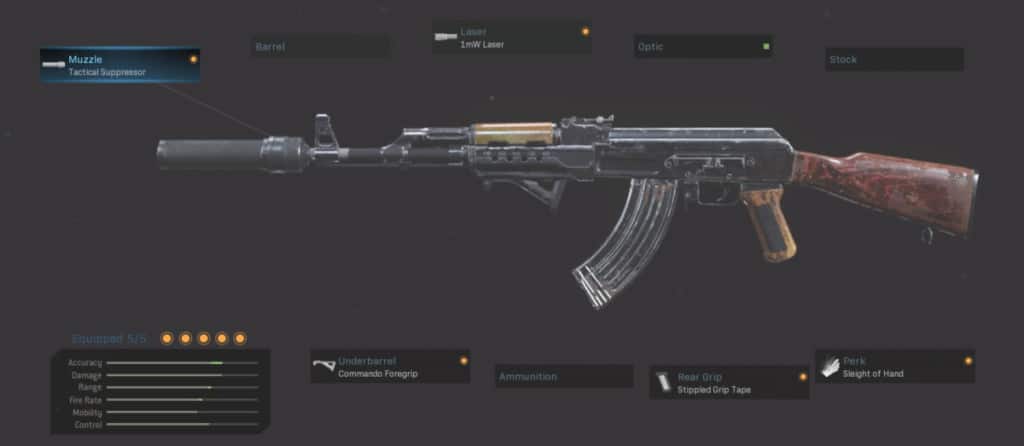 Class Setup
The rest of the class is made for speed and agility as well as intelligence.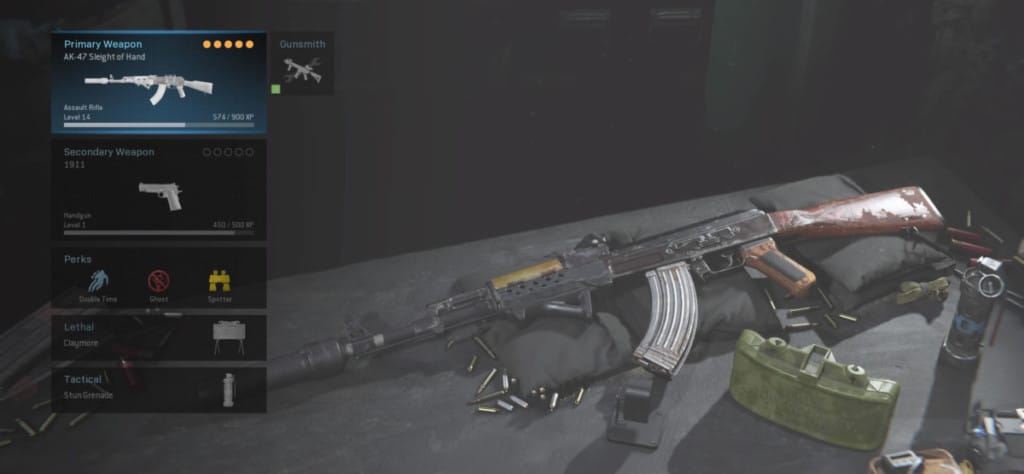 Secondary: The 1911 is trusty secondary. It has a good balance between power and fire rate.
Perk 1: Double Time is an essential perk in SnD. Make sure you are using it.
Perk 2: Ghost to keep you off the enemy radar.
Perk 3: Spotter is like the old skool Hacker perk and very effective in SnD. There are Claymores everywhere trust us.
Lethal: To be most effective with the Claymores place it on a flank route.
Tactical: The Stun grenade is great for quickly slowing down enemies.
Class 3 – Objective Player
Here is a class for all you guys and girls who love to play the objective. The AK47 is loaded with the RPK Barrel, 5mW Laser, Solozero Optic, Ranger Foregrip, and the Stippled Foregrip.
This setup makes the weapon great for long-range engagements as well as up close and personal. The perfect setup for those that love playing the objective.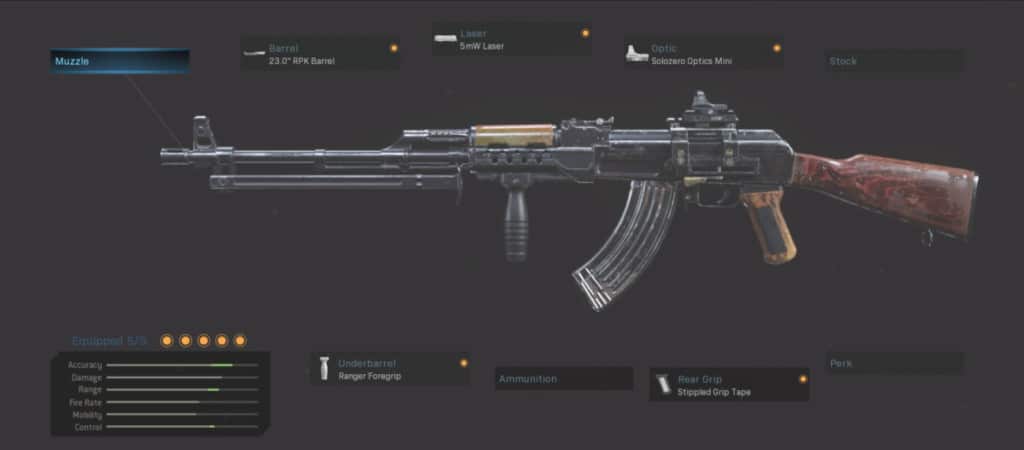 Class Setup
The remainder of the class is based around being defensive.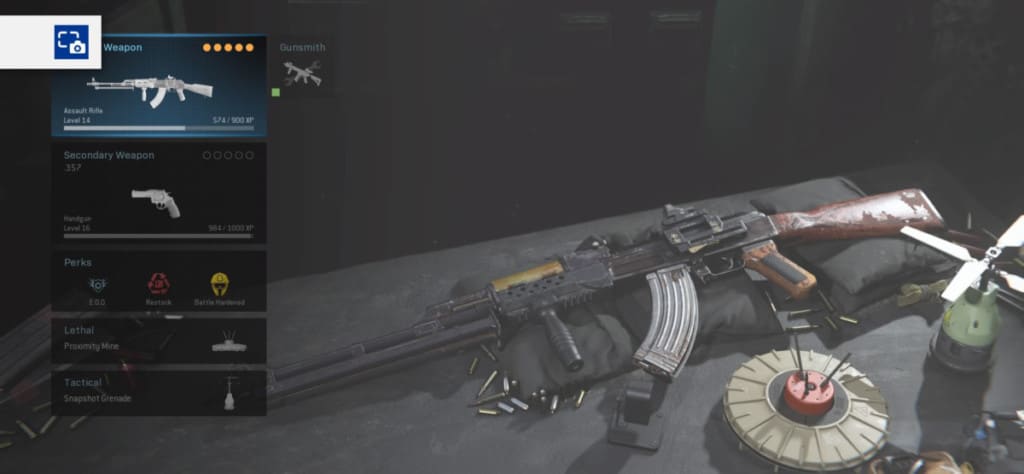 Secondary: The .357 as secondary. Make sure to equip Snakeshot ammo if you have it. If you don't have it. You NEED it. Check out our Modern Warfare pistol guide to find out why.
Perk 1: E.O.D. is essential if you want to play the objective. It will be bombarded with explosives, you know this!
Perk 2: Restock will keep your bouncing betties and Snapshots loaded.
Perk 3: Battle-Hardened is also very much needed if you're playing for the objective.
Lethal: Proximity Mines are great for placing on B Flag after capping it.
Tactical: The Snapshot is best used when you know the enemy is capping the flag or HQ. Chuck it into the OBJ and watch the enemies light up.