Do you want to know how to make the AK74u in Modern Warfare? We got your covered, this guide will take you through how to create the AK47 SMG variant. 
The AK74u first appeared in Call of Duty Modern Warfare 4 and has since reappeared in multiple Call of Duty titles. It is most certainly a fan favorite especially among players who love to play aggressive.
What you need to do first
Players need to level up the AK47 first. You need to unlock all the attachments mentioned below in order to create the AK74u variant.
How to make the AK74u in Modern Warfare?
First, lower the barrel size to the 8.1" Compact. Next, change the ammunition to 5.45x39mm rounds mags. Finally, take off the(no stock attachment). This setup requires some grinding before you will have all the attachments unlocked.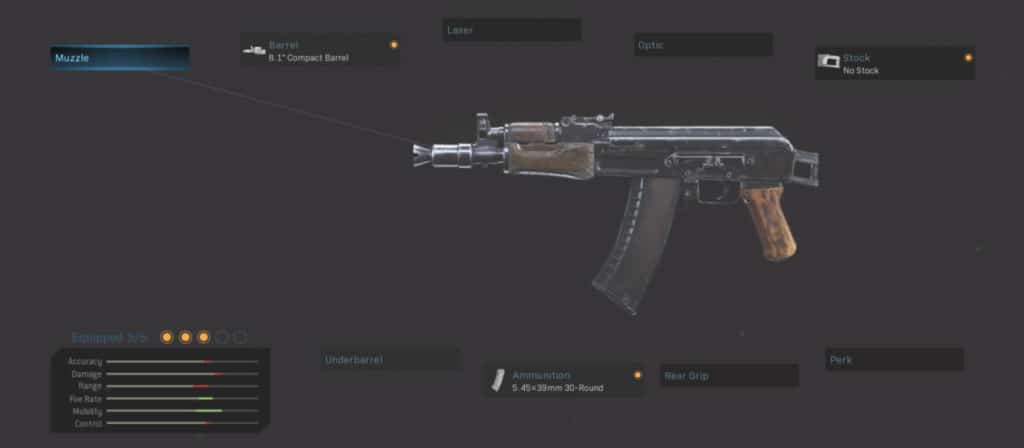 AK74u Stats
Damage: 22-14
Rate of Fire: 666RPM
Shots to Kill: 5
From the stats we see above, the AK74u can wipe out an enemy in 5 shots most of the time. At longer ranges, it drops off to 6 or 7 shots to kill. You get a boost in rounds per minute but unfortunately, the damage range drops a lot. It is best to aim at the chest area when going for shots with the AK74u as this will minimize the time to kill. Take a look below at our recommended strategy for the AK74u.
Best Strategy for the AK74u
The AK74u is an SMG so it should be used in close-quarter combat. The SMG has a very fast sprint out time and ADS. Therefore is suitable for players who like to play more aggressive and fast-paced. If you want to be successful with this weapon. Limit its use to smaller close range maps such as Shoot House and Gunrunner.