Are you looking to make the RPK in Modern Warfare? This guide will show you exactly how to make it.
Essentially, the RPK is an LMG variant of the AK47. It has a slower fire rate but an extended range. In this guide, we will show you how to make the RPK. In addition, we will discuss the weapons stats and the best strategy for the weapon. 
The RPK first made an appearance in Call of Duty in 2010 with the release of Black Ops. It has since reappeared in Black Ops 3 and of course in Modern Warfare as a variant.
What you need to do first
To make the RPK, you need to unlock all the attachments mentioned below. This requires leveling up the weapon until you have these attachments unlocked in the gunsmith.
How to make the RPK in Modern Warfare?
First, attach the RPK barrel. Then, attach the Field LMG Stock and finally change the ammunition to the 75 Round Drum Mag. You now have the RPK LMG in Modern Warfare.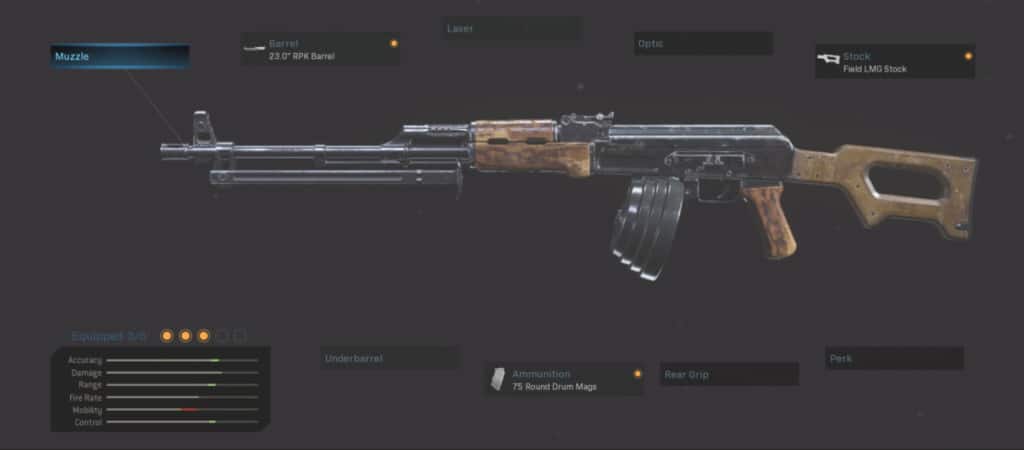 RPK Stats
Damage: 35-32
Rate of Fire: 540RPM
Shots to Kill: 3 
With the stats above we can see that the RPK is very similar to the AK47. It will take out enemies with 3 shots. With the addition of the longer LMG barrel. The RPK has amazing range and still manages to hold its 3 shot kill range.
Best strategy for the RPK
The RPK is a long-range beast. Being an LMG it excels in long-range combat. It is best used in objective-based game modes when holding down areas of the map. It especially works well in Groundwar because of the large and open lines of sights these maps provide. You essentially get the AK47 with lowered recoil and an increase in bullet velocity. In addition, the added drum mag makes it very easy and quick to reload.