This GT7 tuning guide goes in-depth on the Toyota Supra Best Speed Tune in Gran Turismo 7. We break down the best parts and car settings to make this 260MPH Monster!
The Supra is a Japanese Icon and sports car lovers' favorite all over the world. It appeared in every Gran Turismo game ever released.
How To Get The Supra In GT7
In GT7, you can unlock the Supra by purchasing it from the Used Car Market for 96,900 Credits.
Supra History
The Toyota Supra is a sports car that was first produced in 1978. The car was designed by Akio Toyoda, the grandson of the founder of Toyota Motor Corporation.
The Supra was originally marketed as a luxury car and was only available in Japan. In 1986, the Supra was redesigned and became available in other markets.
The third-generation Supra, which was produced from 1993 to 2002, is considered to be the most popular model.
The Supra has been featured in many movies and video games and has been popularized by its association with the Fast and Furious movie franchise.
Make sure to check out our latest Porsche Carrera GT Best Speed Tune while you're here! We've also got another Toyota tune, check out our Celica GT Four tune.
Car Specs
Below are the specs for the Supra Speed Tune. We can see that car pushes a respectable 777BHP. It also reaches a top speed of 260MPH or 418KMH.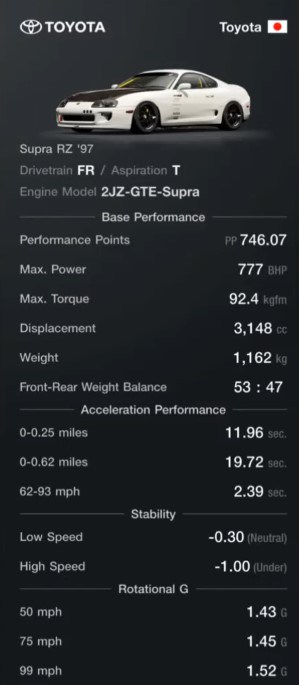 Max Speed: 260MPH/ 418KMH
Max Power: 777BHP
Max Torque: 92.4 kgfm
Displacement: 3148cc
Toyota Supra Best Speed Tune – Car Parts
Slap on the following parts to the Supra to make the tune. Nitrous is optional here and only really needed for online racing. You can mess around with other settings as you wish. Make sure to keep the toe neutral for speed racing.
Sports Parts
Weight Reduction Stage 1
Sports Hard Tires
Club Sports Parts
Bore Up
High Lift Camshaft
Weight Reduction Stage 2
Semi-Racing Parts
Racing Crank Shaft
Fully Customisable Computer
High RPM Turbocharger
Fully Customisable LSD
Weight Reduction Stage 3
Racing Parts
Stroke Up
Engine Balance Tuning
Polish Ports
Anti-Lag Systems
Racing Intercooler
Racing Air Filter
Racing Silencer
Racing Exhaust Manifold
Racing Brake Pads
Fully Custom Suspension
Racing Clutch and Flywheel
Fully Custom Racing Transmission
Weight Reduction Stage 4
Racing Soft Tires
Extreme Parts
Carbon Ceramic Brake Kit
Nitro
Car Settings
Make the following tweaks to the engine. Each stat that is separated means front and rear. So 90:90 on the body height adjustment means 90 front and 90 rear. The same goes for the rest of the stats. Any setting which has been left out hasn't been changed.
Suspension
Body Height Adjustment: 90:90
Anti-Roll Bar: 1:1
Damping Ratio(Compression):  40:40
Damping Ratio(Expansion): 30:30
Natural Frequency: 2.00:2.00
Negative Camber Angle: 2.5:2.5
Toe Angle: 0.00:0.00
Differential Gear
Differential: Fully Custom
Initial Torque: 0:60
Acceleration Sensitivity: 0:5
Braking Sensitivity: 0:60
Torque-Vectoring Centre Differential: None
Front/Rear Torque Distribution: None
ECU
ECU: Fully Custom
Output Adjustment: 100
Transmission
Transmission: Fully Custom: Racing
Top Speed: 300KMH
Transmission Manual Adjustment
1st: 3.100
2nd: 2.100
3rd: 1.550
4th: 1.200
5th: 0.974
6th: 0.799
Final: 2.400
Nitro/Overtake
Nitro Overtake: Nitro
Output Adjustment: 50
Conclusion
In this GT7 tuning guide, we break down the best parts and car settings to make the Toyota Supra a 260MPH Monster.
If you're looking to take your Supra up a notch in GT7, then be sure to try out some of these tips.
This tune was originally made by HSG Automotive. Check out his YT channel sometime.