This GT7 tuning guide goes in-depth on the Toyota Celica GT-Four Best Speed Tune in Gran Turismo 7. We show you the exact parts and car settings you need to make this beast.
Vehicle History
The history of the Toyota Celica GT-Four is a long and storied one.
The car was first introduced back in 1986, and it quickly gained a reputation for being one of the most impressive performance cars on the market.
In fact, many experts consider the GT-Four to be one of the best rally cars ever made.
Throughout its history, the GT-Four has been known for its exceptional performance and handling.
It's been a favorite choice among racing enthusiasts and rally drivers for years, and it's proven to be a formidable opponent on the track.
The car has also been praised for its impressive fuel economy, making it a great option for drivers who want a high-performing car that doesn't sacrifice fuel efficiency.
The GT-Four was used by Toyota in rallying and won the World Rally Championship (WRC) in 1993, 1994, and 1995.
It is also notable for its success in the Australian Rally Championship, where it won five consecutive championships from 1992 to 1996.
Make sure to check out our tune for the Camaro ZL1 1LE 18 while you're here.
Car Specs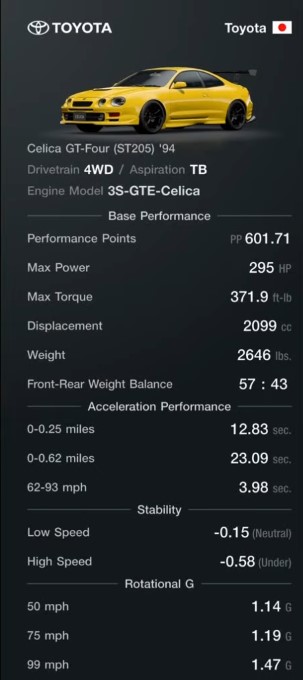 Performance Points: 601
Max Power: 296HP
Max Torque: 371.9
Displacement: 2099
Car Parts
Engine Tuning
Bore Up
Stroke Up
Engine Balance Tuning
Polish Ports
High Lift Cam Shaft
Racing Crank Shaft
Bodywork
Weight Reduction: Stage 1 and 3
Increase Body Rigidity
Toyota Celica GT-Four Best Speed Tune – Car Settings
Tires
Front: Sports Hard
Rear: Sports Hard
Suspension
Body Height Adjustment: 95:130
Anti-Roll Bar: 2:10
Damping Ratio(Compression): 23:23
Damping Ratio(Expansion): 40:45
Natural Frequency: 1.90:3.00
Negative Camber Angle: 0.0:0.0
Toe Angle: 0.05:0.00
Differential Gear
Differential: Normal
Initial Torque: 0:5
Acceleration Sensitivity: 0:20
Braking Sensitivity: 0:10
Torque-Vectoring Centre Differential: Torque Vectoring Center Diff
Front/Rear Torque Distribution: 50:50
Aerodynamics
ECU
ECU: Full Control Computer
Output Adjustment: 97
Performance Adjustment
Ballast: 55
Ballast Positioning: 50
Power Restrictor: 81
Transmission
Transmission: Fully Custom Racing
Top Speed: 260
Nitro/Overtake
Nitro Overtake: None
Output Adjustment: 0
Supercharger
Turbocharger: Low RPM
Anti-lag System: Anti-lag System
Anti-Lag System: On
Intercooler: Racing
Supercharger: None
Intake & Exhaust
Air Cleaner: Racing
Muffler: Racing
Exhaust Manifold: Racing
Brakes
Brake System: Carbon
Brake Pads: Racing
Handbrake: Normal
Handbrake Torque: 0
Brake Balance: Brake Controller
Front/Rear Balance: 3
Steering
Charge Steering Angle: Normal
4WS System: None
Rear Steering Angle: 0
Drivetrain
Clutch & Flywheel: Racing
Propellor Shaft: Normal
Conclusion
This tune was originally built by Harmonic, check out his awesome channel sometime. Make sure to let us know in the comment section if you liked the tune.