This tuning guide goes through the Nissan Skyline R34 Best Speed Tune in Gran Turismo. Make sure to copy the exact tuning below to make the tune.
The Skyline is Japanese sports car icon and loved by GT fans. It's been featured in every Gran Turismo ever made.
Skyline R34 History
The Nissan Skyline is a line of sports cars that have been produced by Japanese automaker Nissan since 1957. The first Skylines were coupes, and then came the GT-Rs. The R34 was the last of the fourth generation of Skylines. It was introduced in 1999 and remained in production until 2002.
Additionally, the R34 was popular for its powerful engines and stylish looks. It was considered one of the best cars in its class, and achieved great success on the race track. In fact, the R34 GT-R achieved a lap time of 8 minutes and 28 seconds at the Nürburgring Nordschleife racetrack, which was a record at the time.
Despite its popularity, the R34 was never officially sold in the United States. This led to many enthusiasts importing them from Japan, which can be a costly process. However, this has not stopped the R34 from becoming one of the most popular Skylines in the world.
Make sure to check out our latest Speed Tune for the Nissan GTR 17 while you're here
Car Specs
We can see from the specs below that the Skyline R34 02 pushes 785 ponies and that's without nitrous. You should be able to top 1334HP with nitrous.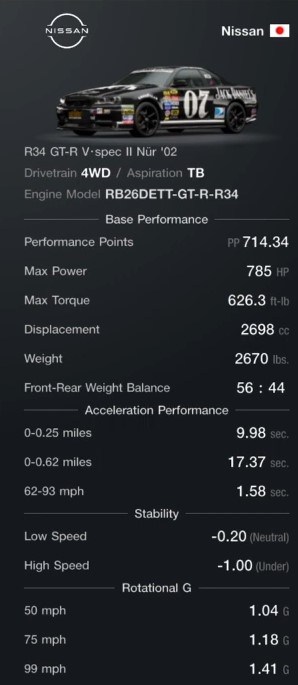 Max Power: 1334BHP
Max Torque: 626.3
Displacement: 2698cc
Nissan Skyline R34 Best Speed Tune – Car Settings
Copy the car setting below. Make sure to tune the transmission stats from gear 1 to 6 and then the final gear.
This tune is a great starter tune for anyone getting into tuning and testing speed tunes. Make sure to mess around more with the parts more to create something even more powerful.
Suspension
Body Height Adjustment: 90:90
Anti-Roll Bar: 9:9
Damping Ratio(Compression): 33:33
Damping Ratio(Expansion):47:47
Natural Frequency: 2.00:2.00
Negative Camber Angle: 2.8:1.6
Toe Angle: 0.08:0.06
Differential Gear
Differential: Fully Custom
Initial Torque: 28:28
Acceleration Sensitivity: 35:35
Braking Sensitivity: 26:26
Torque-Vectoring Centre Differential: Torque Vectoring Center Diff
Front/Rear Torque Distribution: 20:80
Aerodynamics
ECU
ECU: Full Control Comp
Output Adjustment: 100
Performance Adjustment
Ballast: 10
Ballast Positioning: 50
Power Restrictor: 100
Transmission
Transmission: Fully Custom Racing
Top Speed: 200
Transmission Manual Adjustment
1st: 5.271
2nd: 3.387
3rd: 2.469
4th: 1.847
5th: 1.413
6th: 1.041
Final: 2.082
Nitro/Overtake
Nitro Overtake: Nitro
Output Adjustment: 70
Conclusion
This guide goes over how to tune a Nissan Skyline R34 for top speed in Gran Turismo 7. The car can be tuned to achieve up to 1334BHP.
The process is detailed and requires some knowledge of GT cars and racing, but with careful tuning, you can get the most out of your Skyline.
Enjoy the tune.
This tune was originally made by JohnnySVDR on YouTube. Check out his channel sometime.