This guide breaks down the Chaparral 2J Best Speed Tune in Gran Turismo 7. We go through the engine tweaks and tuning made to create the tune.
The Chaparral 2J is nothing new to GT fans around the world. The car first appeared in Gran Turismo 4 back in 2004. It has since been featured in GT5, 6, and the PSP version.
How To Unlock The Chaparral 2J in GT7
In GT7, the Chaparral can be obtained by getting all gold on level 9 missions.
Vehicle History
The Chaparral 2J was first produced in 1970. It was designed by Jim Hall and succeeded the 2H. It's powered by a 650HP Chevrolet ZL1 engine. The body is all fiberglass and the car weighs a total of 1800 pounds.
Moreover, the Chaparral 2J is very unusual because it features a Rockwell JLO 247cc two-stroke engine on the back. These engines are usually found on snowmobiles.
Make sure to check out our latest Toyota Supra Speed Tune For GT7 while you're here.
Tune Specs
We can see from the specs below that the Chaparral 2J is a 638BHP beast. It slaps 76 Kilogram-force Meters to the pavement.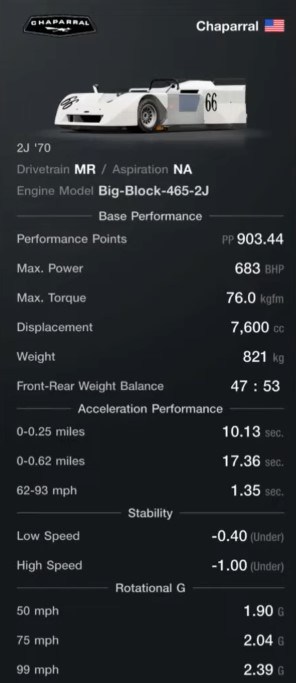 Max Power: 683BHP
Max Torque: 76 kgfm
Displacement: 7600 cc
Weight: 821 kg
Front-Rear Weight Balance: 47:53
Parts
Make sure the following parts are in the car to make the Chaparral 2J Best Speed Tune. Nitrous will give you that extra speed when you need it. All other parts have been changed to racing class including tires, gearbox, and suspension.
Nitrous
Racing Soft Tires
Race Customisable Gearbox
Race Suspension
Chaparral 2J Best Speed Tune – Car Settings
This car is a great all-around tune for speed and circuit racing. It's been tuned to provide a balance of speed and draft which makes it a more flexible tune. Copy the tweaks made below. When we leave the other settings out, it means no adjustments were made to these particular settings.
Suspension
Body Height Adjustment: 90:90
Anti-Roll Bar: 5:5
Damping Ratio(Compression): 30:30
Damping Ratio(Expansion): 40:40
Natural Frequency: 4.00:4.00
Negative Camber Angle: 1.5:2.0
Toe Angle: 0.00: 0.00
Differential Gear
Differential: Full Customizable
Initial Torque: 0:10
Acceleration Sensitivity: 0:30
Braking Sensitivity: 0:30
Torque-Vectoring Centre Differential: None
Front/Rear Torque Distribution: 0:100
Aerodynamics
ECU
ECU: Fully Customizable
Output Adjustment: 100
Performance Adjustment
Ballast: 0
Ballast Positioning: 0
Power Restrictor: 100
Transmission
Transmission: Fully Custom: Racing
Top Speed: 360
Transmission Manual Adjustment
1st: 2.300
2nd: 1.550
3rd: 1.100
4th: 0.825
5th: 0.619
Final: 3.500
Nitro/Overtake
Nitro Overtake: Nitro
Output Adjustment: 50
Conclusion
We hope you enjoyed this guide on how to create the Chaparral 2J Best Speed Tune in Gran Turismo 7.
Remember, each car is different and will require a different set of tweaks to get the best performance out of it.
Be sure to experiment with different settings until you find the perfect combination for your driving style and track. Happy racing!
This tune was originally made by HSG Automotive, check out his YT channel sometime