This GT7 tuning guide goes through the Nissan GTR Best Speed Tune in Gran Turismo 7. This 933 HP Machine is an animal on the race track.
The GTR has appeared in many Gan Turismo releases. It's an icon of Nissan fans around the world. Check out our latest tune for it below.
GTR 17 History
The Nissan GTR 17 is a popular car that has been around for many years. It is known for its high performance and excellent design.
The GTR was first released in 2007, and it has been a favorite among car enthusiasts ever since. Some of the Nissan GTR 17's features include a V6 engine, all-wheel drive, and a six-speed transmission.
It is also known for its high level of safety. It has been awarded five out of five stars in the Euro NCAP safety ratings.
The GTR has come a long way since it was first released. In the past few years, Nissan has made several improvements to the car.
For example, they have upgraded the engine to make it even more powerful. They have also added new features, such as an adaptive suspension system and a torque vectoring system.
These enhancements make the Nissan GTR 17 one of the most advanced cars on the market today.
While you're here check out our latest Nissan Skyline R34 Speed Tune.
Car Specs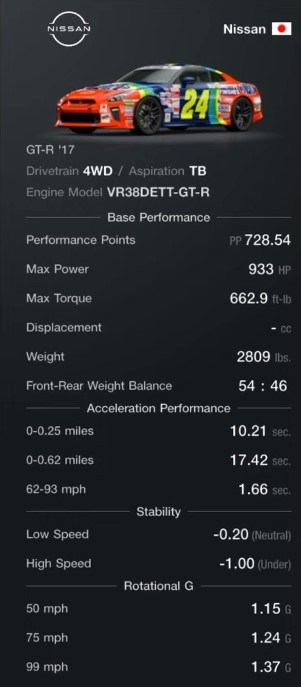 Top Speed: 295MPH +
Max Power: 933HP
Max Torque: 662.9ft-lb
Weight: 2809lbs
Car Parts
Engine Tuning
Bore Up
Stroke Up
Engine Balance Tuning
Polish Parts
High Lift Camshaft
Racing Crank Shaft
Bodywork
Weight Reduction: Stage 1, 2, 3, and 4.
Car Settings
Tires
Front: Heavy Wet: Racing
Rear: Soft: Racing
Suspension
Fully Custom Suspension
Body Height Adjustment: 85:85
Anti-Roll Bar: 9:9
Damping Ratio(Compression): 31:31
Damping Ratio(Expansion): 43:43
Natural Frequency: 1.60:1.60
Negative Camber Angle: 3.6: 2.6
Toe Angle: 0.11:0.11
Differential Gear
Differential: Active LSD Controller
Initial Torque: 50:50
Acceleration Sensitivity: 17:17
Braking Sensitivity: 50:50
Torque-Vectoring Centre Differential: Normal
Front/Rear Torque Distribution: 30:70
Aerodynamics
ECU
ECU: Fully Control Computer
Output Adjustment: 100
Performance Adjustment
Ballast: 0
Ballast Positioning: 0
Power Restrictor: 100
Transmission
Transmission: Fully Custom Racing
Top Speed: 320
Transmission Manual Adjustment
1st: 3.352
2nd: 2.141
3rd: 1.558
4th: 1.189
5th: 0.932
6th: 0.719
Final: 3.018
Nitro/Overtake
Nitro Overtake: Nitro
Output Adjustment: 50
Supercharger
Turbocharger: High RPM
Anti-lag System: Yes
Anti-Lag System: On
Intercooler: Racing
Supercharger: None
Intake & Exhaust
Air Cleaner: Racing(slotted discs)
Muffler: Racing
Exhaust Manifold: Racing
Brakes
Brake System: Racing(slotted discs)
Brake Pads: Racing
Handbrake: Normal
Handbrake Torque: 0
Brake Balance: Brake Controller
Front/Rear Balance: 0
Steering
Charge Steering Angle: Normal
4WS System: None
Rear Steering Angle: 0
Drivetrain
Clutch & Flywheel: Racing
Propellor Shaft: Normal
Conclusion
Make sure to copy these exact parts and tuning done to the car. If you liked the tune make sure to let us know in the comment section below!
This tune was originally made by JohnnySDVR, check out his awesome content on YT sometime.