This GT7 tuning guide goes through the Porsche 911 GT3 RS Best Circuit Tune in Gran Turismo. This tune is an all-around grip tune built for control and endurance.
The car first appeared in Gran Turismo with the release of Gran Turismo Sport in 2017 and has since made a reappearance in GT7.
Vehicle History
The Porsche 911 GT3 RS is a high-performance sports car that was introduced in 2003. It is the track-dedicated version of the Porsche 911 GT3.
The Porsche 911 GT3 RS is powered by a 4.0L flat-six engine that produces 500 hp. It can reach a top speed of 193 mph. The Porsche 911 GT3 RS is also known for its extreme handling capabilities.
While youre here, make sure to check out more of our GT7 Tunes.
Car Specs
Max Power: 491BHP
Max Torque: 47 kgfm
Displacement: 3996cc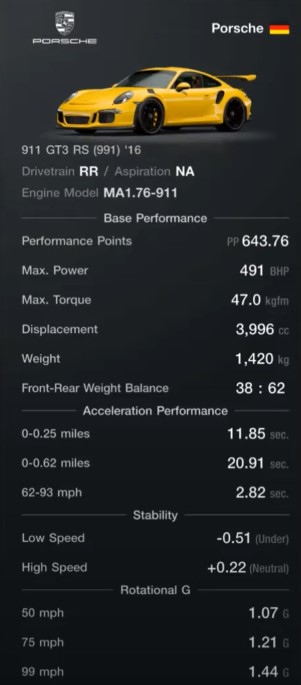 Car Settings
There hasnt been much done to make this Porsche 911 GT3 RS Best Circuit Tune. However, try it. The tune runs really smooth. Make sure to let us know what you think of tune tune in the comment section below.
Tires: Sports Medium Tires
Suspension
Body Height Adjustment: 100:135
Anti-Roll Bar: 6:6
Damping Ratio(Compression): 40:40
Damping Ratio(Expansion): 50:50
Natural Frequency: 2.00:2.30
Negative Camber Angle: 0.0: 0.0
Toe Angle: 0.00:0.00
Differential Gear
Differential: Fully Custom
Initial Torque: 0:60
Acceleration Sensitivity: 0:20
Braking Sensitivity: 0:20
Torque-Vectoring Centre Differential: None
Aerodynamics
ECU
ECU: None
Output Adjustment: None
Performance Adjustment
Ballast: None
Ballast Positioning: N/A
Power Restrictor: N/A
Transmission
Transmission: None
Top Speed: None
Nitro/Overtake
Nitro Overtake: None
Output Adjustment: N/A
Conclusion
So there you have it. Thats the circuit tune for the Porsche 911 GT RS 991. Its built for grip and endurance so you dont need to do much tuning to the actual parts section.
This tune was originally made by HSG Automotive. Check out his awesome YT channel. He makes really good GT7 tunes.