This GT7 tuning guide covers the Corvette ZR1 09 Best Speed Tune in Gran Turismo 7. Below you will find the exact parts and tuning needed to make this 946 Horsepower Beast!
The Corvette ZR1 first appeared in Gran Turismo in 2010 with the release of GT5. Its since returned to the franchise in GT6, PSP, and 7.
Vehicle History
The Corvette ZR1 C6 was first released in 2009 and it was the 6th iteration of the Corvette.
Additionally, it was also the most powerful Corvette at that time.
The engine in the Corvette ZR1 C6 was an LS9 supercharged V8 engine that produced 638 horsepower. It also had a top speed of 205 mph.
The car also had a price tag of $112,000. However, it was discontinued after the 2013 model year.
While we've got your attention make sure to check out our Chaparral 2J Best Speed Tune in GT7 its a 638 Horsepower Monster!
Car Specs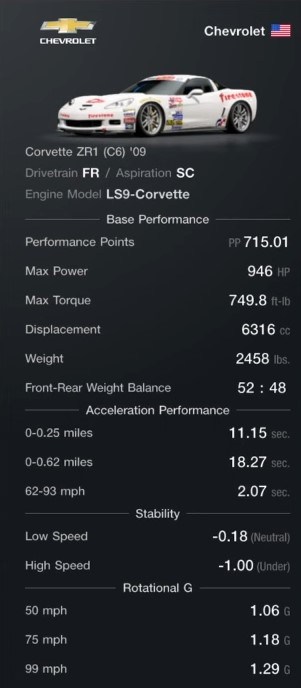 Max Power: 946HP
Max Torque: 749.8ft-lb
Displacement: 6316cc
Car Parts
Engine Tuning
Bore Up
Engine Balance Tuning
Polish Ports
High Lift Cam Shaft
Racing Crank Shaft
Bodywork
Weight Reduction: Stage 1/ 2 / 3
Increase Body Rigidity
Corvette ZR1 09 Best Speed Tune – Car Settings
Tires
Front: Heavy Wet: Racing
Rear: Soft Racing
Suspension
Body Height Adjustment: 101:96
Anti-Roll Bar: 8:7
Damping Ratio(Compression): 34:34
Damping Ratio(Expansion): 41:41
Natural Frequency: 1.60:1.80
Negative Camber Angle: 3.1:2.3
Toe Angle: 0.05: 0.06
Differential Gear
Differential: Fully Custom
Initial Torque: 0:31
Acceleration Sensitivity: 0:31
Braking Sensitivity: 0:16
Torque-Vectoring Centre Differential: None
Front/Rear Torque Distribution: N/A
Aerodynamics
ECU
ECU: Full Control Computer
Output Adjustment: 100
Performance Adjustment
Ballast: 0
Ballast Positioning: 0
Power Restrictor: 100
Transmission
Transmission: Fully Custom Racing
Top Speed: 370
Transmission Manual Adjustment
1st: 2.920
2nd: 1.898
3rd: 1.356
4th: 1.019
5th: 0.767
6th: 0.555
Final: 3.376
Nitro/Overtake
Nitro Overtake: Nitro
Output Adjustment: 50
Supercharger
Turbocharger: None
Anti-lag System: None
Anti-Lag System: Off
Intercooler: Racing
Supercharger: Supercharger: High End Torque
Intake & Exhaust
Air Cleaner: Air Filter Racing
Muffler: Muffler Racing
Exhaust Manifold: Racing
Brakes
Brake System: Carbon
Brake Pads: Racing
Handbrake: Normal
Handbrake Torque: 0
Brake Balance: Normal
Front/Rear Balance: 0
Steering
Charge Steering Angle: Normal
4WS System: None
Rear Steering Angle: 0
Drivetrain
Clutch & Flywheel: Racing
Propellor Shaft: Normal
Conclusion
Make sure to let us know in the comment section below if you enjoyed the tune.
This tune was made by JohnnySDVR. Check out his awesome content on YT sometime.