Wanna know what the best class setups are for the MP7 in Modern Warfare?
The MP7 class guide takes you through everything you need to know about the weapon including important stats like shots to kill and best attachments.
Weapon Background
The MP7 is a fully automatic submachine gun made by German weapon manufacturer Heckler and Koch. It first appeared in Call of Duty in 2011 with the release of Modern Warfare 3.
It has since appeared in Black Ops 2 and 3 and also Call of Duty Online. It became a fan favorite in MW3 for its low recoil and large ammo capacity.
MP7 Stats
Damage: 25-14
Shots to Kill: 4-7
Rate of Fire: 968RPM
Recoil: Low(very controllable)
Taking into consideration the stats above. We can see that the MP7 can wipe out enemies in 4 to 7 shots depending on where you land the shots and the distance you are from your opponent.
Aiming to the upper body or chest area will be a 4 shot kill. Aiming anywhere lower and the MP7 can take up to 6 shots to kill or even more sometimes. However, most of the time this weapon will kill in 5 shots.
MP7 Best Attachments
The best attachments for the MP7 in Modern Warfare are the:
Stippled Grip
FSS Recon barrel
Commando Foregrip
50 Round Mags
The Stippled Grip is a great attachment for lowering recoil and making your shots more accurate. The FSS Recon barrel extends the range of the MP7 making it more viable in longer-range gunfights.
Best MP7 Class Setups
Class 1 – Stealth Operator
The first class we recommend is one for the stealth players in Modern Warfare. This class is great for being aggressive and staying off the map.
First, attach the Monolithic Suppressor to the muzzle. Next, add FFS Recon to the barrel for extended range. Then, add the Commando Grip and 50 Rounds Mags. Finally, attach the Stippled Grip for reduced recoil and added accuracy.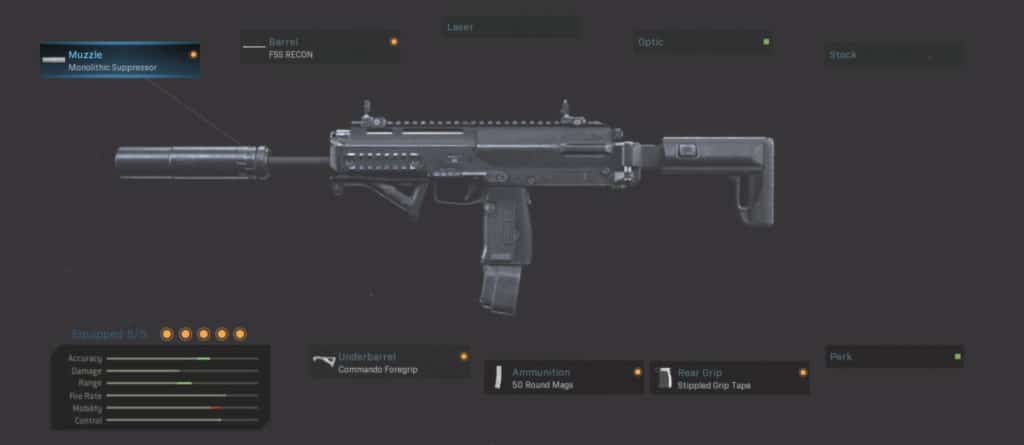 Class Layout
The rest of the class is built around stealth and aggression.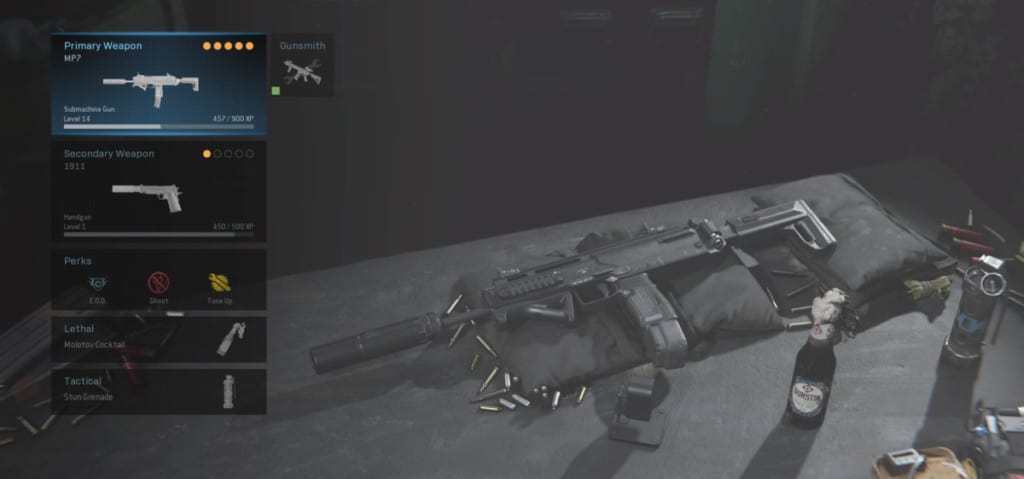 Secondary: The 1911 as secondary with a suppressor attached. 
Perk 1: E.O.D.'s are great for keeping you protected from Claymores and Proximity Mines. 
Perk 2: Ghost to keep you off the radar.
Perk 3: Tune Up to recharge your field upgrades faster. We suggest using Dead Silence.
Lethal: Molotov Cocktails are so much fun and very effective if you get a direct hit.
Tactical: Stun Grenade is very useful for disabling enemy Claymores before entering a room.
Class 2 – Rushers Paradise
The second class is great for players that love to rush and get around the map quickly. 
First, to the Gunsmith, attach the Monolithic Suppressor. Then, attach the FSS Strike barrel, Next, add the Stippled Grip Tape and take off the Stock(No Stock attachment) Finally, add the perk Sleight of Hand to speed up reloading.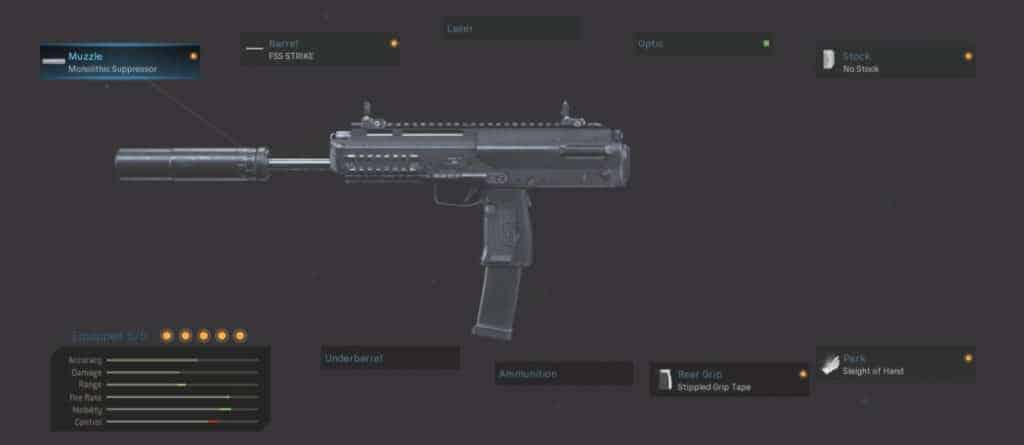 Class Layout
The class is catered for speed and aggression as well as staying quiet.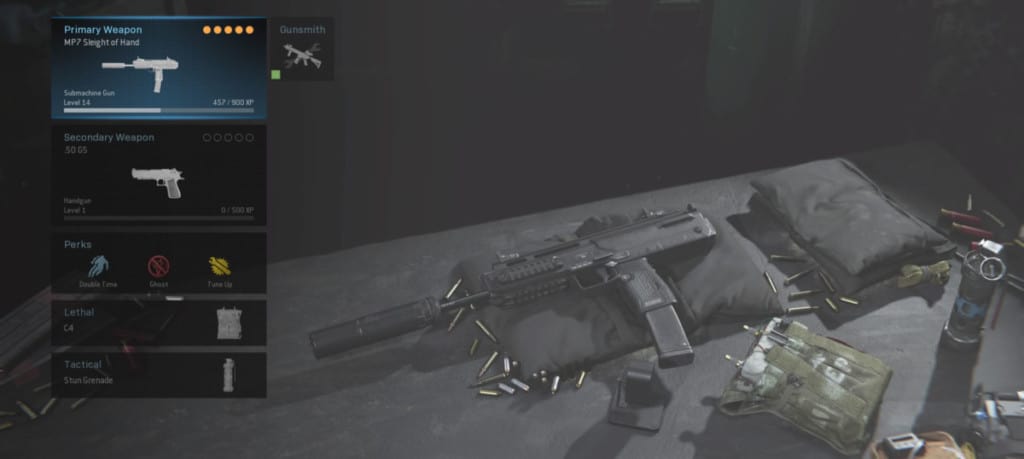 Secondary: The 1911 is a reliable secondary in any class.
Perk 1: Double Time is a great perk to keep you fast and mobile.
Perk 2: Ghost is essential when rushing and trying to push the objective.
Perk 3: Tune up is another great perk to have as perk 3. This will make sure you get your Field Upgrade a lot quicker.
Lethal: The C4 is so much fun and great for clearing campers out of rooms.
Tactical: Before you throw a C4 into a room stun the enemy first so they cannot run out of the way. It works a charm!
Class 3 – Killstreak Killer
The third and final class is for you guys that love going for killstreaks(everyone who plays the game). 
The MP7 comes loaded with the Muzzle Break, FSS Recon, Commando Grip, 50 Round Mags, and Stippled Grip Tape. This class has virtually no recoil. It's EPIC!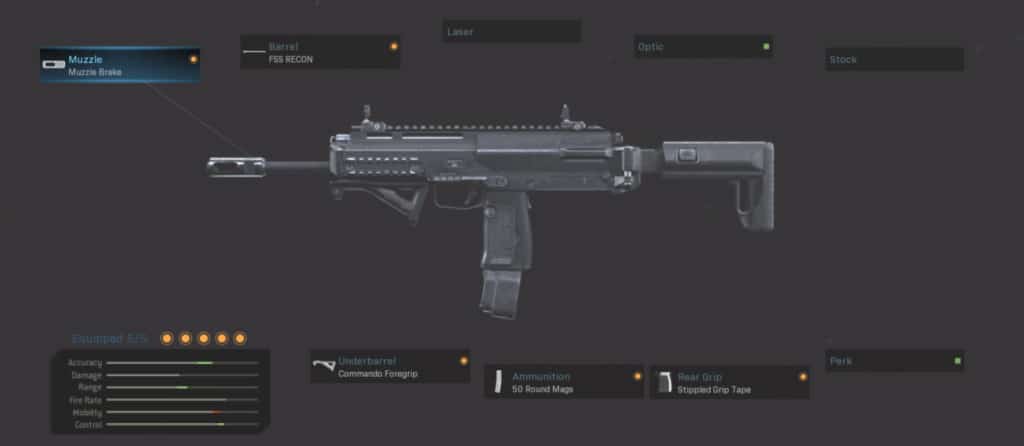 Class Layout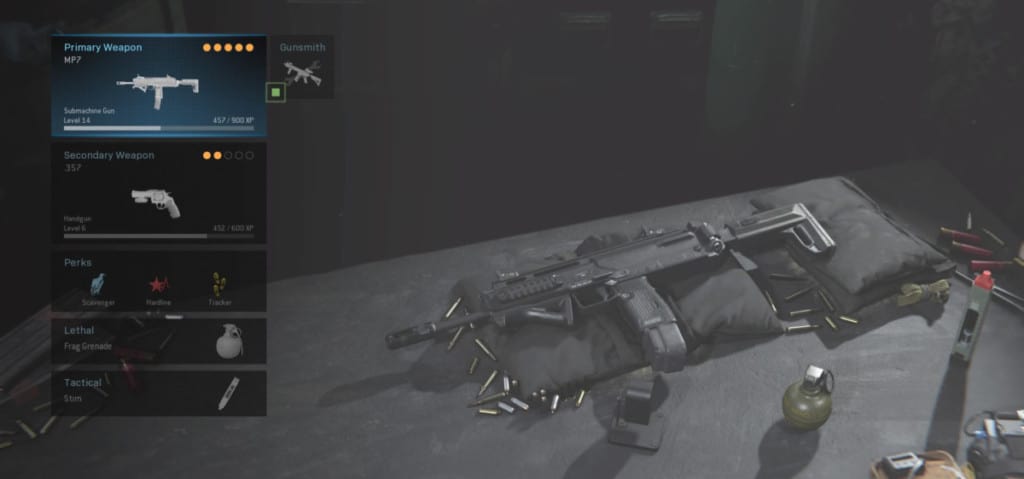 Secondary: The .357 as a secondary with Snakeshot rounds attached is probably the best secondary in the game. 
Perk 1: Here Scavenger will keep your ammo stocked up.
Perk 2: Hardline will help you get your killstreaks in one less kill.
Perk 3: Tracker is a hidden gem in this game and not many people use it. Try it out, it's great for staying one step ahead of your foes.
Lethal: The standard frag is great for throwing into the enemy spawn. Cooking for 2 seconds first is recommended.
Tactical: The Stim is essential if you want to avoid death. It will save your butt trust us. You just have to get used to using it.