The DMR 14 is a semi-auto tactical rifle. It has increased speed and accuracy over the Type 63 and excels much better at longer ranges than its semi-automatic counterpart. 
It also has a slightly higher fire rate. However, as will all the tactical rifles in the game. Their downfalls are slower ADS times and fire rate, naturally. The recommended attachments section will focus on improving these attributes. 
Weapon background
The DMR 14 has appeared in many Call of Duty titles under different variants. For example the M14 EBR from the MW series and Ghosts. It has been classed as AR, DMR, and Sniper rifle throughout the years.
Stats
Damage: 58
Rate of Fire: 400 RPM
Recoil: Low
DMR 14 Cold War Best Attachments
The best attachments for the DMR 14 in Cold War are the:
16.3" Titanium Barrel
Serpent Wrap
AXIAL Arms 3x
30 RND Speed Mag
The Titanium Barrel increases the fire rate by 26% percent. The Serpent Wrap is the best grip for speeding up your ADS times. It shaves 26% off total times.
The DMR 14 is quite effective at ranged shots. That's why we recommend adding a scope for even more precise long-range engagements. 
Best Class Setups
Class 1 – Firepower and Speed
Firepower and speed gunsmith setup focuses on improving the weapons movement speed and usability. It also maximizes the weapon's firepower.
Gunsmith: 
Hawksmoor
16.3" Titanium
30 RND Speed Mag
Serpent Wrap
No Stock
Class Setup
The rest of the firepower and speed class maximizes perks, ammo, and field upgrades. It's great for going on high streaks.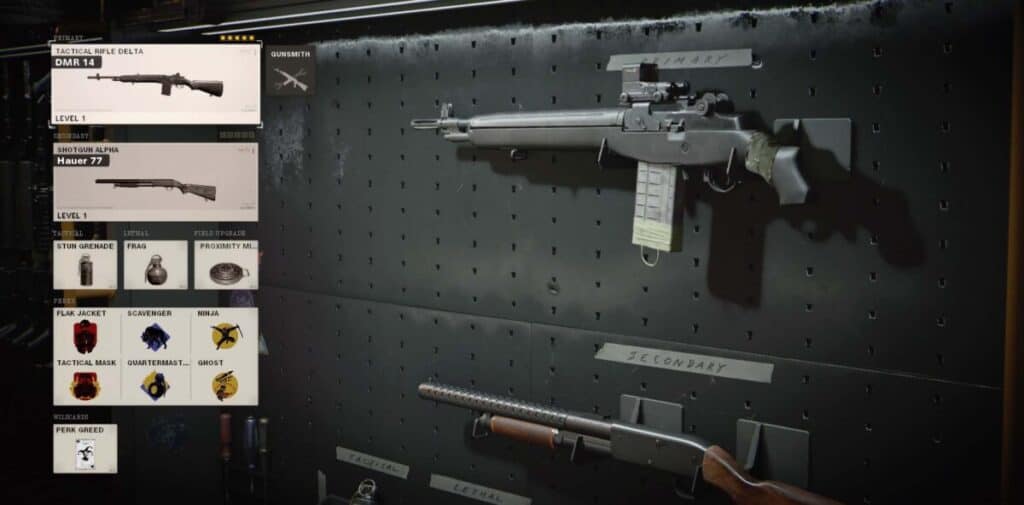 Secondary: Hauer 77
Perk 1: Flak Jacket / Tac Mask
Perk 2: Scavenger / Quartermaster
Perk 3: Ninja / Ghost
Lethal: Frag Grenades
Tactical: Stun Grenades
Field Upgrade: Proximity Mines
Wildcard: Perk Greed
Class 2 – Combined Arms Assassin
In the combined arms assassin gunsmith setup. The weapon focuses less on speed and more on accuracy, ammo, and firepower.
Gunsmith:
AXIAL Arms 3x
Infantry Compensator
16.3" Titanium
30 RND Speed Mag
SASR Jungle Grip
Class Setup
The rest of the class setup maximizes equipment and ammunition.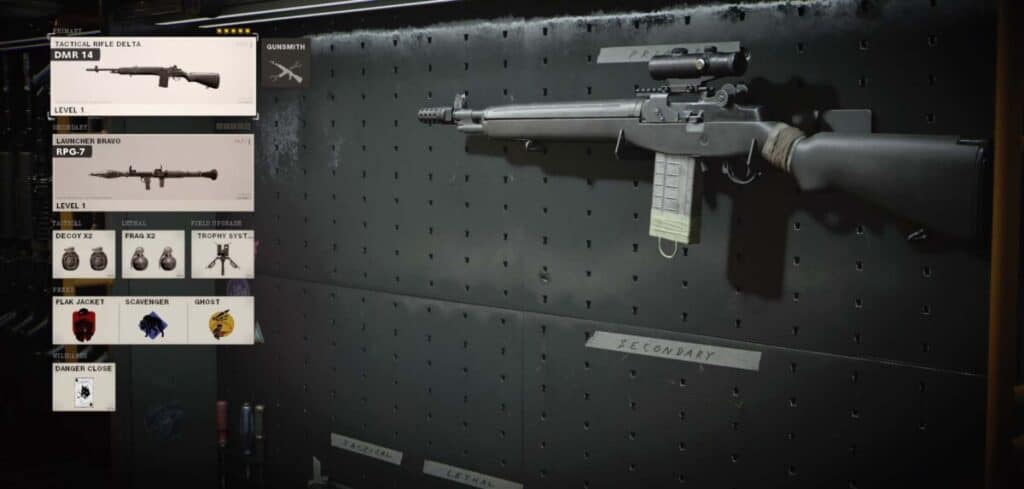 Secondary: RPG-7
Perk 1: Flak Jacket
Perk 2: Scavenger
Perk 3: Ghost
Lethal: Frag 2x
Tactical: Decoy 2x
Field Upgrade: Trophy System
Wildcard: Danger Close
Class 3 – Well Rounded
The final class is well-rounded. The gunsmith uses all the attachments slots with the help of the Gunfighter Wildcard.
Gunsmith:
Millstop Reflex
Silencer
16.3" Titanium
SOF Target Designator
Infiltrator Grip
30 RND Speed Mag
Speed Tape
No Stock
Class Setup
This class is well rounded and suits most game modes and playstyles. 
Secondary: Magnum
Perk 1: Tac Mask
Perk 2: Tracker
Perk 3: Ghost
Lethal: C4
Tactical: Flashbang
Field Upgrade: Assault Rifle
Wildcard: Gunfighter