Knowing the best places to land can make or break you in a game of Battle Royale. You need to know exactly where to land to ensure you get the best gear possible. This guide will help you do just that. 
We have compiled a list of the best places to land in Call of Duty Mobile Battle Royale. We also mention the second-best places to land along with the worst places too.
Generally, most places on the map are decent spots to land for weapons and loot. However, the top tier places were the places that had the most consistent level three armor and or top tier weapons. 
Below you will find a COD Mobile Battle Royale map with all the top, mid and low tier locations to land.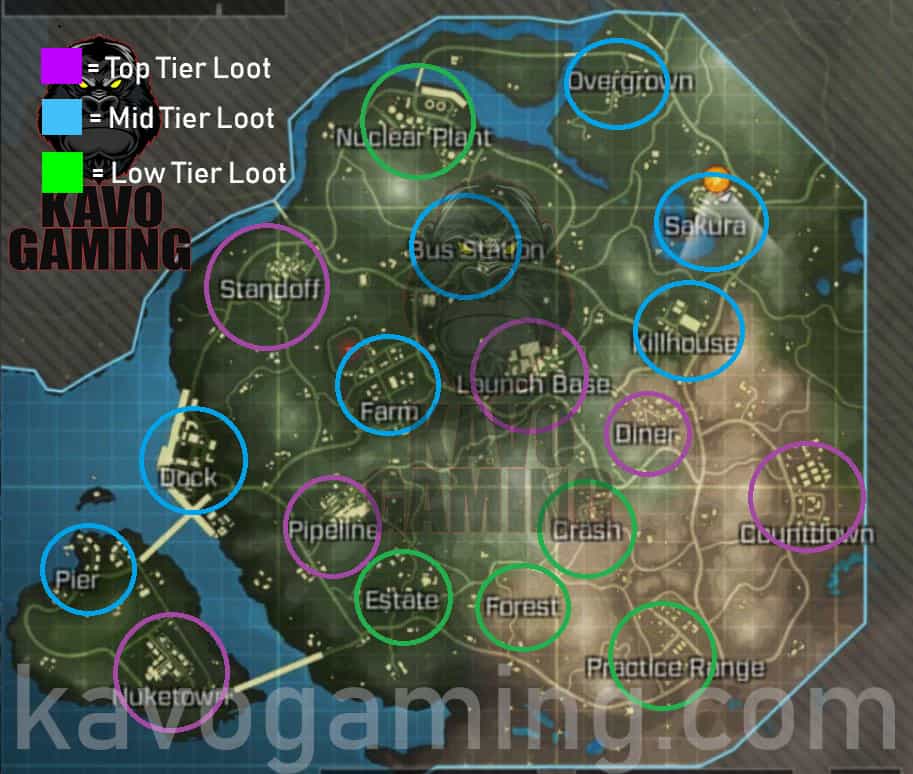 This guide will start by discussing the best places to land for loot in COD Mobile Battle Royale. We will then discuss mid-tier loot locations and finally the low tier locations. Some locations on the map are mid to high or mid to low locations. Meaning, the area might be good for mid-tier loot but you may find the odd level 3 armor on occasion. 
MORE COD MOBILE GUIDES
Top Tier Locations – Best Places to Land
Nuketown
Nuketown has returned. A Black Ops series favorite in a Battle Royale game. It's pretty cool. Nuketown is a great place to drop for top tier loot. You will definitely find lots of assault rifles and some level 3 armor if you look long enough. 
Nuketown can also feature zombies if the mystery box spawns there. Killing the zombies' grants you access to the mystery box that contains top tier loot. Also, the mystery box is guaranteed to give you Level 3 Armor. Nuketown is a great place to land and lots of fun.
Pipeline
This area of the map is great to land in. Here you find a whole variety of weapons including level 2 and 3 armor. Make sure to get down earlier and run straight to the warehouses so you have cover early on. It is a popular place to land.
Standoff
To the northwest of the map sits Standoff. A throwback map from Black Ops 2. Its raw urban streets provide ample scenery for intense gunfights. It is also a great spot to land for loot. You will find all the good stuff in Standoff. However, it is a popular place so be quick.
Launch Base
Launch Base is the dead center of the map. Therefore, lots of people land here. However, the main reason people land here is that it's loaded with top tier loot. In addition, there are also several supply and medic boxes scattered throughout the area. Launch Base is reminiscent of the map Launch from Black Ops 1 with its large Nuclear Warhead in the center of the base. 
Diner
Who remembers Diner from Black Ops 2 Zombies? What a great spot, we just love the nostalgic buzz of playing this game. Diner is just east of Launch Base and contains good loot. However, it deserves a spot in the best places to land because of the mystery box alone(provided it spawns here). As mentioned previously. Kill all the zombies to gain access to the mystery box. There you will find top tier loot including guaranteed level 3 armor. 
Countdown
The older Call of Duty players will remember this map from COD 4 Modern Warfare. The iconic red plane hangars are loaded with great loot to nab. A whole range of weapons and armor are available at Countdown. It is also a little bit out of the way so good to land if you're just starting off. 
Mid Tier Loot Locations
Pier
Pier is just north of Nuketown. It contains a plentiful supply of mid-tier loot including lots of levels 1 and 2 armor. On one occasion, we were able to find an RPD and two Andrenaline shots so you can get lucky here too. 
Dock
Dock would be better described as a mid to top tier landing spot. Although most of the loot you find here will be mid-tier. Sometimes you can find level 3 armor and an LMG or two lying around. We recommend landing in Pier, scope it out and then move across the river to Dock.
Farm
Farm, being right in the center and west of Launch Base you would think there would be better loot here. It was a little disappointing after a few jumps. However, we tend to find a disproportionate amount of sniper rifles in Farm. So if you like sniping in COD Mobile. Farm is your best friend. 
Bus Station
Bus Station is just a middle of the line place to land for loot. However, it does contain the mystery box. Upon killing all the zombies in the area. You can open the mystery box and claim lots of top tier loot. The Mystery Box is guaranteed to contain level 3 armor.
Overgrown
Directly to the north of the map lies Overgrown. COD 4 players will remember this one too. The snipers paradise. This map was a love and hate relationship among COD 4 players. Overgrown is a mid-tier loot spot with plenty of SMGs and ARs to find.
Sakura
Sakura is a more secluded and quiet place to drop with mid-tier loot. If you're going to drop here. Loot fast and make your way over to Killhouse for a better chance of finding good gear.
Killhouse
Killhouse is a pretty decent landing spot. If you're planning on dropping here. Aim for the large warehouse to the east of the settlement. You're also close to Diner so make your way over there and open that mystery box.
Low Tier Loot Locations
Estate 
There is not much going on in Estate. It is a very scattered settlement. If you're going to land here aim for the small cluster of buildings to the north. You will find mostly low tier loot here with the odd chance of finding better gear in the small huts scattered throughout the area.
Nuclear Plant
A large power plant in the north of the map. Nuclear plant is canny to meltdown from Black Ops 2. It contains low tier loot for the most part. However, it tends to have lots of sniper rifles lying around.
Forest 
Forest is a large scattered area of trees and some houses here and there. It is a very quiet place with not a lot of loot to grab. Perhaps it's a good place to land if you're new to the game and want to practice first.
On occasion, the mystery box can spawn in the graveyard at Forest. The mystery box is the only thing that saves this area from being one of the worst places to land.
Crash 
Whoever made this game loved Modern Warfare 4. We love them for putting so much from COD 4 into COD Mobile. Crash is packed full of big heavy weapons such as RPD's and Arctic .50 Sniper Rifles. In terms of general loot and body armor. Nothing really stands out. 
Practice Range
Practice Range sounds like a great spot to land just by its name alone. However, we found landing here was quite inconsistent in terms of loot. On occasion, we found some level 2 body armor. However, in general, it wasn't that impressive.