The ZRG 20mm Sniper Rifle was added on April 7th, 2021 to Call of Duty: Black Ops Cold War as part of Season 2 content for the game. It is a bolt-action sniper with a slower rate of fire, but also with an extreme power boost for long-range combat, capable of taking out enemies with a single shot from any distance. 
In general, this weapon can be extremely effective in the hands of a skilled player with good aim, but if the player fails to hit the target, they will be left wide open for quite a while. This is an ideal sniper for players who want to scope quickly or have the eyes of a hawk.
There are two ways that we can obtain ZRG sniper:
Method 1: Through an in-game challenge. Players will need to get two longshot medals within 10 different matches. When completed, the player will be able to use the ZRG 20mm Sniper Rifle.
Method 2: Through the Jackpot Sniper bundle that costs 1,200 COD Points. Players can do this with the points they've accumulated throughout the season, or they can invest $10.99 USD to get it right away.
Let's check the stats of this powerful sniper:
Stats
Damage: High (110)
Rate of Fire: 27 RPM
Recoil: High
Magazine Size: 3 rounds (4, 5, 6 and 7 with ammunition attachments)
Looking at the stats, we can see that the weapon really has extreme damage, but like almost every sniper, it has extremely high recoil, making everything more challenging. 
The ammo is considered low since it only has 3 Rounds/MAG (5), which increases the need for reloading if the player misses the target. Besides that, this sniper is so powerful that it can even cause massive damage to vehicles, which only a few guns in Black Ops Cold War or Warzone can do.
ZRG 20mm Cold War Best Attachments
The best attachments for the ZRG 20mm in Cold War are:
Barrel: Rapid Fire
Body: Tiger Team Spotlight
Ammunition: 5 Rnd
Handle: Airborne Elastic Wrap
Underbarrel: Bruiser Grip
As we saw, the ZRG 20mm's damage is amazing, so we will want to build it in a way that makes it faster to use. Despite having more power than the other snipers, the ZRG's low fire rate balances it out. It has a long bolt animation, so the Rapid Fire barrel will greatly speed things up.
Since you'll be using this Sniper more from distance, enemies will frequently fade into the map. The Tiger Team Spotlight will mark the enemies so you can be able to find them easily. The ZRG magazine only has three rounds, so the 5 Rnd magazine attachment will allow us to take out more targets without slowing down your ADS.
Ultimately, the Airborne Elastic Wrap and Bruiser Grip are an excellent match for improving your mobility while handling this heavy weapon. You'll have faster ADS and movement speed, enabling you to perform with the faster snipers on the battlefields of BO Cold War.
Best Class Setups
Class 1 – Max Speed
Gunsmith:
Barrel: 39.3" Rapid Fire
Body: Tiger Team Spotlight
Magazine: 5 RND
Handle: Airborne Elastic Wrap
Stock: CQB Pad

Class Setup
Secondary: Diamatti/ Tiny Comrade
Perk 1: Flak Jacket
Perk 2: Gearhead
Perk 3: Ninja
Perk 4: Tactical Mask
Perk 5: Scavenger
Perk 6: Ghost
Lethal: Semtex
Tactical: Stimshot
Field Upgrade: Field Mic
Wildcard: Perk Greed
Class 2 – Infinity Sniper Scope
Gunsmith:
Muzzle: Agency Moderator
Barrel: 43.9" Combat Recon
Optic: Ultrazoom Custom
Underbarrel: Bruiser Grip
Handle: Serpent Wrap

Class Setup
Secondary: Cigma 2 
Perk 1: Paranoia
Perk 2: Assassin
Perk 3: Ghost
Perk 4: Engineer
Perk 5: Quartermaster
Perk 6: Gung-Ho
Lethal: Semtex
Tactical: Stimshot
Field Upgrade: Assault Pack
Wildcard: Perk Greed
Class 3 – Overpower
Gunsmith:
Barrel: 39.3" Rapid Fire
Underbarrel: Front Grip
Magazine: 5 Rnd
Handle: Serpent Wrap
Stock: Marathon Pad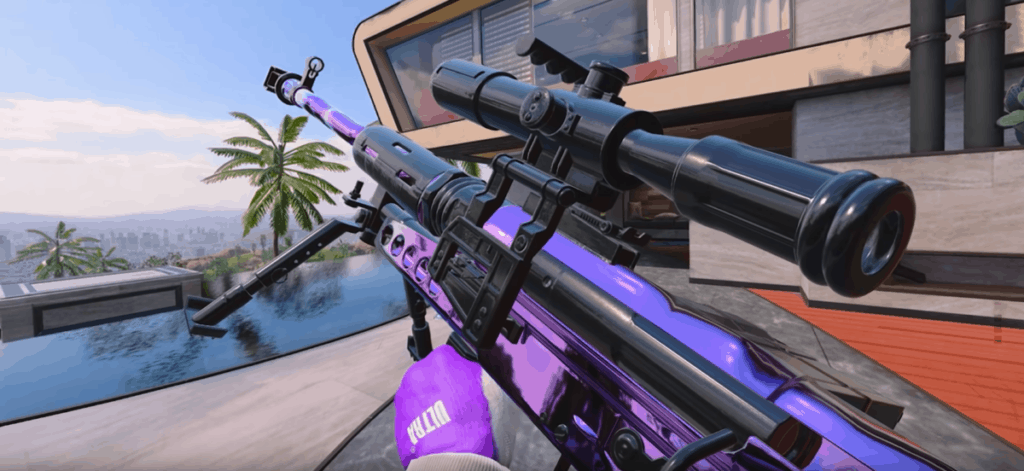 Class Setup
Secondary: Diamatti
Perk 1: Tactical Mask
Perk 2: Spycraft
Perk 3: Gung-Ho
Lethal: Semtex x2
Tactical: Stimshot
Field Upgrade: Assault Pack
Wildcard: Danger Close