The Swiss K31 is a straight-pull bolt-action sniper rifle that was added to Call of Duty: Black Ops Cold War as part of Season 3.
The K31 was designed to be a faster sniper, as it has a fast ADS, quick bolt time, and also a pretty decent ammo capacity. The weapon was also designed for quickscoping on small maps, but it still has enough potential to deliver some decent long-shots.
The Swiss K31 is quite the opposite of Season 2's ZRG 20mm Sniper Rifle, as the K31 is defined as having "exceptional accuracy, with a quick rechamber, faster-aiming speed in addition to a larger bullet capacity," while the ZRG is heavy and potent, but quite slow.
How to unlock this weapon?
In order to unlock this new sniper, you must reach Tier 31 in the Season 3 Battle Pass. There are still no challenges or additional methods for unlocking it, so this is the only way to do it for now. 
Fortunately, the Swiss K31, like some previous battle pass weapons, will be available for free, so even if you didn't purchase the battle pass, you can still gain enough experience to reach Tier 31 and obtain this fast sniper.
Now let's check the stats of this speedy sniper:
Stats
Damage: High (110)
Rate of Fire: 55 RPM
Recoil: Low
Reload Time: 2.8s
Magazine Size: 6 rounds (7, 8, 9 and 10 with ammunition attachments)
Looking at the stats, we can see that the K31 has amazing damage, with a high level of 110 damage, a low recoil, which makes this sniper easy to handle and an incredible rate of fire at 55 RPM. The sniper also has a decent reload time, requiring only 2.8 seconds and a really large magazine size that can get even larger with attachments.
But even with the sniper's high damage, we can't take this value too seriously though, as some tests in-game surprisingly shows that we might need two shots to take down enemies in multiplayer by using the sniper without any attachments. Not including headshots, of course.
Swiss K31 Cold War Best Attachments
The best attachments for the Swiss K31 in Cold War are:
Barrel: 24.9″ Tiger Team
Body: Tiger Team Spotlight
Stock: Raider Stock
Magazine: 8 Rnd Mag
Handle: Airborne Elastic Wrap
To begin, the K31 can become totally transformed with this Tiger Team barrel. It does significantly more damage, allowing you to destroy full-health players with just one shot in the chest. Using the Tiger Team Spotlight will mark the enemies so you can be able to find them more easily. 
The Raider Stock and the Airborne Elastic Wrap got selected here so we could have an even faster Fire Time and ADS Speed. Finally, when using the 24.9" Tiger Team Barrel, our ammo capacity gets automatically reduced, so using the 8 Rnd Magazine will balance that and give us an excellent result.
Best Class Setups
Class 1 – Max Damage
Gunsmith:
Barrel: 24.9" Tiger Team
Body: Tiger Team Spotlight
Magazine: 8 Rnd
Handle: Airborne Elastic Wrap
Stock: Raider Stock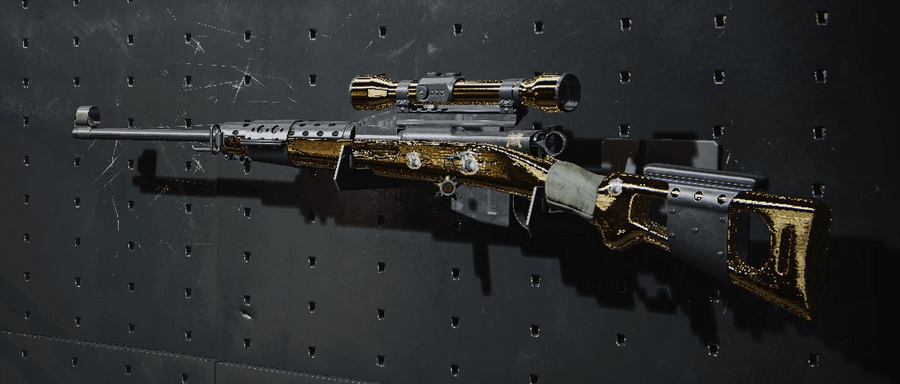 Class Setup
Secondary: Black Inknife
Perk 1: Flak Jacket
Perk 2: Scavenger
Perk 3: Ninja
Perk 4: Tactical Mask
Perk 5: Gearhead
Perk 6: Ghost
Lethal: Semtex
Tactical: Stimshot
Field Upgrade: Field Mic
Wildcard: Perk Greed
Class 2 – Overpowered
Gunsmith:
Barrel: 24.9" Tiger Team
Underbarrel: Bruiser Grip
Magazine: 8 Rnd
Handle: Serpent Wrap
Stock: Wire Stock

Class Setup
Secondary: Swiss K31
Perk 1: Gung-Ho
Perk 2: Spycraft
Perk 3: Tactical Mask
Lethal: Tomahawk
Tactical: Stimshot
Field Upgrade: Assault Pack
Wildcard: Law Breaker
Gunsmith:
Barrel: 24.9" Tiger Team
Underbarrel: Patrol Bipod
Body: Tiger Team Spotlight
Magazine: 8 Rnd
Handle: Serpent Wrap
Class Setup
Secondary: Pellington 703
Perk 1: Forward Intel
Perk 2: Tactical Mask
Perk 3: Gung-Ho
Lethal: Tomahawk
Tactical: Stimshot
Field Upgrade: Assault Pack
Wildcard: Law Breaker