So you're looking for the best places to land in World's Edge? Great, this is the best guide to show you just that. 
Dive deep into the Apex Legends map and explore World's Edge. In this map breakdown, we go in-depth into every location in World's Edge. We discuss each area and categorize them into three tiers based on how good the drop is. 
The three categories are:
Top tier, mid-tier, and low tier. The top tier areas are the best places to land for loot. The low tier place is still not bad however, they should be your last choice. The mid-tier areas are somewhere in between. 
The tiered locations are based on how much actual loot is located in the area based on the number of Supply Bins in the location.
It is also based on how popular the area is for other players dropping and the gameplan needed to survive the drop.
We will begin with the best places to land for loot, then mid-tier locations and finally the worst tier locations. 
Below is a map with the high, mid and low tier locations marked on the map. There are a total of 4 high tier loot locations marked in purple. Mid-tier locations make up 7 locations on the map. Finally, there are a total of 6 low tier locations.
Use this map for quick reference…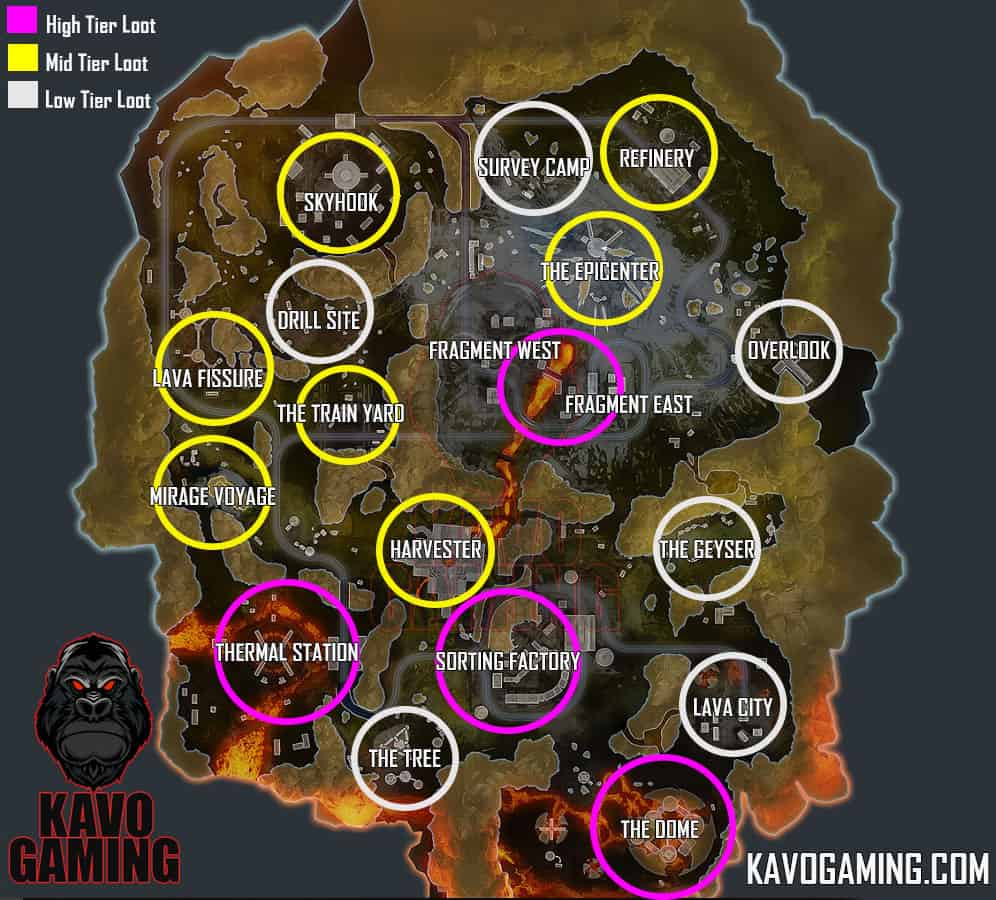 Top Tier Loot – Best Landing Locations
Thermal Station
Lying in the very southwest of the map is Thermal Station. With 58 Supply Bins in total, Thermal Station secures the position as the most densely packed loot area in World's Edge. 
That being said, a tonne of loot means a tonne of players dropping here. Expect this area to be flooded with enemies. However, keep in mind that a lot of enemy players will drop towards the center drill area. 
Because of this, we suggest dropping in the areas surrounding the drill area in the center. We find a lot of success landing in the small buildings to the east of Thermal Station.
You also have the option of landing near the train station or in the small settlement to the south of Thermal. Landing to the south of Thermal enables you to rotate towards The Tree then make your way up through the Sorting Factory, depending on where the circle is headed.
Sorting Factory
After Thermal Station, the Sorting Factory takes the place as the second highest loot density location. The area has a total of 45 Supply Bins to loot from. On top of that, it sits more center than the Thermal Station, meaning its just as popular if not more. 
You should expect plenty of action if you're planning on jumping here. If you want a somewhat safer experience. Head towards the small buildings north of the Factory, close to the pathway into The Fragments.
A smarter option may be to land at The Tree, clear the place and make you way up to the Sorting Office. However, do this with extreme caution. You're essentially making your way into a hornet's nest. Stay sharp Legend.
The Dome
The Dome is situated in the far southeast of the World's Edge. It's a well know hotspot to drop just not as busy as Harvester or Fragments. Mainly because it's away from the center but also because there's a total of 30 Supply Bins and plenty of floor loot to nab. 
If you land here with your squad we suggest splitting up upon landing but not too far from each other at the same time. Land dead center in the dome area and loot as quickly as possible.
Depending on where the circle is. It puts you in a great place to push towards either Lava City or Sorting Factory.
The Fragment West and East
The old Capitol City has since been split in two by a stream of deadly lava. However, don't sleep on the new name. This place is still as alive as ever. The two areas combined boast a total of 32 Supply Bins and a tonne of floor loot. 
With all those goodies plus the location is central, The Fragments are highly popular and probably always will be.
There is not much to say about this area. There is lots of great loot and a tonne of squads dropping here. 
Dropping central will always leave you in a good situation regardless of where the circle takes you so this area will always be top tier.
Mid Tier Loot Best Landing Locations
Skyhook
Skyhook is situated in the very northwest of the map. Sitting dead in the center of the settlement is a huge tower dubbed the Skyhook tower. Although it's off the central path it's quite a popular location for squads to drop. 
This is mainly due to the 26 Supply Bins and abundance of loot scattered throughout the many small buildings in the area. 
If you decide to land here try to choose a building away from the center. There's plenty of areas such as Fragments and the Lava Fissure to push towards if the drop isn't lucky.
Refinery
The opposite direction to Skyhook is Refinery in the northeast of World's Edge. It has a total of 25 Supply Bins and doesn't get too hot in terms of other enemies dropping. 
It hits the sweet spot between loot and busyness. 
However, if you don't get lucky with looting. You're literally surrounded by great locations to push into to find more loot. 
Areas nearby such as The Epicenter or even Survey Camp are both decent backup locations.
The Epicenter
Just to the south of Refinery is The Epicenter. Besides looking epic it also hosts 24 Supply Bins and lots of decent floor loot. 
The best advantage of landing in The Epicenter is the positioning you and your squad gain over people looting Fragments. Just be careful of squads third partying from the surrounding areas like Overlook or Survey Camp.
Lava Fissure
Moving to the very west of World's Edge brings us to Lava Fissure. It's a great spot to land if you're looking for fewer enemies and a good amount of loot. 
Depending on where the circle pushes there are plenty of great options to take.
Move your way up and into Drill Site or Skyhook. Or you can also push the center of the map towards Harvester and Sorting Factory. 
The Train Yard
It's a very quiet place for the most part. However, there are a total of 24 Supply Bins in the area and its surroundings. 
Landing in the Train Yard gives you a quiet drop plus a tunnel for quick and easy access towards Harvester. If you plan on landing here. Get as much loot as possible and push towards a more strategic location such as Fragments or Harvester.
Mirage Voyage
Even more east than The Train Yard and just south of Lava Fissure is Mirage Voyage. It's actually a hidden gem if you like landing in the more quiet parts of the map. 
With a total of 22 Supply Bins and a good amount of floor loot, this location makes a great spot for people new to the map.
Keep in mind Thermal Station, Lava Fissure and Train Yard are all possible routes from this location.
The Harvester
Forget about the Fuel Depot. Smack bang in the center of World's Edge now features Harvester. 
The multi-storied complex holds a tonne of decent loot and a total of 24 Supply Bins in and around the location. The Harvester is also a newly named and featured location which means its hotspot for players. If you decide to land here, make sure you have a tight squad.
Low Tier Loot Best Landing Locations
Survey Camp
With a total of 10 Supply Bins and not much floor loot to pick from. Survey Camp certainly deserves a spot in the low tier loot bracket. 
However, it does have the advantage of being a quiet drop and its also surrounded by decent locations to rotate into. Refinery and The Epicenter are close by and have a pretty decent loot consistency.
Drill Site
Drill Site lies just over the mountain south of Skyhook. It makes for a quiet drop and several buildings to loot from. It has a total of 11 Supply Bins so it wouldn't be all doom if you decided to drop here. 
Although you're certainly not going to have the best of loot, you could push north into Skyhook or east into Fragments. Just be careful because these areas are busy.
Overlook
Although it's in the low tier loot category. Overlook makes for a pretty decent place to drop if you're looking for a quiet start with a total of 19 Supply Bins. 
Your squad will probably be well-armed leaving here and it is positioned so that you're looking over the center of the map. Key locations such as Fragments, The Epicenter and Refinery are all within close proximity.
The Geyser
Just north of Lava City, The Geyser sits between two mountains. Smack bang in the middle of this location features a large geyser. This is a huge vent in the surface of the map that periodically will eject water and steam. 
If you decide to land here, don't hang around too long. The loot is not great and you're left in a bad location to push from. 
We would only recommend landing here to check out the Geyser and goof around. The funny thing about the Geyser is it acts the same way a balloon does. If you run over it, it propels you into the sky. Your character will then propel their jumpsuit and glide to a landing.
Lava City
Moving south of The Geyser, we come to Lava City. It's an all-round mediocre place to land with below-average loot. There's a total of 14 Supply Bins in the area. However, the area is rather small which doesn't leave much room for loot.
If you and your squad land here, it is best to do it quickly. Then push west to Sorting Factory where the real loot is. 
After you clear out Sorting Factory, you should be in a great position loot wise.
The Tree
Finally, we come to The Tree. It's a great spot to land for a quiet start. However, it tends to lack in the loot department. 
The best thing about it is, it doesn't take long to loot. So get dropping and looting as quickly as possible and make your way either towards Sorting Factory or Thermal Station. These areas are dense in loot and will put you in a great position going forward for the win.
Map Source: Apex Legends Interactive Map