This GT7 tuning guide goes over the Mazda RX7 Spirit R Best Speed Tune in Gran Turismo 7. We show you the exact parts and tuning needed to make this 482KMH Japanese Beast!
Vehicle History
The Mazda RX7 Spirit R Type A was first released in 1992 as a racecar. It was designed to compete in the Group A category of touring car racing.
The car was built on the lightweight Mazda FM platform and featured a turbocharged 13B engine. It was able to reach a top speed of 150 mph and could accelerate from 0 to 60 mph in 5.3 seconds.
The Mazda RX7 Spirit R was only produced for one year and a total of 1500 units were made.
Check out our Supra Speed Tune if you're looking for more JDM tunes.
Car Specs
Top Speed: 482KMH
Max Power: 989BHP
Max Torque: 79.7 kgfm
Displacement: 654x4cc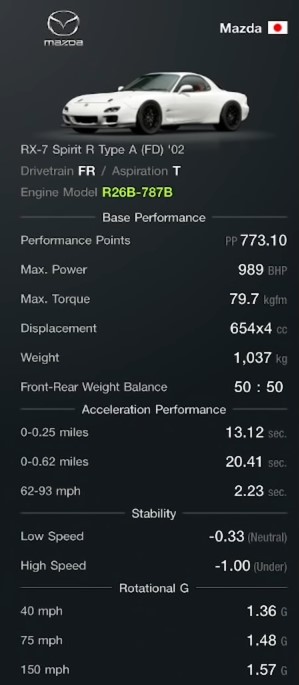 Car Parts
There's been no parts added to this tune. We leave it up to you to mess around with the parts and make your own tune. However, make sure to follow the car settings below to make the Mazda RX7 Spirit R Best Speed Tune.
Bodywork
Weight Reduction Stage 1, 2, 3, and 4
Increase Body Rigidity
Mazda RX7 Spirit R Best Speed Tune – Car Settings
Below are the following changes to make to the RX7 to make this tune. The numbers below are based on front and rear stats. The left number is the front and the right number is the rear.
Tires
Front: Soft Racing
Rear: Soft Racing
Suspension
Body Height Adjustment: 85:95
Anti-Roll Bar: 10:10
Damping Ratio(Compression): 40:40
Damping Ratio(Expansion): 30:30
Natural Frequency: 1.90:1.90
Negative Camber Angle: 2.5:2.5
Toe Angle: 0.00:0.00
Differential Gear
Differential: Fully Custom
Initial Torque: 0:60
Acceleration Sensitivity: 0:5
Braking Sensitivity: 0:60
Torque-Vectoring Centre Differential: None
Front/Rear Torque Distribution: 0:100
Aerodynamics
ECU
ECU: Fully Custom
Output Adjustment: 100
Performance Adjustment
Ballast: 0
Ballast Positioning: 0
Power Restrictor: 100
Transmission
Transmission: Fully Custom: Racing
Top Speed: 280
Transmission Manual Adjustment
1st: 1.88
2nd: 1.347
3rd: 1.003
4th: 0.836
5th: 0.785
Final: 2.905
Nitro/Overtake
Nitro Overtake: Nitro
Output Adjustment: 50
Supercharger
Turbocharger: High RPM
Anti-lag System: None
Anti-Lag System: Off
Intercooler: None
Supercharger: None
Intake & Exhaust
Air Cleaner: None
Muffler: Racing
Exhaust Manifold: None
Brakes
Brake System: Carbon
Brake Pads: Racing
Handbrake: Normal
Handbrake Torque: 0
Brake Balance: Brake Controller
Front/Rear Balance: 0
Steering
Change Steering Angle: Normal
4WS System: None
Rear Steering Angle: 0
Drivetrain
Clutch & Flywheel: Racing
Propellor Shaft: Normal
Conclusion
This tune was made by Pro Tune HD, check out his YouTube channel sometime.