This GT7 tuning guide goes through the Camaro ZL1 1LE 18 Best Speed Tune. We break down the best parts and car settings to use to push as many ponies as possible out of this car.
This tune was originally made by JohnnySDVR. He makes some of the best tunes for GT7 right now. Check out his awesome channel sometime.
Vehicle History
The Camaro ZL1 1LE 18 is a car that has a rich and interesting history.
The car was first introduced in 1967 as a response to the Ford Mustang. It was designed to be a more performance-oriented option than the standard Camaro.
Throughout the years, the Camaro has seen many different iterations, with some being more successful than others.
However, the Camaro ZL1 1LE 18 is widely considered to be one of the best cars that Chevrolet has ever made.
With its impressive performance and stunning looks, it is easy to see why this car has become so popular over the years.
Car Specs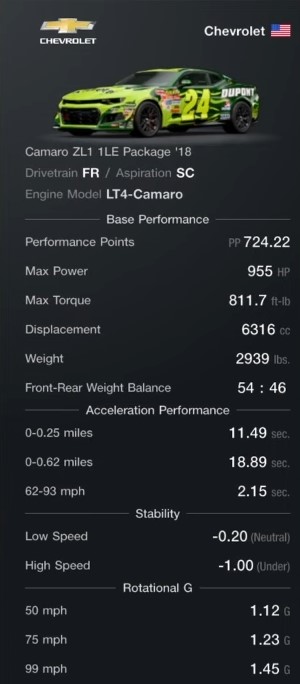 Max Power: 955HP
Max Torque: 811.7 ftlb
Displacement: 6316cc
Car Parts
Engine Tuning
Bore Up
Engine Balance Tuning
Polish Parts
Racing Crank Shaft
Bodywork
Weight Reduction 1, 2, 3, and 4
Increase Body Rigidity
Camaro ZL1 1LE 18 Best Speed Tune – Car Settings
Suspension
Body Height Adjustment: 83:80
Anti-Roll Bar: 8:7
Damping Ratio(Compression): 29:29
Damping Ratio(Expansion): 42:42
Natural Frequency: 2.28:2.28
Negative Camber Angle: 2.9:2.2
Toe Angle: 0.09:0.13
Differential Gear
Differential: Fully Custom
Initial Torque: 0:20
Acceleration Sensitivity: 0:28
Braking Sensitivity: 0:14
Torque-Vectoring Centre Differential: None
Front/Rear Torque Distribution: 0:100
Aerodynamics
ECU
ECU: Full Control Computer
Output Adjustment: 100
Performance Adjustment
Ballast: 0
Ballast Positioning: 0
Power Restrictor: 100
Transmission
Transmission: Fully Custom Racing
Top Speed: 250
Transmission Manual Adjustment
1st: 3.774
2nd: 2.432
3rd: 1.733
4th: 1.271
5th: 1.017
6th: 0.804
Final: 2.387
Nitro/Overtake
Nitro Overtake: Nitro
Output Adjustment: 50
Supercharger
Turbocharger: None
Anti-lag System: None
Anti-Lag System: Off
Intercooler: Racing
Supercharger: High End Torque
Intake & Exhaust
Air Cleaner: Racing
Muffler: Racing
Exhaust Manifold: Racing
Brakes
Brake System: Normal
Brake Pads: Racing
Handbrake: Normal
Handbrake Torque: 0
Brake Balance: Brake Controller
Front/Rear Balance: 0
Steering
Charge Steering Angle: Normal
4WS System: None
Rear Steering Angle: 0
Drivetrain
Clutch & Flywheel: Racing
Propellor Shaft: Normal
Conclusion
So there it is, this tune is a great top speed starter tune for those new to Gran Turismo. Make sure to let us know in the comment section below if you liked the tune.