In this guide, we will run through the top stats of the weapon including the damage, rate of fire, and recoil. Then, we will suggest the 2 best classes for the Tec 9 in Black Ops Cold War. So without further ado, let's get into the Tec-9 loadouts
The Tec 9 was released as part of Season 5 content in Black Ops Cold War. It's a semi-automatic submachine gun with a 3 round burst mechanism. However, players can convert the Tec 9 into a fully auto SMG using the Full Auto Repeater muzzle attachment. 
The weapon has a moderate fire rate for an SMG with a decent damage range.
Weapon background
The Tec 9 is the first-ever Tec 9 to feature in Call of Duty. We have seen similar SMGs in the past such as the MAC 10. However, the Tec 9 makes its COD debut in Black Ops Cold War.
Stats
Damage: 49
Rate of Fire: 451 RPM
Recoil: Moderate
We can see from the damage stats above, the Tec-9 deals 49 damage meaning it is a 4 shots to kill on average. The rate of fire is pretty normal for an SMG. However, the damage range combined with this rate of fire makes it one of the fastest killing SMGs in Cold War. The recoil is quite moderate with a very vertical pattern.
Let's begin by looking at the greatest attachments for the Tec-9 in Black Ops Cold War.
Tec-9 Best Attachments
The best attachments for the Tec-9 in Black Ops Cold War are the:
Muzzle – Full Auto Repeater
8.1″ Task Force Barrel
Field Agent Grip
Stanag 39 RND
The Full Auto Repeater turns the Tec-9 into a fully automatic SMG. The 8.1″ Task Force barrel gives you a well-needed boost in effective damage range. Finally, adding a grip will help stabilize recoil, especially after adding the full auto repeater.
Best Class Setups
Loadout 1 – Ranked Play
This loadout is perfect for rushers that love to optimize movement speed and those that love to stay right in the enemy's face. The AK as secondary is effective for those longer-range gunfights.
Gunsmith:
Full Auto Repeater
8.1" Tak Force Barrel
Field Agent Grip
Stanag 39 RND
Airborne Elastic Wrap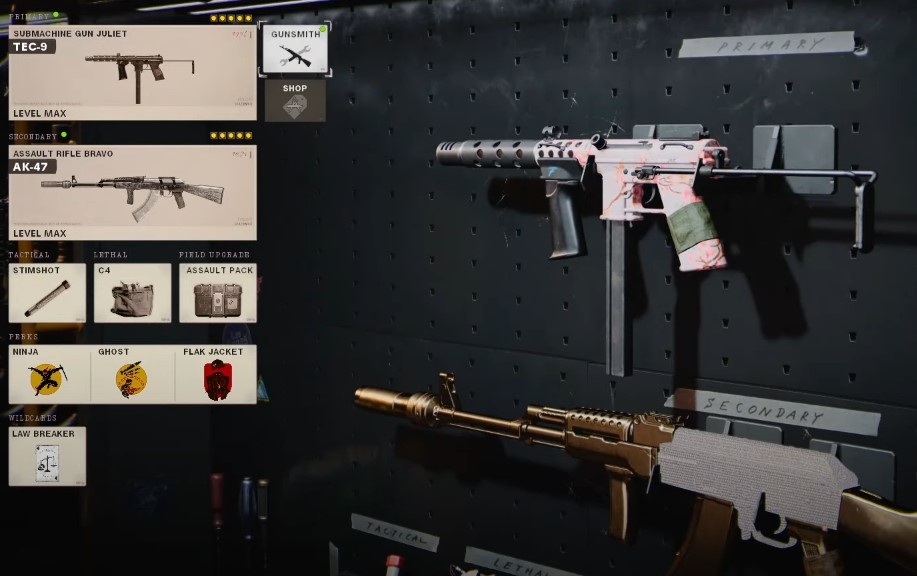 Class Setup
The rest of the loadout is built with stealth in mind. Ninja and Ghost keep you stealthy while Flak Jacket protects you from nade spam. The Assault Pack is very important in this loadout as you'll be burning through ammo fast with the Tec-9.
Secondary: AK 47
Perk 1: Ninja
Perk 2: Ghost
Perk 3: Flak Jacket
Lethal: C4
Tactical: Stimshot
Field Upgrade: Assault Pack
Wildcard: Law Breaker
Loadout 2 – Tec 9 Akimbo Duty
Gunsmith:
Microflex LED
Full Auto Repeater
8.1" Task Force
Steady Aim Laser
Foregrip
Stanag 39 RND
Serpent Wrap
Raider Stock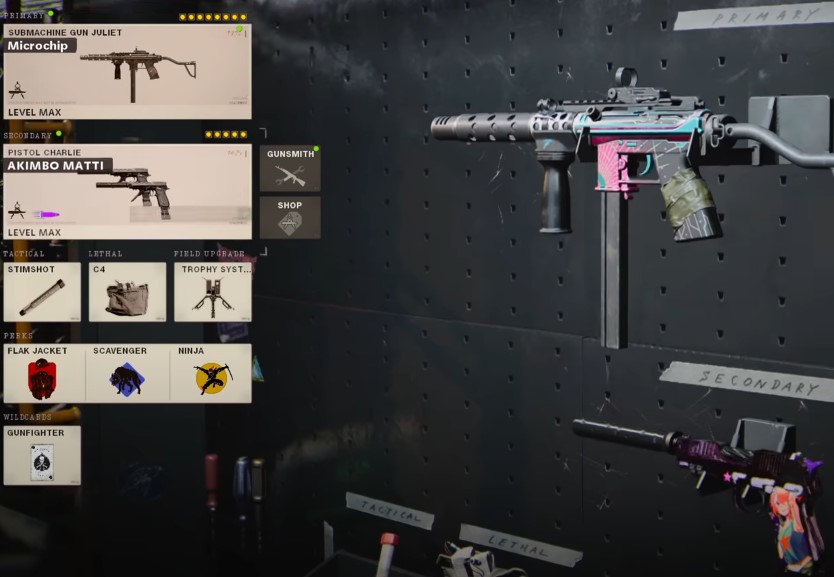 Class Setup
This is the best loadout and is great for players that love to play the objective rather than just go for kills. Flak Jacket and Trophy System make a great combo for gaming the objective. Scavenger will keep you loaded with ammo while Ninja protects you from sound whoring noobs. Have fun with the Akimbo Diamattis, absolute beasts.
Secondary: Diamatti
Perk 1: Flak Jacket
Perk 2: Scavenger
Perk 3: Ninja
Lethal: C4
Tactical: Stimshot
Field Upgrade: Trophy System
Wildcard: Gunfighter