The RAAL LMG is a fully automatic LMG in Modern Warfare and Warzone. It was always in the game in Survival Mode but only became available as of August 2021.
The RAAL has a low fire rate but hits hard. It claims to have controllable recoil thanks to its reciprocating barrel. However, after testing, the recoil of the weapon is quite high and very vertical.
The RAAL is best suited to long-range engagements as are most MW LMGs. The weapon performs best with a long-range optic such as the VLK 3.0 as we suggest in the class setups below.
Weapon background
The RAAL is the first of its kind to grace the world of Call of Duty. We've had lots of similar LMGs in the past but never one with this name.
How to Unlock the RAAL LMG
Get 5 kills in 7 different matches while using LMGs equipped with a Scout Optic.
Stats
Damage: 40-34
Shots to kill: 7 shots
Rate of Fire: 556RPM
Recoil: High
Looking at the stats above we can see that the RAAL has 40 damage up close and it drops off to 34 at longer ranges. It does in fact take 7 shots on average to wipe an enemy. The rate of fire is moderate for an LMG. 
RAAL LMG Best Attachments
The best attachments for the RAAL LMG in Modern Warfare are:
50 Round Belt ammo
32" RAAL Line breaker Barrel
FFS Oblique Under Barrel
The 50 Round Belt ammo turns the RAAL into more of an AR with better handling and ADS times. The FFS Oblique under-barrel provides firing stability and counters recoil. Finally, the 32" Line Breaker Barrel brings out the maximum damage and bullet velocity.
Best Class Setups
Below are the 2 best class setups to run with the RAAL LMG in Modern Warfare and Warzone. 
Class 1 – RAAL Warzone
This class setup is perfect for Warzone players. It keeps in mind range while prioritizing control and accuracy. Here the weapon is fitted with its three best attachments. These attachments or similar will also be used in the remaining classes. 
Gunsmith:
RAAL Monocore
32" RAAL Line Breaker
VLK 3.0x Optic
FFS Oblique
50 Round Belts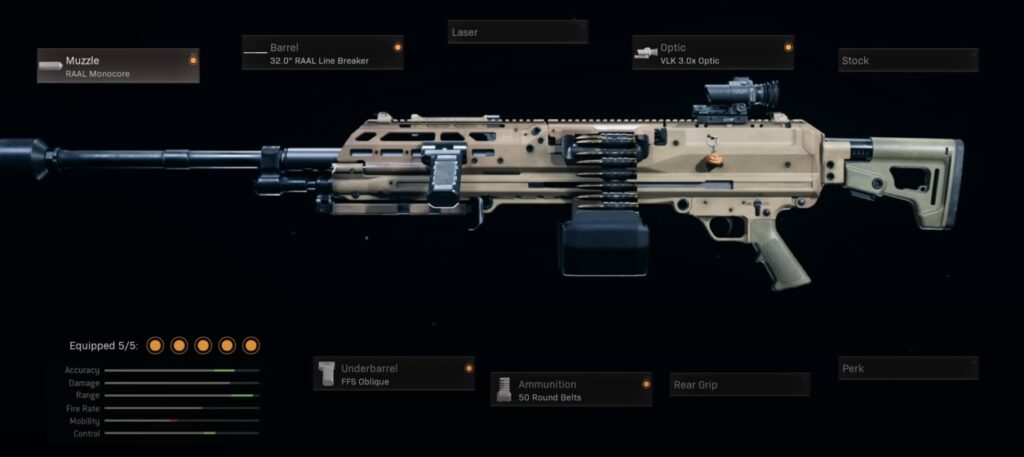 Class 2 – ADS Speed
In this RAAL Gunsmith setup were prioritizing ADS Speed. This class setup is also a great choice Warzone aswel as MP. The Tac Laser gives players added ADS times and a great boost in sprint to fire times.
Gunsmith:
RAAL Monocore
32" RAAL Line Breaker
VLK 3.0x Optic
FFS Oblique
Tac Laser