This EM2 guide will take you through the best attachments and top 3 class setups for the weapon. Aswel as diving deep into the weapon stats and discussing what makes the weapon effective.
The EM2 is a fully automatic Assault Rifle that was released in Cold Wars Season 5 as part of the Battle Pass. 
The EM2 has an impressive damage range with a built-in scope for accuracy. The weapon's strong point is its very low recoil combined with decent damage. 
Weapon background
The EM2 is the first of its kind we've seen in a Call of Duty title. However, the weapon is real and was used by British forces for a brief period in 1951.
Stats
Damage: 48
Rate of Fire: 535RPM
Recoil: Low
Looking at the stats above we can see that the EM2 assault rifle will melt people in an average of 4 shots. Landing a headshot will drop the weapon to a 3 shot. The ROF is standard here for all Cold War Assault Rifles. The Recoil is quite manageable even without a grip. However, this is subjective and every player handles recoil differently.
So without further ado let's discuss the EM2 Best Attachments Class Setups…
Best Attachments
The best attachments for the EM2 in Cold War are the:
25.8″ Task Force Barrel
Stanag 40 RND mags
Grip of the player's choice.
Dropshot Wrap
The Task Force Barrel adds a tonne of effective damage range and bullet velocity. The Stanag 40 RND mags add additional ammo giving you 40 rounds per mag. Finally, a grip will help with countering recoil. Any grip should work fine. 
Best Class Setups
Class 1 – All Out Warfare
The All Out Warfare class setup is great for both stealthy and aggressive players. It is in fact setup for both playstyles.
Gunsmith:
Suppressor
25.8" Task Force
Foregrip
Stanag 40 RND
Dropshot Wrap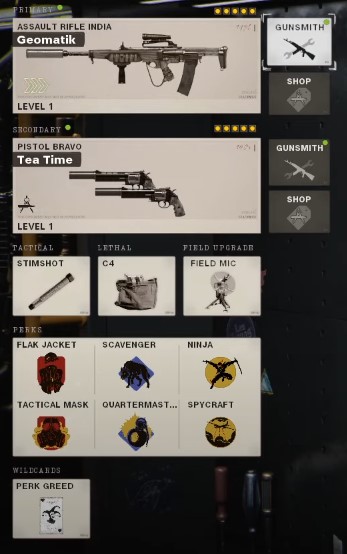 Class Setup
This class setup is perfect for those players that love to go balls deep and stay in the action. Were using Perk Greed here to max out our perk selection. The Stimshot is a trusty tactical because it helps us get back into the action faster.
Secondary: Magnum
Perk 1: Flak Jacket/ Tactical Mask
Perk 2: Scavenger/ Quartermaster
Perk 3: Ninja/ Spycraft 
Lethal: C4
Tactical: Stimshot
Field Upgrade: Field Mic
Wildcard: Perk Greed
Class 2 – EM2 Ranger
This class setup maximizes bullet velocity while preserving the weapon's usability. Even with these attachments it still has a decent ADS time and sprint to fire speed.
Gunsmith:
27.4" Ranger Barrel
Infiltrator Grip
Stanag 40 RND Mag
Airborne Elastic Wrap
Raider Stock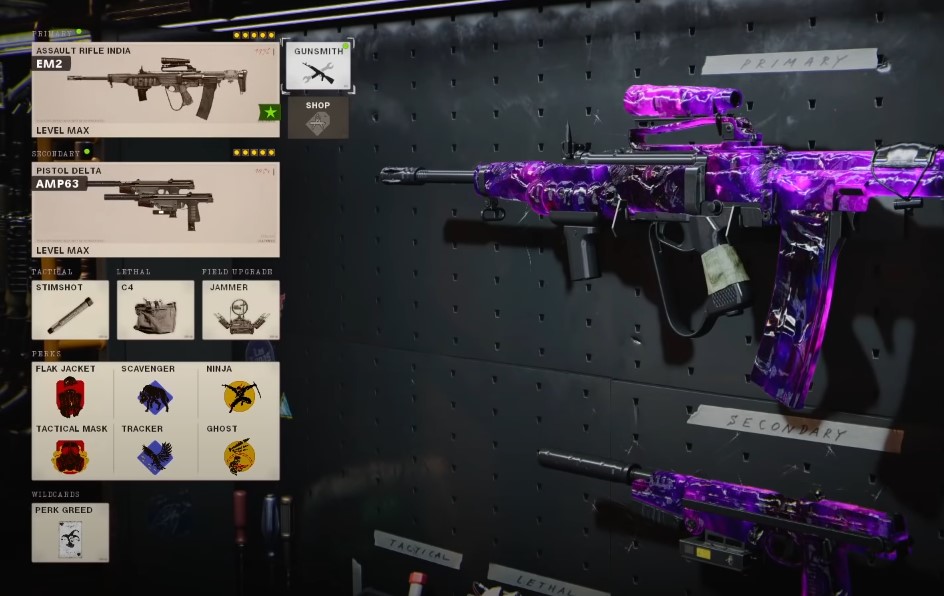 Class Setup
The remainder of the class setup is a great class to use when playing objective-based game modes such as Domination and Hardpoint. Similar to the class above, we use Perk Greed to maximize perks. The AMP63 akimbo here is lots of fun. It's funny hearing people rage when you melt them.
Secondary: AMP63 Akimbo
Perk 1: Flak Jacket/ Tac Mask
Perk 2: Scavenger/ Tracker
Perk 3: Ninja/ Ghost
Lethal: C4
Tactical: Stimshot
Field Upgrade: Jammer
Wildcard: Perk Greed
Gaming and Learning Unite: Expert Educational Help for Gamers

Securing Your Gaming Experience: A Guide to Online Privacy
Play-to-Earn: How Cryptocurrency Is Transforming Player Incentives

Red Bull Campus Clutch Returns To The Global Valorant Esports Tournament