The PPSh-41 returns in Call of Duty: Black Ops Cold War. It was added as part of Season Three content for the game. 
The PPSh-41 SMG is an absolute masterpiece. Famed for its fire speed, the PPSh-41 is classified as having the second fastest fire rate in its category, but with better shot damage than the fastest one, the MAC-10. 
With this information, you can see that this powerful SMG can really melt an enemy in seconds, becoming the ideal weapon for leading the war in objective modes and helping out by clearing tight spaces on the battlefield.
Weapon background
The SMG, formerly known as only "PPSh" was introduced in Call of Duty: United Offensive and featured in several other titles such as Call of Duty: Finest Hour, Call of Duty 2, Call of Duty 4: Modern Warfare (and remastered), Call of Duty: World at War, Call of Duty: Black Ops, Black Ops III, Call of Duty: WWII and now in Black Ops Cold War.
How can we unlock this speedy-killer weapon?
In order to get your hands on the PPSH-41, players must reach level 15 in the Battle Pass. Once completed, the weapon will be unlocked and available on the inventory. 
Now let's check the Stats:
Stats
Damage: 28
Rate of Fire: 909 RPM
Recoil: High
Magazine Size: 32 rounds (40, 50, 55, and 71 with ammunition attachments)
Starting Ammunition: 32+160
Maximum Ammunition: 32+192
Reload Time: 2.2 seconds (empty)
As we can check on the weapon stats, it has decent damage for an SMG, requiring between 6 to 7 shots to kill (not including headshots, of course) and an incredible Rate of Fire of 909 RPM.
It also has a large magazine size with plenty of ammo to survive in the match. The Reload Time is also acceptable, requiring only 2.2 seconds for a full reload.
Despite its high rate of fire, the weapon recoil is quite manageable, allowing you to stretch engagements out to medium distances if you can study its pattern and adapt it accordingly. 
Of course, the weapon has its flaws, the most notable one is its hip-fire spread, its spread is greater than the category standard. This might be ideal for dealing with many targets simultaneously, where the range doesn't actually matter, but aiming down sights (ADS) may be slightly better against a single target, even if the conflict is just 5 meters long.
PPSh-41 Cold War Best Attachments
The best attachments for the PPSh-41 in Cold War are:
Muzzle: Spetsnaz Compensator
Barrel: 14.9″ Reinforced Heavy
Underbarrel: Spetsnaz Grip
Handle: GRU Elastic Wrap
Magazine: 55 Rnd Drum
The Spetsnaz Compensator muzzle attachment provides some recoil compensation for the PPSH-41, making the weapon a lot more reliable to use. The 14.9" Reinforced Heavy Barrel was chosen here because it gives us a more effective damage range as well as some bullet velocity to the weapon. 
In the Underbarrel section, we chose this Spetsnaz Grip as it can deliver even more recoil control, turning our SMG into a smooth weapon to handle. 
The GRU Elastic Wrap is a good choice here so we can have more flinch resistance and a better Aim Down Sight time. And, lastly, the 55 RND Drum Magazine, which allows us to stay even longer in a fight.
Best Class Setups
Based on the best attachments and our overview of the weapon. Below are the top 3 gunsmith setups and classes for the PPSh-41 in Black Ops Cold War.
Class 1 – Overpowered
Gunsmith:
Optic: Microflex Led
Muzzle: KGB Eliminator
Barrel: 14.9″ Rifled
Body: KGB Target Designator
Underbarrel: Spetsnaz Grip
Magazine: Fast Mag
Handle: Speed Grip
Stock: Raider Stock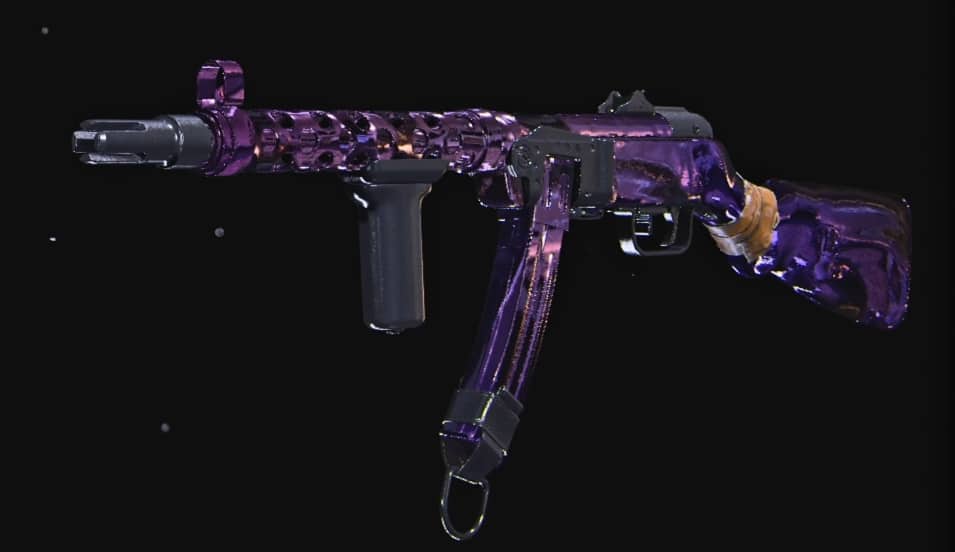 Class Setup
Secondary: Ballistic Knife
Perk 1: Tactical Mask
Perk 2: Scavenger
Perk 3: Ninja
Lethal: Tomahawk
Tactical: Stun Grenade
Field Upgrade: Assault Pack
Wildcard: Gunfighter
Class 2 – No Recoil
Gunsmith:
Muzzle: KGB Eliminator
Barrel: 14.9″ Ranger
Underbarrel: Spetsnaz Grip
Magazine: Vandal Speed Loader
Handle: Serpent Wrap

Class Setup
Secondary: Midnight
Perk 1: Flak Jacket
Perk 2: Scavenger
Perk 3: Ninja
Perk 4: Tactical Mask
Perk 5: Tracker
Perk 6: Gung-Ho
Lethal: Semtex
Tactical: Stimshot
Field Upgrade: Field Mic
Wildcard: Perk Greed
Class 3 – Fast Killing
Gunsmith:
Muzzle: KGB Eliminator
Barrel: 14.9″ Reinforced Heavy
Underbarrel: Spetsnaz Grip
Magazine: 55 Rnd Drum
Handle: GRU Elastic Wrap

Class Setup
Secondary: Diamatti
Perk 1: Flak Jacket
Perk 2: Scavenger
Perk 3: Ghost
Perk 4: Tactical Mask
Perk 5: Quartermaster
Perk 6: Spycraft
Lethal: Semtex
Tactical: Stimshot
Field Upgrade: Proximity Mine
Wildcard: Perk Greed