Are you looking for the best class setups and attachments for the M4A1 in Modern Warfare? This guide has you covered. We take you through everything you need to know about the weapon including statistics such as damage, range, fire rate, and time to kill. 
The M4A1 is one of the most commonly used weapons in Modern Warfare because of its decent damage and impressive range. It slays in both close and medium-range engagements.
Moreover, the M4A1 can even be a viable weapon in long-range combat. To control the recoil in long-range combat, it is suggested to tap the trigger rather than hold it down.
M4A1 Stats
Damage: 28-23-18
Shots to kill: 4-5-6
Headshot Multiplier: 1.6x
Rate of Fire: 833 RPM
Time to Kill: 216 – 360ms
Best Attachments
The best attachments for the M4A1 in Modern Warfare are the:
Reflex Sight
Corvus Custom
Predator barrel
Stippled Grip/ Rear Grip
60 Round Mags
The M4A1 is a great all-around weapon. It is great in almost all scenarios. However, there are some best attachments that are recommended over others. 
For the optic attachment, the Reflex Sight is a top pick. In regards to the barrel, either the Corvus Custom or the Predator barrel is recommended. This will depend on your weapon level.
To greatly lower recoil we recommend the Stippled Grip Tape on the Rear grip. The other attachment points are the player's choice. However, adding more ammunition is always a good idea. 
Also see…
M4A1 Best Class Setups
Now that you know the stats and best attachments of the M4A1 in Modern Warfare. We will now go over the top 3 best class setups for the M4A1. Each setup has a different objective in mind and the attachments and perks are adjusted accordingly. 
Class 1 – M4A1 Rusher
The M4A1 rusher class is for those players who like to be aggressive. Below the M4A1 is kitted with Commando barrel, FORCE TAC stock, Stippled Grip, 60 Round Mags, and the Commando Foregrip. This combination of attachments gives the M4A1 an extremely fast aim down sights speed.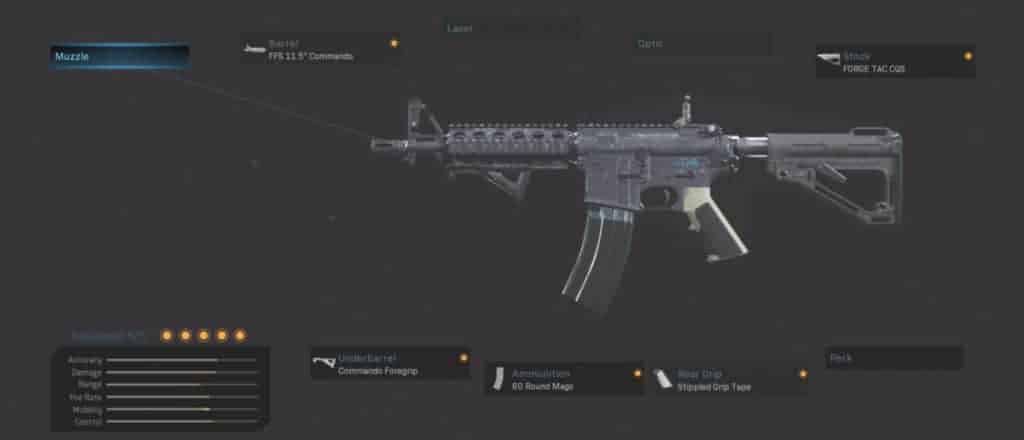 Class Setup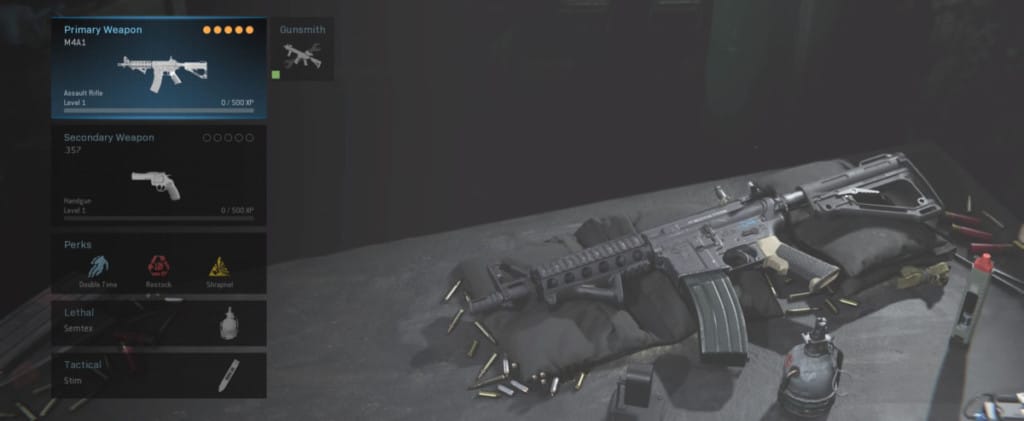 Secondary: The .357 works as a nice secondary but try to be accurate with your shots.
Perk 1: Double Time is perfect for rushing and being aggressive.
Perk 2: Restock will ensure you have a steady supply of Semtex. It recharges every 30 seconds. 
Perk 3: Shrapnel gives you 2 semtex instead of 1.
Lethal: Semtex is great for clearing campers out of their safe spaces.
Tactical: The Stim is great to use while rushing to give you that added boost of health if you take damage.
Class 2 – M4A1 All Round
This class is a great all-round class for every type of engagement. The attachments here are the Reflex Sight, Singuard Stock, Stippled Grip, and 60 Round Mags. The final slot is a pick of your choice.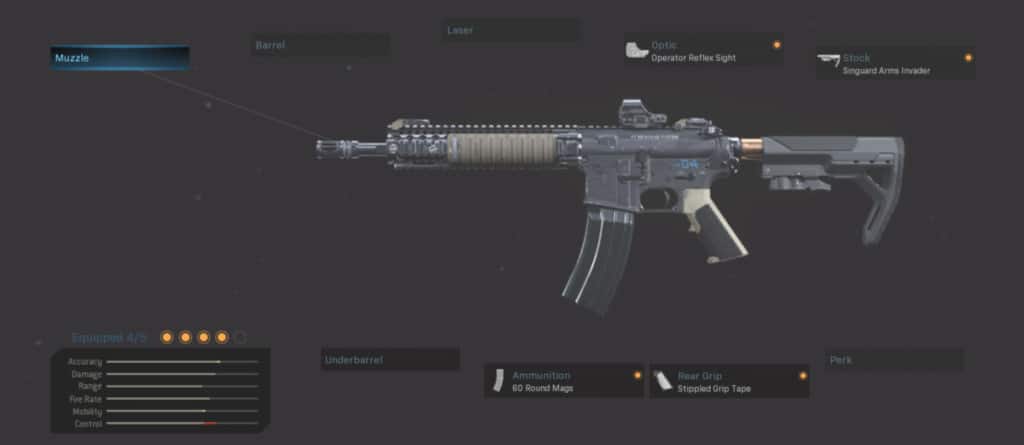 Class Setup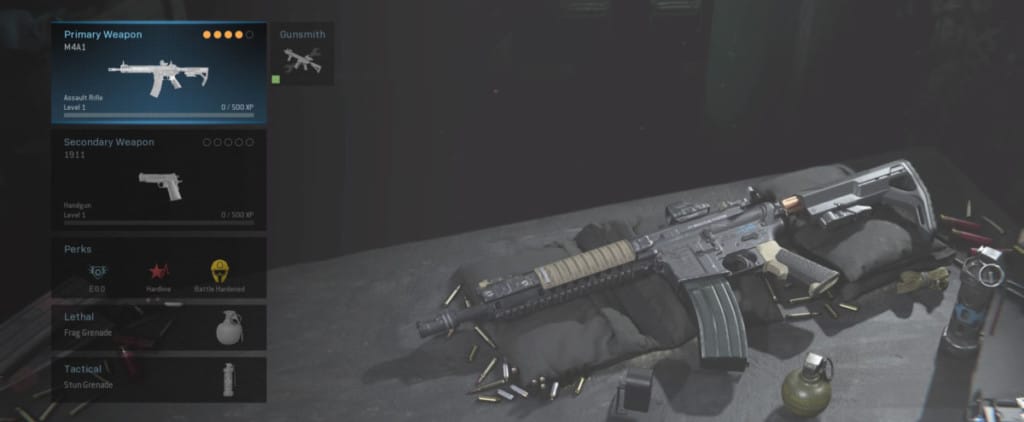 Secondary: The P1911 as secondary is great for power and fire speed.
Perks 1: E.O.D is great to keep you protected from explosives.
Perk 2: Hardline to help you get your killstreaks faster.
Perk 3: Battle-Hardened is great to protect you from incoming enemy projectiles. 
Lethal: The Frag Grenade is the old trusted lethal. It's also great for cooking and bouncing off walls to clear campers in rooms.
Tactical: The Stun can be used on enemies as well as to delay the timer of claymores.
Class 3 – M4A1 Hush Hush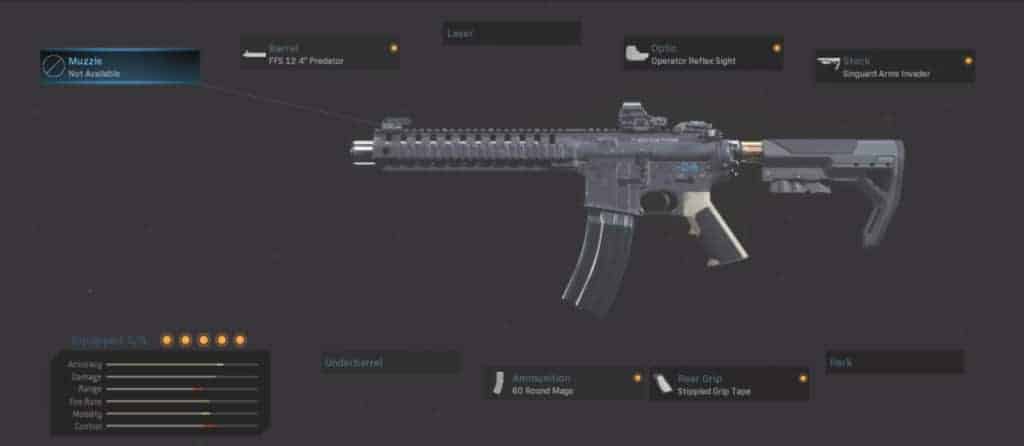 Everyone needs a stealth class in their setups. This class provides just that. Here the M4A1 is equipped with the Predator barrel, Reflex Sight, Singuard Stock, Stippled Grip, and 60 Round Mags.
Class Setup
Secondary: P1911 as secondary is a great reliable.
Perks 1: E.O.D. will protect you from possible claymores and proximity mines when you're trying to flank.
Perk 2: Ghost is a must-have on a stealth class.
Perk 3: Tune Up allows your Field Upgrade to recharge faster. This will make sure you have dead silence available more often. Dead silence is very important to use if you want to flank in this game.
Lethal: Frag Grenade as a lethal
Tactical: Stuns are very useful, use them to stun claymores before entering a room.
Stats sourced from XclusiveAce