This GT7 tuning guide takes you through how to build the Mazda 787B '91 Top Speed Tune. We list the parts and tuning need to make this 1480HP Beast!
Vehicle History
The Mazda 787B was released in 1991 by Japanese Car Manufacturer Mazda as a modification of the original 787.
They were produced for use in various racing championships, most notably the 24 Hours of Le Mans.
Powered by a Wankel rotary engine, the 787B was the last Wankel powered race car to compete in Japanese and world racing championships.
Only three of these cars exist today.
Like super cars? Check out our latest Aventador Best Speed Tune.
Car Specs
This baby has a standard max power of 989 ponies combined with 577lbs of raw torque. Try out the tune below and tell us what you think.
Max Power: 989HP
Max Torque: 577lb
Displacement: 654×4 cc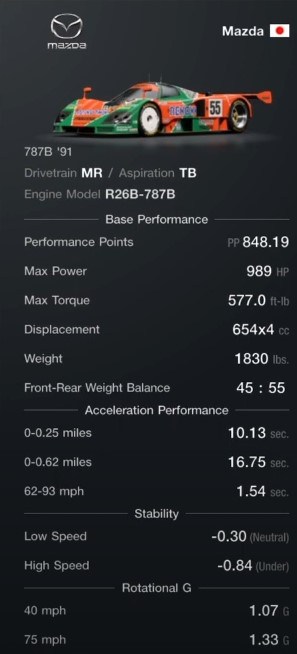 Car Parts
No car parts have been added to this tune. It just used the stock car with some tweaking done to the car settings. Its a great top speed build for oval shaped tracks.
Mazda 787B '91 Top Speed Tune – Car Settings
Copy the car settings below and make sure to mess around with them yourself if you think it needs tweaking. This is a great beginner build for people who just got the Mazda.
Please let us know in the comment section below what changes you'd make if any.
Tires
Front: Heavy Wet Racing
Rear: Soft Racing
Suspension
Body Height Adjustment: 58:63
Anti-Roll Bar: 7:7
Damping Ratio(Compression):  28:28
Damping Ratio(Expansion): 41:41
Natural Frequency: 5.00:4.80
Negative Camber Angle: 2.8:2.2
Toe Angle: 0.06:0.14
Differential Gear
Differential: Fully Custom
Initial Torque: 0:20
Acceleration Sensitivity: 0:40
Braking Sensitivity: 0:50
Torque-Vectoring Centre Differential: None
Front/Rear Torque Distribution: 0:100
Aerodynamics
Downforce: Front: 500 Rear: 1000
ECU
ECU: Full Control Computer
Output Adjustment: 100
Performance Adjustment
Ballast: 0
Ballast Positioning: 0
Power Restrictor: 100
Transmission
Transmission: Fully Custom Racing
Top Speed: 250
Transmission Manual Adjustment
1st: 3.436
2nd: 2.462
3rd: 1.787
4th: 1.341
5th: 1.047
Final: 2.496
Nitro/Overtake
Nitro Overtake: Nitro
Output Adjustment: 50
Supercharger
Conclusion
This tune was originally made by JohnnySDVR. Check out his awesome Gran Turismo tuning guides on YT some time.
We've tons more tunes GT7 Tunes so make sure to have a look around our site for more. We know you'll love them.