This GT7 tuning guide is for the Lamborghini Aventador Best Speed Tune. Below we go through the best parts and tuning needed to make this 282MPH Beast!
Vehicle History
Lamborghini unveiled the LP750-4 Superveloce at the 2015 Geneva Motor Show. The "LP" in the name stands for "longitudinale posteriore", which refers to the car's longitudinal mid-engine layout.
While "750" indicates the engine displacement in metric horsepower and "4" denotes the number of driven wheels (four).
The "SV" moniker stands for "Superveloce", which is Italian for "superfast".
The LP750-4 SV is based on the Lamborghini Aventador and features a host of exterior and interior changes that result in a significantly lighter and more powerful car.
The biggest change is an increase in engine displacement from 6.5 liters to 7.3 liters, which results in a power output of 740 PS (552 kW; 730 bhp) and 508 lb⋅ft (691 N⋅m) of torque.
This makes the LP750-4 SV the most powerful production Lamborghini ever made.
If you like Lambo's check out our Murcielago Top Speed Tune.
Car Specs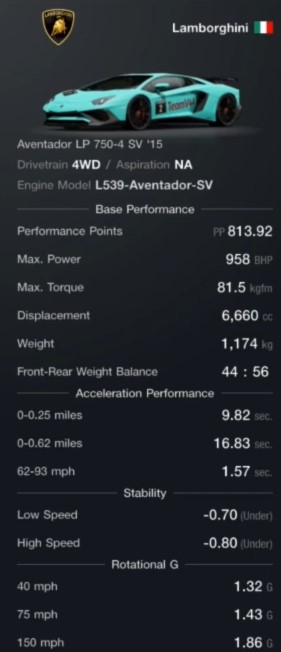 Top Speed: 282MPH
Max Power: 958HP
Max Torque: 81.5kgfm
Displacement: 6,600cc
Car Parts
Not many parts were added to this tune. You can mess around with adding some new parts. There's also no nitrous but you can experiment as much as you like.
Engine Tuning
Bore Up
Engine Balance Tuning
Racing Crank Shaft
Bodywork
Weight Reduction: Stage 1, 2, 3, and 4
Lamborghini Aventador Best Speed Tune – Car Settings
Copy the specs below for your tune and let us know in the comment section what you think.
Tires
Front: Soft Racing
Rear: Soft Racing
Suspension
Body Height Adjustment: 88:95
Anti-Roll Bar: 8:10
Damping Ratio(Compression): 39:24
Damping Ratio(Expansion): 38:34
Natural Frequency: 2.40: 2.91
Negative Camber Angle: 4.6: 0.6
Toe Angle: 1.00:1.00
Differential Gear
Differential: Normal
Initial Torque: 5:7
Acceleration Sensitivity: 20:30
Braking Sensitivity: 10:15
Torque-Vectoring Centre Differential: Normal
Front/Rear Torque Distribution: 15:85
Aerodynamics
ECU
ECU: Fully Custom
Output Adjustment: 100
Performance Adjustment
Ballast: 0
Ballast Positioning: -38
Power Restrictor: 100
Transmission
Transmission: Fully Custom
Top Speed: 480
Nitro/Overtake
Nitro Overtake: None
Output Adjustment: 0
Intake & Exhaust
Air Cleaner: Racing
Muffler: Racing
Exhaust Manifold: Racing
Brakes
Brake System: Carbon
Brake Pads: Racing
Handbrake: Normal
Handbrake Torque: 0
Brake Balance: Brake Controller
Front/Rear Balance: 0
Steering
Change Steering Angle: Normal
4WS System: None
Rear Steering Angle: 0
Drivetrain
Clutch & Flywheel: Racing
Propellor Shaft: Normal
Conclusion
This tune was created by EireVGT on YouTube. Check out his awesome channel sometime.