The Marshal was released about a week into Season 5 of Cold War. It's a break-action shotgun pistol with very high damage in close range. Like all COD fans, you're probably wondering what the best attachments and class setups are for the Marshal.
Because the weapon is a secondary, it serves as a decent last-second swap weapon if you need to finish an opponent off in close range.
This guide will take you through the weapons stats and best attachments for the Marshal.
We will then suggest the top 2 best class setups to run. The Marshal is easy to use as long as you are up close and personal.
Weapon background
The Marshal originally appeared in Black Ops 3 as the single-shot double-barreled pistol, the Marshal 16. It was basically the same weapon. However, in BO3 is was not a break-action pistol.
Stats
Damage: 150
Rate of Fire: 171RPM
Recoil: Low
We can see from the stats above that the Marshal is a one-shot to kill pistol. It can absolutely melt people from close range. TheRate of Fire is standard for a pistol. However, players can increase the rate of fire by using the Dual Wield attachment. The recoil pattern is low to very controllable as it's a shotgun pistol. 
Best Attachments
The best attachments for the Marshal in Cold War are the 5.6" Cut Down barrel, Dragons Breath, and Dual Wield. The 5.6" Cut Down barrel extends the effective damage range, Dragons Breath increases the damage and the Dual Wield gives you two of those ponies. There aren't that many attachments for this weapon so these three are the best overall.
Marshal Best Class Setups
Class 1 – Marshal Akimbos
This class setup is perfect for all playstyles. It's super fun and really easy to get scorestreaks with. These three attachments combined turn the Marshal into an animal.
Gunsmith:
Dragons Breath
12.1" Extended Barrel
Dual Wield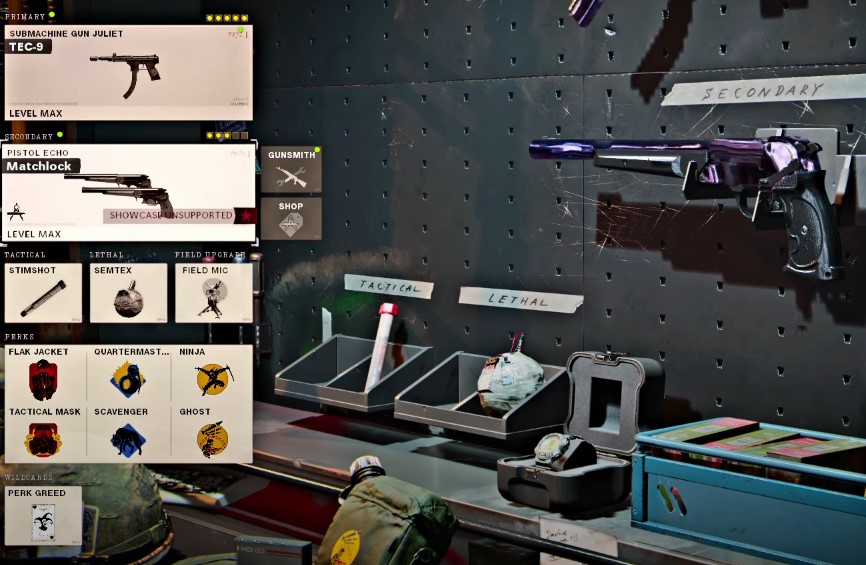 Class Setup
The rest of this class setup is perfect for players that love to stay stealthy and aggressive. Flak jacket and Tac Mask are perfect together for players that love to play the objective. 
Primary: Tec-9
Perk 1: Flak Jacket/ Tac Mask
Perk 2: Quartermaster/ Scavenger
Perk 3: Ninja /Ghost
Lethal: Semtex
Tactical: Stimshot
Field Upgrade: Field Mic
Wildcard: Perk Greed
Class 2 – Run and Gun
The Run and Gun setup is similar to the class above but we made some slight changes to the equipment. The attachment setup is the same except swap out the Extended Barrel for the Cut Down.
Gunsmith:
Dragons Breathe
6.5" Cut Down
Dual Wield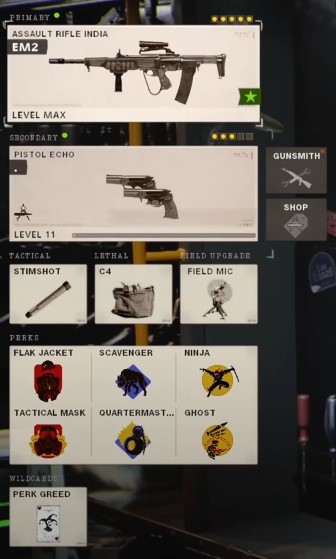 Class Setup
Here we have the EM2 as the primary. If you're looking for a breakdown of the EM2 check out our EM2 best class setups and attachments guide.
The remainder of the setup is the same as the above. Instead, switch out the Semtex with a C4.
Primary: EM2 
Perk 1: Flak Jacket/ Tac Mask
Perk 2: Quartermaster/ Scavenger
Perk 3: Ninja /Ghost
Lethal: C4
Tactical: Stimshot
Field Upgrade: Field Mic
Wildcard: Perk Greed