GTA San Andreas is such an epic game. All the nostalgic memories of being 12 years old and spending all summer playing this beautiful game. Taking over hoods, killing crooked cops, and drinking hot coffee…ahh the memories.
Playing this game on an old PS2 just simply won't cut it anymore, that's if you even still have your PS2. I still have mine, A fat PS2 and a slim. Both are still in working order mind you. I'm drifting off the topic.
Simply put, to fully mod San Andreas including Widescreen Fix, Silent Patch, PS2 graphics, and enhanced GUI. You must downgrade the game to the 1.0 version. You do this using the downgrader tool. The downgrader tool allows you to add lots more mods. This guide will show you step by step how to do it.
Table of Contents
I highly recommend downloading this game from Steam and playing it on your laptop or desktop. It doesn't require much to run. Most new computers can run this game with ease.
Minimum Specs to run GTA San Andreas
GPU: 64 MB DirectX 8.1 compatible video card (NVIDIA GeForce 3 or better)
CPU: Pentium III or Athlon Equivalent. Speed: 1Ghz
RAM: Minimum 256mb
OS: Windows 2000/XP. The game runs fine on Windows 10
Disk Space: 3.6GB
However, the Steam version kind of sucks and is missing a lot from the original version. Here are some reasons why the standard Steam version is not that great and why you should mod the game.
Why the Steam version of San Andreas Sucks
The worst reason of all is the fact they cut 18 radio tracks from the original game. Which included tracks such as 2pacs I Don't Give a Fuck and Tom Petty's Running Down a Dream. Songs that were iconic to the game.
This was probably due to the music licenses running out. Rockstar never bothered to renew them. So the songs had to be omitted from the game.
The second reason is the absence of the "dirty car" fix. This fix was in the 2.0 version of the retail game. This feature enabled the cars to be dirty and made dirtier the more you drive them.
You can also clean the car by entering the PaynSpray. However, for some reason, this was not included in the Steam version.
Thirdly, they removed the famous Hot Coffee glitch. This glitch made it possible to get it on with your girlfriend. Which includes a mini-game feature similar to working out. Rockstar attracted huge heat for this and was forced to remove it from the game.
They also removed all associated graphics and files. Therefore, this feature is only available on the 1.0 version. Even the patch can't make it available.
Fourthly, the Steam versions Frame Limiter is bugged forcing the game to run on a max FPS of 26. They somehow broke the frame counter which bugged the game to skip frames.
Finally, yes there is more. The Steam version is also incompatible with some old saved game files. This caused mayhem at the time when they sent out the update.
Players could not use their old saved games. This resulted in them losing all their hard-earned progress.
So what mods can I add?
Some of the mods include controller support, PS2 graphics, 1080 HD Widescreen Fix, San Andreas Multiplayer, and remastered GUI. Yes, that's correct. Modders have made a Multiplayer mod for San Andreas and you guessed it, it's epic. Have I said epic enough?
So let's get into it. Let's make your San Andreas great again. Please note. I will make this guide with the Steam version. However, this works on the retail version 2.0 also.
How to Downgrade and Mod GTA San Andreas
Step 1: Download the game from Steam
The first thing you need to do is download San Andreas from Steam. It will cost you a few bucks. Mine was about $8 over at Instant Gaming at the time of writing this article.
Instant Gaming sells game keys for all versions of San Andreas. They also sell game keys for pretty much any game on PC. It's where I buy all my game keys.
Step 2: Rename the GTA San Andreas Root folder
You will need to go to your GTA San Andreas root folder and rename it. Change the name to anything you want. This will prevent steam from updating the modified files if there is an update for the game in the future. When you have completed this step move on to Step 3.
Step 3: Download the GTA Downgrader
The third step is to download the GTA San Andreas Downgrader. This is provided in the download link below. Once the software is downloaded. Launch it and agree to download the missing files. The missing files are about 451MB. This shouldn't take long to download. However, this will be dependent on your internet speed.
When the missing files are downloaded. Click on Browse in the top right corner and look for your GTA SA root folder. Once there, find the gta-sa.exe file and select it. The downgrader will then process your file. This will take approximately 5 minutes or less. Step 4 will guide you on which mods to install.
Step 4: Choose the mods you want and hit downgrade
There are many mods to choose from. If you are not familiar with modding games. It can get overwhelming. I recommend you choose the following mods: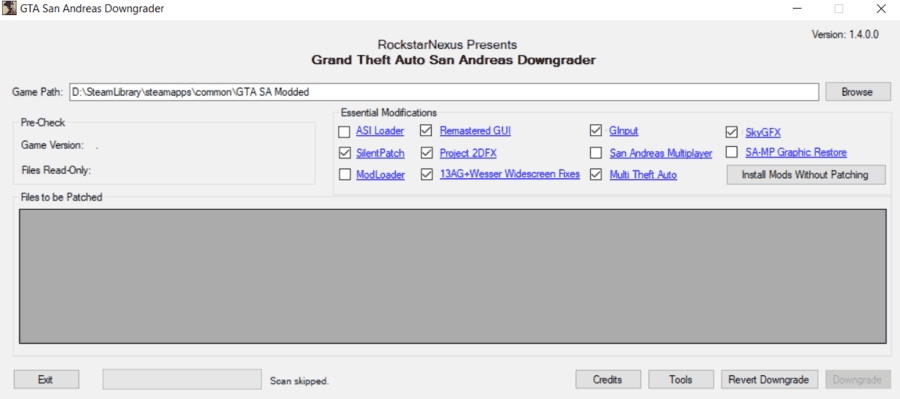 The Silent Patch: This fixes so many bugs in the game including game progression bugs. It also fixes bugs where unlocked content was not available after the player unlocked it.
Remastered GUI: This adds in graphical enhancements from the mobile version of the game. Making the game look even better. 
Project 2DFX: This improves draws distances, asset streaming, and adds distant lights. It also makes the city look more alive at night. What more can I say?
13AG+Wesser Widescreen Fixes: This is the one most people want. The ability to play San Andreas on 1080p widescreen monitors. Extremely important.
G-Input: This will improve controller input. If you are wondering will an Xbox One controller work? The answer is yes. It will work and to a T. I use one when playing. It's so sweet.
San Andreas Multiplayer: This gives players the ability to play online against other players. Definitely give it a blast. Or you can install Multi Theft Auto. This is Multiplayer mode but with way more mods available. It's up to you.
SkyGFX: Brings accurate PS2 graphics to the PC version. This ensures the authenticity of the game. Apparently, PS2 had the best San Andreas graphics.
Troubleshooting and other things you should know
After you patch the game. You might run into some issues. Don't worry. I have compiled a list of some of the most common issues with GTA San Andreas post mods. Some of these issues crop up in San Andreas even without the mods.
Cannot find video mode error
This message may pop up telling you that the game cannot find the resolution to launch. It may say "CANNOT FIND 800x600x32 VIDEO MODE". Or any other resolution. The fix is still the same.
Go to the start-up page of your desktop. Right-click on Intel Graphics Settings. Go click Custom Resolutions, click YES. Input these values:
Width: 800
Height: 600
Refresh Rate: 60
After you input the value. Make sure to click add at the bottom right of the screen and accept the changes. Close the graphics settings. San Andreas should launch.
Fixing launch error 1536X864X32 GTA San Andreas
If you see the launch error. "CANNOT FIND 1536X864X32 VIDEO MODE". Simply go to Display Settings. Change your screen resolution to 1366 x 768. Accept Changes and exit. San Andreas will now launch.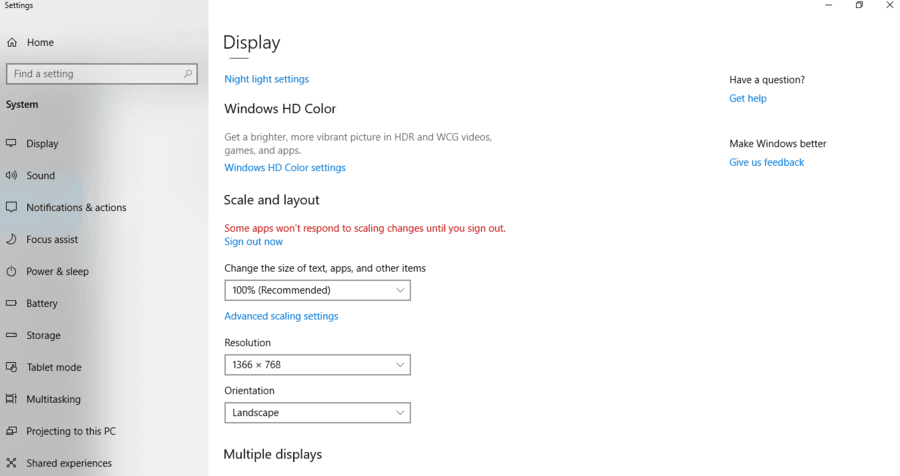 When the game has started go to your in-game settings. Go to the Display Settings – Click Advanced. Change the resolution to 1920 x 1080 x 32. Now you can launch the game without having to change the screen resolution in the future.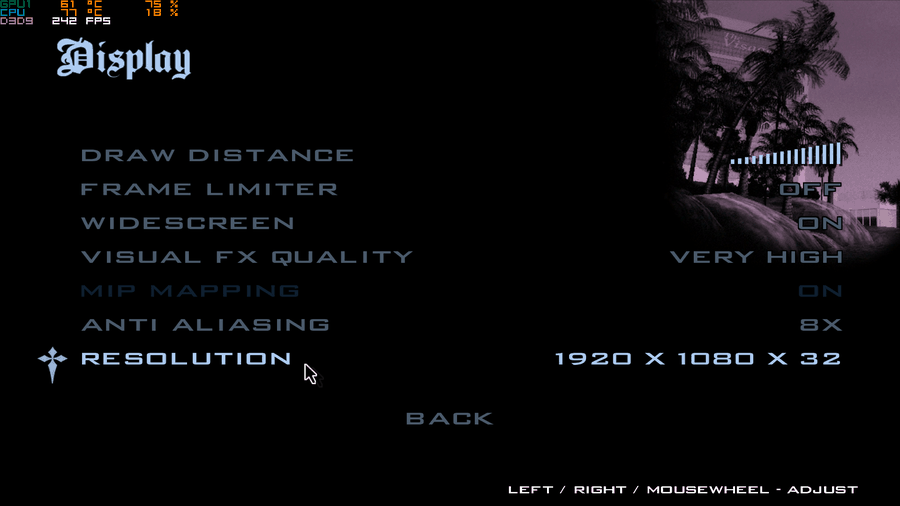 Steam Features will not be available
When playing the modded version of the game. The Steam features will be disabled so you will not be able to unlock any achievements. Steam won't track your in-game time either. This also means the game cannot be launched from the Steam application.
Can I use my old Steam saves?
You can use your old Steam saved games. You must convert them first using a website called GTASnP.com. Just remember to always back up your files before converting.
San Andreas Multiplayer won't minimize when I ALT-TAB it on Windows
This is a pesky bug that occurs sometimes. However, I have a solution:
Step 1: Go to your GTA San Andreas folder and rename the gta_sa.exe file to anything you want. I will rename it cherry for this example.
Step 2: Right-click on the cherry.exe file and select properties – compatibility – set to run as admin – Save.
Step 3: Go to the home page of windows 10 and boot up the Command Prompt. Type "cmd" into the search bar. Command Prompt should come up in the search results.
Step 4: When in Command Prompt type the following in:
"mklink "your SA directory\gta_sa.exe" "your SA directory\the name you chose to rename your SA exe file to in step 1"
So your prompt will look something like this:
"mklink "S:\Grand Theft Auto – San Andreas\gta_sa.exe" " S:\Grand Theft Auto – San Andreas\cherry.exe"
Please note your San Andreas directory will probably be different from mine. Make sure you type in your SA directory correctly.
Step 5: Go to the San Andreas game files. Find the San Andreas Multiplayer file. It should be called samp.exe. Right-click Properties – Compatibility – Set to Run as Admin. Save.
Run the game. You should be able to ALT + TAB the game while running to minimize it.
My San Andreas mouse won't work. Here is the fix
Step 1: Run the Game.
Step 2: Minimize and go to Task Manager. From the home page click CTRL+ALT+DEL. Select Task Manager.
Step 3: Find gta_sa.exe file – right click it and Go to details.
Step 4: Right-click again on gta_sa.exe. You will see all the CPU's the game is running on. Turn off all the CPUs except CPU 1. Click OK.
The mouse should work now.
I cannot get more than 30 FPS. How do I change this?
By default, the game limits the frames per second to 30 FPS. You can change this easily. Go to Display Settings – Advanced and turn off the Frame Limiter option. This will enable the frames to exceed 30 FPS.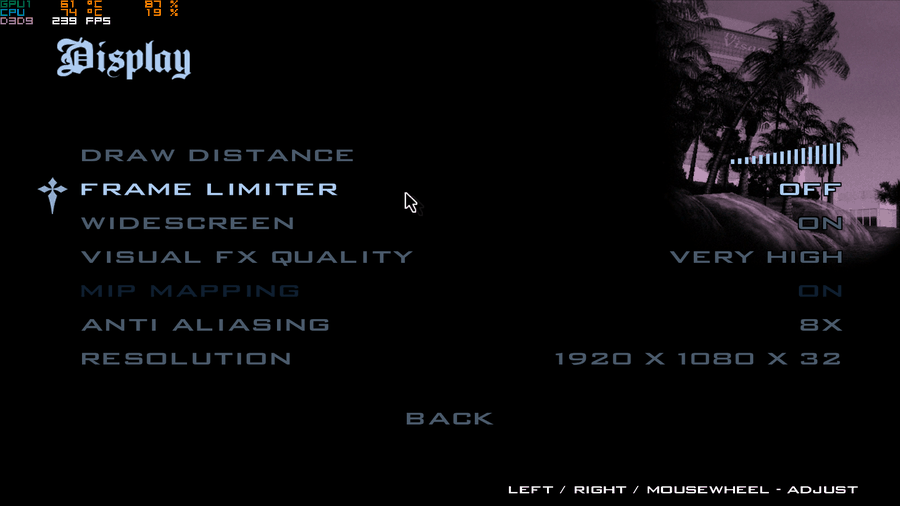 However, beware of making your FPS higher. Numerous changes occur to the mechanics of the game. Some changes include:
The inability to walk while aiming your weapon. This can get very annoying in gunfights.
The vehicles slow down a lot quicker which changes the driving mechanics of the game. In particular, drifting around corners appears to be broken entirely. On anything above 30 FPS.
The swimming graphics change drastically. Your character will also swim a lot slower. This gets annoying.
The game does look beautiful and crisp when pushed past 30 FPS. However, the game was created to work in its native FPS which is 30. So mess around with it and use it at your own will.
Conclusion
If you have followed steps 1 to 4 on how to downgrade and mod GTA San Andreas. Everything should be working great. Congratulations. Your San Andreas is now in Godmode. I am very thankful to the modders who worked really hard to make the necessary changes to this game.