This guide will take you through everything you need to know on how to play COD Mobile on PC. We will also show you step by step, how to do it. 
What you need to do is download an emulator for PC. There are a few different options when choosing an emulator. Emulators like Bluestacks and VOX are popular. However, the official emulator from the guys that worked on COD Mobile is available to download. 
This emulator is called GameLoop. GameLoop is developed by Tencent. The same company that developed COD mobile. After a few hours of playing, it actually works great and the game flows very well. 
So without further ado, let's get into the guide:
What are the minimum PC specs to run Gameloop?
Emulators need pretty decent setups to run games. A computer's hardware is just coded differently to Android devices. Therefore, it needs a lot of processing power to code Android games. Keep in mind this is the bare minimum. The laptop we used to run Gameloop is an i7 8GB ram. It ran smoothly with slight hiccups here and there. 
Below is the official PC requirements from Gameloops website:
Operating System: Windows 10 (32/64-bit)
Processor: Intel® Core™ i3-8100
Memory: 4 GB RAM (6 GB virtual RAM)
Graphics: Direct X 11.0+ supported (NVIDIA GeForce GTX 660 recommended)
Network: Broadband Internet connection
Storage: 2 GB available storage
Step 1: Download anti-malware software
Yes, this is serious. We highly recommend downloading anti-malware software to block any potential viruses when downloading this emulator.
Why? When we were downloading it, our anti-malware software detected and blocked 2 trojans from infecting the PC. These are not directly from downloading the software. They are from popups when you initially boot up the emulator. After this initial boot up, it never happened again. 
If you don't have malware software. We recommend downloading a great free software called Malwarebytes. It's completely free and a must-have on all computers. Head over to their official website to download if you need to.
Step 2: Download GameLoop from Tencent Gaming Buddy
After downloading Malwarebytes if required. Go to the Tencent Gaming Buddy website and download the Gameloop software. You can follow this link to take you straight to the Tencent Gaming Buddy website that has the software setup file. You will see this download button. When you click it, your download will start.

Step 3: Run the Gameloop EXE file
When you click the file it will give you a prompt to make changes to your PC. Go ahead and allow the changes.
You will then see the install page by Gameloop as seen below. Click install. The process should take a few minutes to complete.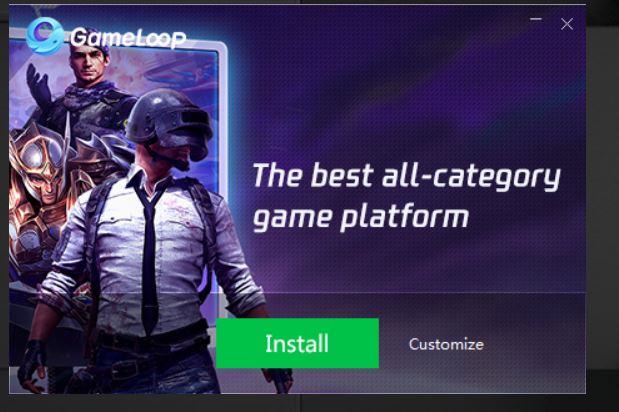 Step 4: Start Gameloop and Download COD Mobile
The next step is to start Gameloop. You can do this by clicking the green start button as you see in the next picture: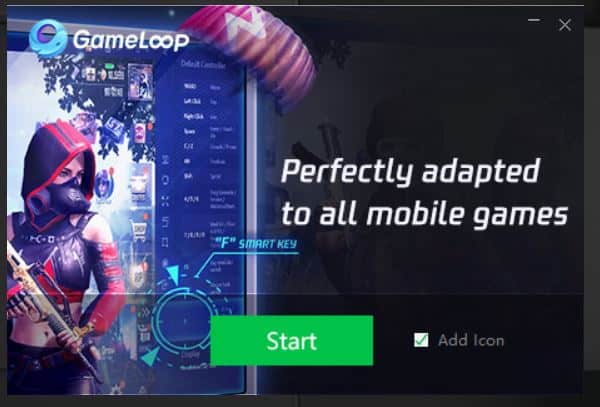 After you start Gameloop. Gameloop will boot and take you to the User Interface. Click on the Game Center option on the control panel on the left.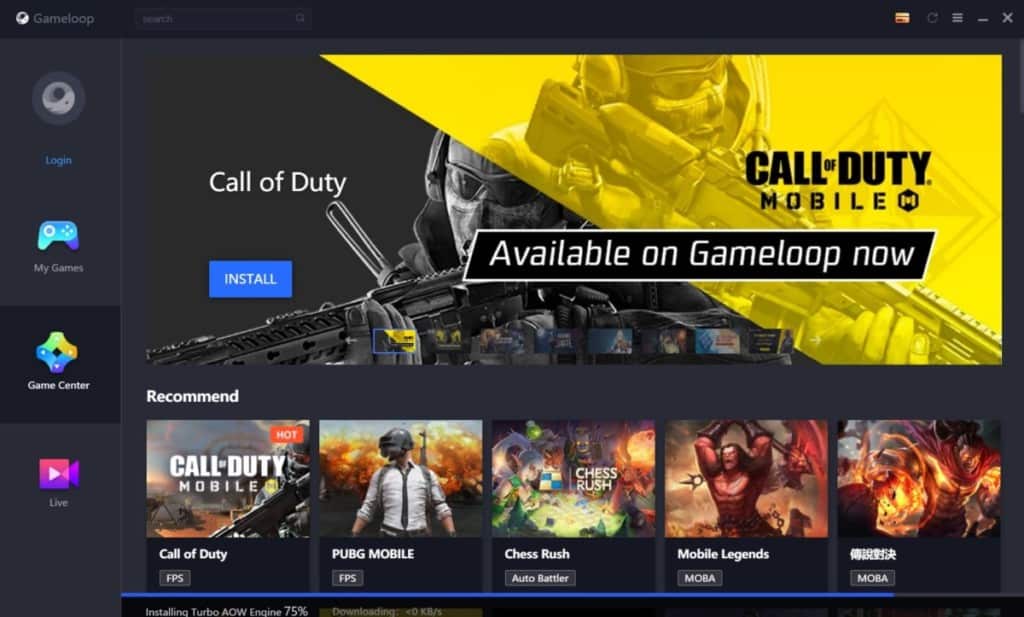 Find Call of Duty Mobile and install it.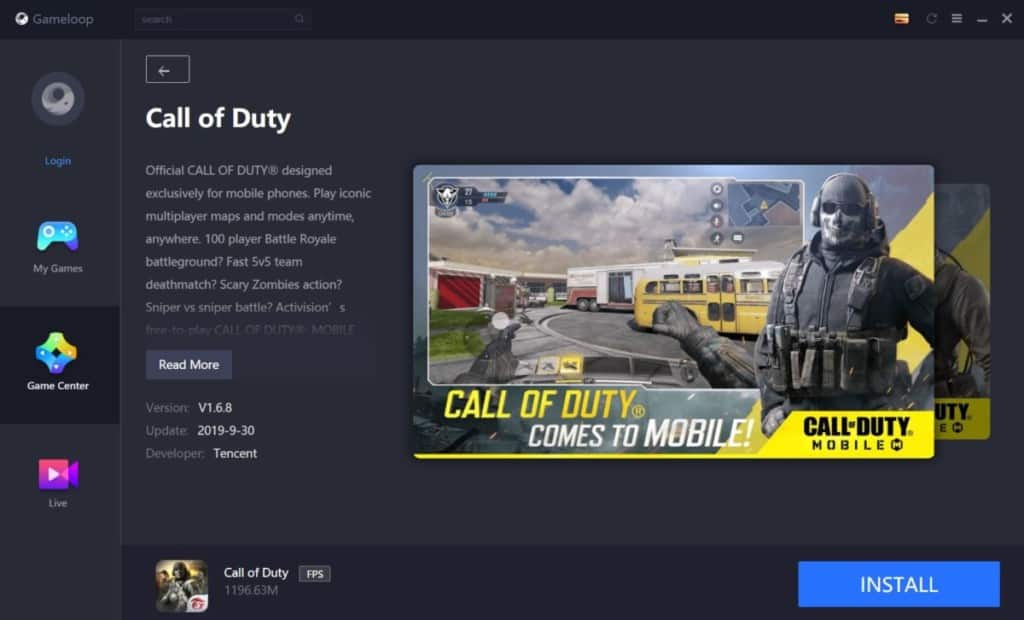 Step 5: Enjoy playing COD Mobile on PC
Congratulations, you can now play COD Mobile on PC. Check out some of the troubleshooting tips below if you have any issues with your installation.
Troubleshooting and Common Questions: COD Mobile on PC
Is playing on this emulator against mobile players cheating?
No, because you will only be placed into lobbies with other people playing on emulators. That would be very unfair, as mouse users will have superior aim to those playing on mobile. Gameloop has taken measures and is well aware of people trying to cheat.
Can I use my emulator to play other games?
Yes, this emulator can play lots of games. Take a look at the game center. It has lots of games including other popular shooters like PUBG.
How do I speed up my emulator?
The best way to speed up your emulator is to change your power settings in System Settings on your PC. Most PCs will have a high-performance setting that you can turn on. This will set your maximum output to 100%. Just make sure to turn it off because it is not good to always have your PC on max performance. Follow the steps below:
Go to Windows Settings on your computer.
Click on System Settings
Go to Power and Sleep Settings
Click on Additional Power Settings on the right of the screen
Choose High-Performance Mode
How to change graphics settings on COD Mobile?
You can change the graphics setting by clicking on the gear icon at the top of the in-game main menu screen. Here you will find the option to change your graphics and frame rate. Look for the Audio and Graphics section. 

How to configure keyboard button/mapping on COD Mobile?
Look for the small keyboard icon as shown in the image below. Here you can remap all your keys to your liking.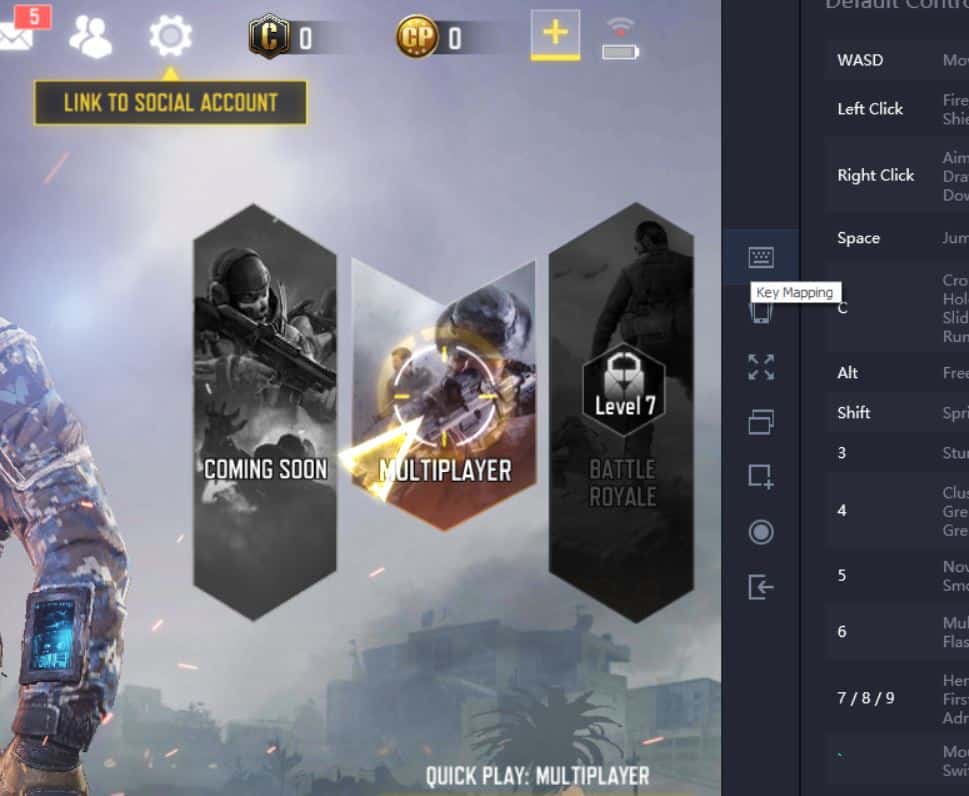 Can I use a gamepad/controller on COD Mobile?
You can use a controller. However, it requires using JoyToKey. The built-in gamepad system is not great on Gameloop as of now. Check out our guide on how to configure any controller using JoyToKey.