This guide goes through the Ferrari 599XX Evolution best drift tune in Forza Horizon 5. We list the parts and exact tuning needed to turn the car into a drifting god. We also take a look at the overall performance of the car after the tune has been applied.
The Ferrari 599XX EVO was one of the fastest cars in Horizon 4. It makes yet another appearance in Horizon 5 and is still as fast as ever.
You can get your hands on the 599XX by purchasing it from the Autoshow for 2,600,000 CR. It's also available to win through a Wheelspin or sniped on the auction house.
Vehicle History
The Ferarri 599XX Evolution was revealed at the Geneva Motorshow in 2009. It was designed by the Ferrari F1 team to perform better on a race track. The car was produced from 2009 to 2012 and only 44 are in existence.
Ferrari 599XX EVO Best Drift Tune Performace Specs
The drift tune for the Ferrari 599XX has a whopping 1418HP with 911 pounds of force. It's a beast and so fun to drift.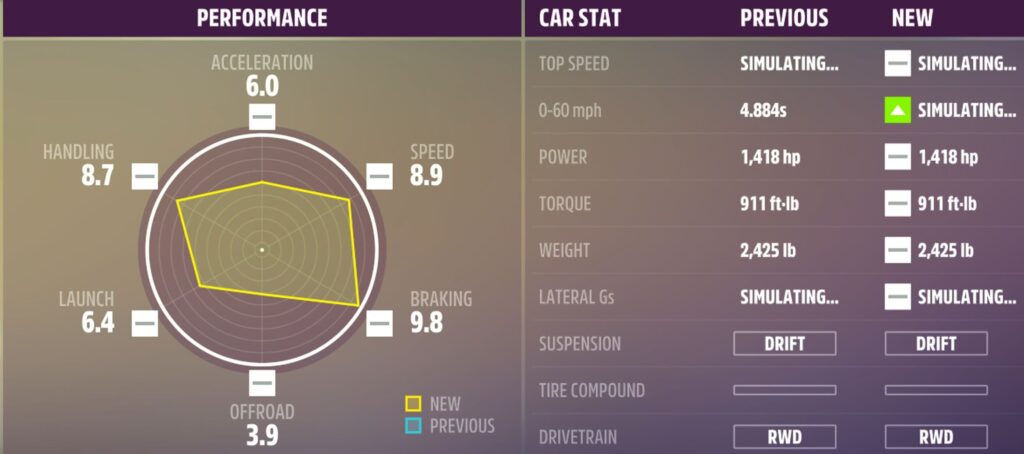 Drift Car Parts
Most of the parts have been maxed out. For the Rear and Front tires make sure to leave the front thin and the back thick. The transmission has been changed to a Race with 6 gears.
Engine: Stock
Tire: Drift
Front Tire Width: thin
Rear Tire Width: thick
Front Track Width: Max
Rear Track Width: Max
Clutch: Race
Transmission: Race 6 Gears
Driveline: Race
Differential: Drift
Brakes: Race
Spring and Dampers: Race
Front Anti Rollbar: Race
Rear Anti Rollbar: Race
Chassis Reinforcement Roll Cage: Race
Weight Reduction: Race
Intake: Race
Fuel System: Race
Ignition: Race
Camshaft: Race
Valves: Race
Displacement: Race
Pistons/ Compression: Race
Intercooler: Race
Oil/Cooling: Race
Flywheel: Race
Drift Tuning
Make sure to copy the following drift tuning. You can test it and mess around a little if you feel it needs changing. However, we don't think it does because it's a great drift tune!
Tires
Gearing
Final Drive: 2.40
1st: 4.15
2nd: 3.01
3rd: 2.31
4th: 1.82
5th: 1.47
6th: 1.24
Alignment
Camber
Toe
Front Caster
Antiroll Bars
Springs
Ride Height
Damping
Rebound Stiffness
Bump Stiffness
Aero
Brake
Braking Force
Balance: Rear 
Pressure: Low 
Differential
Front
Acceleration: 75%
Deceleration: 75%
Rear
Acceleration: 75%
Deceleration: 75%
Center
Summary
That's the Ferrari 599XX Evolution drift build. Make sure to check out more of our drift tunes guides while you're here.
This tune was originally made by FarCryAttackersGames. Check out his YouTube channel sometime.