This guide will take you through the best BMW Isetta Drift tune in Forza Horizon 5. We break down the parts used and tuning done to turn the Isetta into a drift king.
The BMW Isetta is one of the most hilarious cars I've ever seen. It's hilarious to think that it's one of the best drift cars in the game and has world records set already. Not only does it hold world records but it also looks adorable while going sideways down those Mexican canyons.
Vehicle History
The Isetta is a microcar that was originally built by Italian car manufacturer, Iso Autoveicoli in 1950. However, in 1955 BMW took the Isetta and made it their own. They redesigned the original build and modeled it on a four-stroke motorcycle engine. So yes, people actually drove these cars back in the day.
While you're here check out more of our Horizon 5 Best Drift Builds.
Drift Tune Stats
Below are the stats for the BMW Isetta drift tune. It's gone from a measly 13HP to 234HP. We've also added over 100 ft-lb of torque.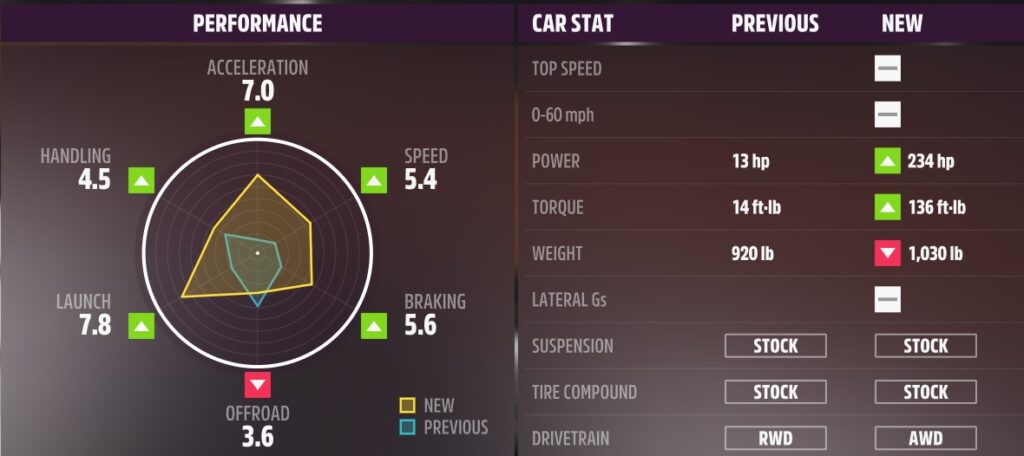 Drift Car Parts
Below are the drift parts we added to the Isetta. A lot of the parts were left stock as they don't make much of a difference to how a drift tune performs. We've gone with the AWD Drivetrain conversion to gain more control while turning. It's a very difficult car to drive so it will take a bit of getting used to.
Engine Swap: 14 Motorbike Engine
Drivetrain: AWD
Aspiration: Single Turbo
Tire: Drift
Transmission: Stock
Driveline: Stock
Differential: Drift
Brakes: Race
Spring and Dampers: Drift
Front Anti Rollbar: Race
Rear Anti Rollbar: Race
Chassis Reinforcement Roll Cage: Stock
Drift Tuning
The tuning section took a bit of testing. However, the tuning stat that makes the most difference is the Differential. We've tweaked it but try it first on default and then make the changes below if you feel it's uncontrollable. Again, the Isetta is difficult to drift so we suggest trying to drift in a low gear such as gear 3 and see if that suits you. If not try more speed in the higher gears.
Tires
Gearing
Final Drive: 3.63
1st: 4.17
2nd: 2.89
3rd: 2.17
4th: 1.66
5th: 1.32
6th: 1.07
7th: 0.85
Alignment
Camber
Toe
Front Caster
Antiroll Bars
Springs
Ride Height
Damping
Rebound Stiffness
Bump Stiffness
Aero
None
Brake
Braking Force
Balance: 25%
Pressure: 20%
Differential
Acceleration: 75%
Deceleration: 75%
Rear
Acceleration: 75%
Deceleration: 75%
Centre
Summary
This is a decent starter Isetta drift tune. If you made any changes or tweaks of your own make sure to let us know in the comment section below.