This tune goes over the Dodge SRT Tomahawk X Best Speed Tune. We break down the best tuning needed to make this 420MPH speed tune.
The Dodge SRT Tomahawk is only 1 million credits so we suggest buying it when you have enough money.
Vehicle History
The Dodge Tomahawk X is a unique car that was first manufactured in 2003. It has a unique design and is very powerful.
The car has a V10 engine and can reach speeds of up to 400 miles per hour. It first appeared in Gran Turismo with the release of Gran Turismo Sport.
While you're here make sure to check out our latest Lamborghini Murcielago LP 640 speed tune. Or you might be interested in our other tune for the Dodge Charger Hellcat.
Car Specs
This baby slaps 2586 Break Horse Power. Its an absolute rocket on the race track. Make sure to copy the car settings below to push the most out of the tune.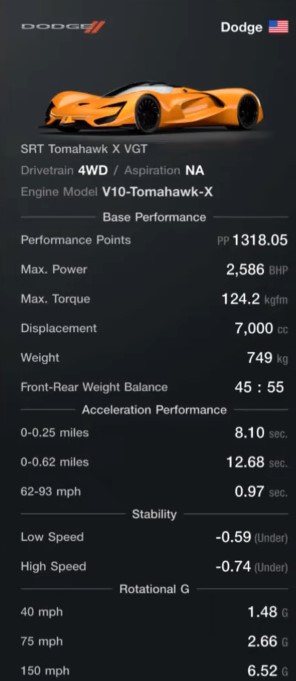 Top Speed: 420MPH
Max Power: 2586
Max Torque: 124.2
Displacement: 7000
Car Parts
No car parts were added to this cat as it's not needed. The car is an animal without any parts already.
Car Settings
Make sure to make the following adjustments to the car settings. Also, don't forget to let us know in the comments section if you liked the tune.
Suspension
Body Height Adjustment: 100:100
Anti-Roll Bar: 10:10
Damping Ratio(Compression): 40:40
Damping Ratio(Expansion): 50:50
Natural Frequency: 6.60: 6.60
Negative Camber Angle: 2.8:1.8
Toe Angle: 0.00:0.00
Differential Gear
Differential: Fully Custom
Initial Torque: 5:5
Acceleration Sensitivity: 5:5
Braking Sensitivity: 5:5
Torque-Vectoring Centre Differential: None
Front/Rear Torque Distribution: None
Aerodynamics
ECU
ECU: Fully Custom
Output Adjustment: 100
Performance Adjustment
Ballast: 0
Ballast Positioning: 0
Power Restrictor: 100
Transmission
Transmission: Fully Custom Racing
Top Speed: 600 KMH
Transmission Manual Adjustment
1st: 4.18
2nd: 2.67
3rd: 1.80
4th: 1.27
5th: 0.95
6th: 0.871
7th: 0.837
Final: 3.050
Nitro/Overtake
Nitro Overtake: None
Output Adjustment: 0
Conclusion
This tune was originally made by HSG Automotive. Check out his awesome channel sometime where he makes lots of GT7 tunes.