This GT7 tuning guide breaks down the Dodge Charger SRT Hellcat Best Speed Tune in Gran Turismo 7. We show you the exact parts and car settings needed to make this 952HP animal.
Hellcat History
The history of the Dodge Charger SRT Hellcat can be traced back to the early 1960s when it was first introduced as a two-door hardtop.
It was available in six different trim levels and came with a V8 engine. The Dodge Charger SRT Hellcat was first introduced in 2014 and is the most powerful and fastest production car in the world.
It's equipped with a 6.2-liter Supercharged HEMI V8 engine that produces 707 horsepower and 650 pound-feet of torque.
It can go from 0-60 mph in just 3.4 seconds and has a top speed of 204 mph. It's also the first production car to ever lap the Nurburgring in under 8 minutes.
The Dodge Charger SRT Hellcat is truly a history-making performance car.
Wanna go fast…like super fast? Check out our Dodge SRT Tomahawk X Best Speed Tune…Youll be shocked!
Car Specs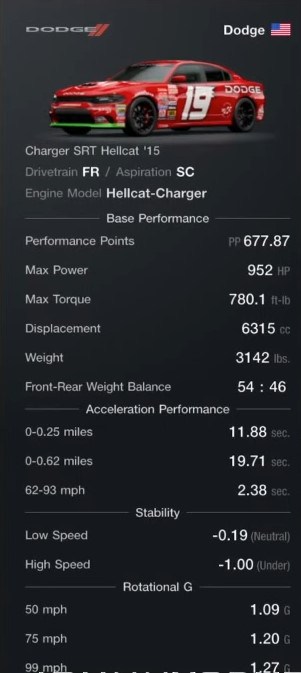 Max Power: 952HP
Max Torque: 780.1 ftlb
Displacement: 6315 cc
Car Parts
Engine Tuning
Bore Up
Engine Balance Tuning
Polish Parts
Titanium Connecting Rods & Pistons
Racing Crank Shaft
Bodywork
Weight Reduction: Stage 1, 2, 3, and 4
Increase Bodyweight Rigidity
Dodge Charger SRT Hellcat Best Speed Tune – Car Settings
Suspension
Body Height Adjustment: 88:89
Anti-Roll Bar: 8:7
Damping Ratio(Compression): 27:27
Damping Ratio(Expansion): 42:42
Natural Frequency: 2.30:2.50
Negative Camber Angle: 2.4:2.0
Toe Angle: 0.15:0.20
Differential Gear
Differential: Fully Custom
Initial Torque: 0:10
Acceleration Sensitivity: 0:40
Braking Sensitivity: 0:20
Torque-Vectoring Centre Differential: None
Front/Rear Torque Distribution: N/A
Aerodynamics
ECU
ECU: Full Control Computer
Output Adjustment: 100
Performance Adjustment
Ballast: 0
Ballast Positioning: 0
Power Restrictor: 100
Transmission
Transmission: Fully Custom Racing
Top Speed: 250
Transmission Manual Adjustment
1st: 8.100
2nd: 5.173
3rd: 3.728
4th: 2.772
5th: 2.109
6th: 1.566
7th: 1.224
8th: 1.022
Final: 2.000
Nitro/Overtake
Nitro Overtake: Nitro
Output Adjustment: 50
Supercharger
Turbocharger: None
Anti-lag System: None
Anti-Lag System: Off
Intercooler: Racing
Supercharger: High End Torque
Intake & Exhaust
Air Cleaner: Racing
Muffler: Racing
Exhaust Manifold: Racing
Brakes
Brake System: Racing Slotted Discs
Brake Pads: Racing
Handbrake: Normal
Handbrake Torque: 0
Brake Balance: Brake Control
Front/Rear Balance: 0
Steering
Charge Steering Angle: Normal
4WS System: None
Rear Steering Angle: 0
Drivetrain
Clutch & Flywheel: Racing
Propellor Shaft: Normal
Conclusion
This Hellcat tune was originally made by JohnnySDVR, check out his awesome content sometime.