This GT7 tuning guide breaks down the Lamborghini Murcielago LP 640 Best Speed Tune in GT7. We show you the exact parts and car settings you need to make this awesome tune.
Vehicle History
The Lamborghini Murcielago LP 640 was first announced in 2001 and made its debut at the Geneva Motor Show the following year. The car was named for a bull that survived 24 fights and was known for its ferociousness.
The LP 640 was the latest and most powerful version of the Murcielago at the time, with a 6.5 liter V12 engine that produced 640 horsepower. It could go from 0 to 60 mph in just 3.4 seconds and had a top speed of 211 mph.
The car remained in production until 2010 when it was replaced by the Lamborghini Aventador. Over its nine-year production run, the LP 640 was available in two different body styles.
While you're here, check out our latest Corvette ZR1 Speed Tune.
Car Specs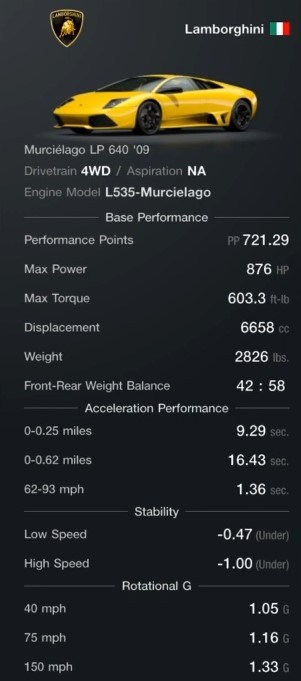 Performance Points: 721.29
Max Power: 876HP
Max Torque: 603.3
Displacement: 6658
Car Parts
The car parts below have been changed to make the tune. Make sure to copy them for your own build.
Tires
Front: Heavy Wet Racing
Rear: Racing Soft
Engine Tuning
Bore Up
Engine Balance Tuning
Polish Parts
Racing Crank Shaft
High Compression Pistons
Bodywork
Weight Reduction Stage 1, 2, 3, and 4
Increase Body Rigidity
Lamborghini Murcielago LP 640 Best Speed Tune – Car Settings
Copy the car setting below to make the tune. If you notice a section left out it means nothing was changed on the car.
Make sure to let us know in the comment section below if you liked the tune.
Suspension
Body Height Adjustment: 89:91
Anti-Roll Bar: 8:7
Damping Ratio(Compression): 27:27
Damping Ratio(Expansion): 42:42
Natural Frequency: 2.30: 2.42
Negative Camber Angle: 2.4: 1.8
Toe Angle: 0.10:0.11
Differential Gear
Differential: Fully Custom
Initial Torque: 16:16
Acceleration Sensitivity: 24:24
Braking Sensitivity: 20:20
Torque-Vectoring Centre Differential: Torque Vectoring Center Diff
Front/Rear Torque Distribution: 15:85
Aerodynamics
ECU
ECU: Full Control Comp
Output Adjustment: 100
Performance Adjustment
Ballast: 0
Ballast Positioning: 0
Power Restrictor: 100
Transmission
Transmission: Fully Custom Racing
Top Speed: 250
Transmission Manual Adjustment
1st: 3.247
2nd: 2.093
3rd: 1.541
4th: 1.167
5th: 0.880
6th: 0.652
Final: 3.524
Nitro/Overtake
Nitro Overtake: Nitro
Output Adjustment: 50
Intake & Exhaust
Air Cleaner: Racing
Muffler: Racing Muffler
Exhaust Manifold: Racing
Brakes
Brake System: Slotted Discs Racing
Brake Pads: Racing
Handbrake: Normal
Handbrake Torque: 0
Brake Balance: Brake Controller
Front/Rear Balance: 0
Steering
Charge Steering Angle: Normal
4WS System: None
Rear Steering Angle: 0
Drivetrain
Clutch & Flywheel: Racing
Propellor Shaft: Normal
Conclusion
This tune was originally made by JohnnySDVR. Make sure to check out his YT sometime. He makes awesome content.