This GT7 tuning guide breaks down the Radical SR3 Best Circuit Tune in Gran Turismo 7. We list the parts and car settings to make the tune below. Make sure to try it out and let us know what you think.
Vehicle History
The Radical SR3 is a British-made sports car. It's the most popular sports model Radical has made.
The SR3 sits on a carbon-framed chassis and uses a 1360cc motorcycle engine for power. The car can reach 60MPH in 3.1 seconds. Just over 1000 SR3s have been built.
While you're here, make sure to check out our 911 RSR Circuit Tune.
Car Specs
This Radical SR3 tune boasts 279 brake horsepower slapping down 38kgfm of torque. Tis a beast indeed.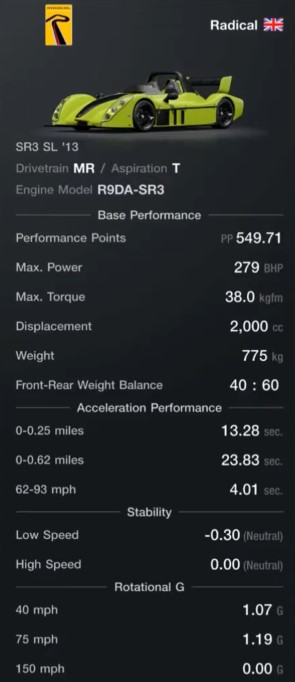 PP: 549.71
Max Power: 279HP
Max Torque: 38kgfm
Displacement: 2000cc
Car Parts
Place the following car parts into the SR3. Below we've broken down the parts based on their classification in the game. So copy them directly into your own tune.
Sports Parts
Club Sports
Sports Suspension
Power Restrictor
Power Restrictor
Ballast
Semi Racing
Fully Custom Computer
Fully Custom LSD
Racing
Polish Parts
Anti Lag System
Racing Intercooler
Air Filter Racing
Racing Filter
Fully Custom Suspension
Clutch and Flywheel Racing
Radical SR3 Best Circuit Tune – Car Settings
Below are the settings for the Radical SR3 tune. Go to your car settings and fill them in. Don't forget to let us know in the comment section if you liked the tune.
Tires
Front: Sports Hard
Rear: Sports Hard
Suspension
Body Height Adjustment: 75:75
Anti-Roll Bar: 4:4
Damping Ratio(Compression): 30:30
Damping Ratio(Expansion): 40:40
Natural Frequency: 3.10:3.10
Negative Camber Angle: 1.0:2.0
Toe Angle: 0.10:0.00
Differential Gear
Differential: Fully Custom
Initial Torque: 0:10
Acceleration Sensitivity: 0:35
Braking Sensitivity: 0:45
Torque-Vectoring Centre Differential: None
Front/Rear Torque Distribution: 0:100
Aerodynamics
ECU
ECU: Fully Custom
Output Adjustment: 100
Performance Adjustment
Ballast: 0
Ballast Positioning: 0
Power Restrictor: 100
Nitro/Overtake
Nitro Overtake: None
Output Adjustment: N/A
Supercharger
Turbocharger: Normal
Anti-lag: Anti Lag System
Anti-Lag Settings: Strong
Intercooler: Racing
Supercharger: None
Intake & Exhaust
Air Cleaner: Racing
Muffler: Racing
Exhaust Manifold: None
Brakes
Brake System: Racing Drilled Discs
Brake Pads: Racing
Handbrake: Normal
Handbrake Torque: 0
Brake Balance: Normal
Front/Rear Balance: 0
Conclusion
This tune was originally created by HSG Automotive. Make sure to check out his awesome content on YT.