This GT7 tuning guide looks at the Ferrari 330 P4 Best Drift Tune in Gran Turismo 7. Below we list all the parts and car settings needed to make this Ferrari go sideways.
Vehicle History
The Ferrari 330 P4 was first produced in 1967 to replace the older P3 model. It's a mid-engine V12 endurance race car. Only 4 of them were ever produced.
It won many prestigious racing events including the 1967 1000km Monza, 24 Hours of Daytona, and the 24 Hours of Le Mans.
Further Reading: Radical SR3 Best Circuit Tune GT7
Car Specs
None of these stats are relevant because this tune is a drift build. But we've left them here in case you're curious to know.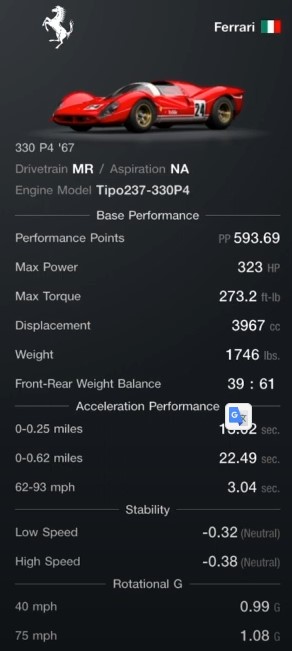 PP: 600
Max Power: 323HP
Max Torque: 273.3 ft-lb
Displacement: 3967cc
Car Parts
Not many parts are needed to make this tune. What is more important is the tuning made in the car settings section below.
Engine Tuning
Bodywork
Ferrari 330 P4 Best Drift Tune – Car Settings
Make the following changes to the car settings. Make sure to change your steering sensitivity to -2 for better control while drifting.
Tires
Front: Comfort Soft
Rear: Comfort Soft
Suspension
Body Height Adjustment: 78: 79
Anti-Roll Bar: 8: 7
Damping Ratio(Compression): 35: 34
Damping Ratio(Expansion): 45: 44
Natural Frequency: 3.50: 3.99
Negative Camber Angle: 4.0: 4.0
Toe Angle: 0.02: 0.00
Differential Gear
Differential: Fully Custom
Initial Torque: 0: 28
Acceleration Sensitivity: 0: 35
Braking Sensitivity: 0: 55
Torque-Vectoring Centre Differential: None
Front/Rear Torque Distribution: 0: 100
Aerodynamics
ECU
ECU: Full Control Comp
Output Adjustment: 80
Performance Adjustment
Ballast: 0
Ballast Positioning: 0
Power Restrictor: 88
Transmission
Transmission: Fully Custom Manual
Top Speed: 330
Transmission Manual Adjustment
1st: 2.467
2nd: 1.753
3rd: 1.339
4th: 1.091
5th: 0.981
Final: 4.260
Nitro/Overtake
Nitro Overtake: None
Output Adjustment: N/A
Intake & Exhaust
Air Cleaner: None
Muffler: Racing
Exhaust Manifold: None
Brakes
Brake System: Racing Slotted Discs
Brake Pads: Normal
Handbrake: Handbrake for Drifting
Handbrake Torque: 100
Brake Balance: Normal
Front/Rear Balance: 0
Steering
Change Steering Angle: Steering Angle Adapter
4WS System: None
Rear Steering Angle: 0
Drivetrain
Clutch & Flywheel: Normal
Propellor Shaft: None
Conclusion
So there it is the drift tune for the Ferrari 330 P4 67. Make sure to try it out and let us know what you think in the comment section below.
The tune was created by JohnnySDVR. Check out his awesome GT7 tunes on YT sometime.