The following GT7 tuning guide breaks down the Porsche 911 RSR Best Circuit Grip Tune. We list the parts and car settings needed to make this awesome grip tune.
Vehicle History
The Porche RSR model was initially launched in 1991. The RSR is used for endurance motorsport racing. It won many races at prestigious racing events around the world including a double victory at the 24 Hours of Le Mans in 2018.
Additionally, the car also won the 2018-2019 FIA World Endurance Championships under the Manthey Racing team.
If you like this tune, make sure to check out our latest Nissan R92CP top Speed Tune.
Car Specs
This baby maxes out at 508HP. The tuning setup below gives you the maximum grip possible and is great for circuit racing.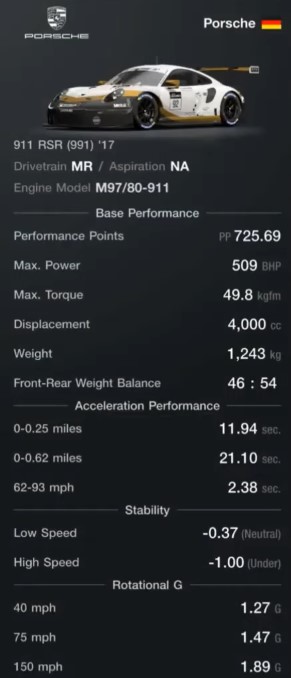 Max Power: 508HP
Max Torque: 49.8kgfm
Displacement: 4,000cc
Car Parts
Firstly, no parts were added to make this tune. It's simply improved by tweaking the engine alone and not adding any other parts.
Car Settings
The following car settings were changed to fully maximize the RSRs grip. Mess around with the tune and let us know in the comment section below if you liked it.
Additionally, if you have any suggestions of your own we'd be happy to hear them.
Tires
Front: Race Hard
Rear: Race Hard
Suspension
Body Height Adjustment: 60:70
Anti-Roll Bar: 5:5
Damping Ratio(Compression): 32:32
Damping Ratio(Expansion): 40:40
Natural Frequency: 3.50:3.50
Negative Camber Angle: 3.0:3.0
Toe Angle: 0.20:0.00
Differential Gear
Differential: Fully Custom
Initial Torque: 0:15
Acceleration Sensitivity: 0:40
Braking Sensitivity: 0:50
Torque-Vectoring Centre Differential: None
Front/Rear Torque Distribution: 0:100
Aerodynamics
ECU
ECU: Fully Custom
Output Adjustment: 100
Performance Adjustment
Ballast: 0
Ballast Positioning: 0
Power Restrictor: 100
Transmission
Transmission: Fully Custom: Racing
Top Speed: 300
Transmission Manual Adjustment
1st: 2.300
2nd: 1.800
3rd: 1.474
4th: 1.249
5th: 1.100
6th: 1.000
Final: 3.800
Nitro/Overtake
Nitro Overtake: None
Output Adjustment: 0
Conclusion
Finally, this tune was originally made by HSG Automotive. Make sure to check out his awesome content on YT.