This GT7 tune breaks down the exact parts and car settings needed to make the Plymouth Superbird 70 Best Top Speed Tune in Gran Turismo 7.
Vehicle History
The Plymouth Superbird is a highly modified Dodge Charger Daytona. It was a short-lived factory follow-up design of the 1969 Charger.
The most iconic features of the Plymouth Superbird are the huge protruding rear wing and the infamous horn which mimics the Road Runner cartoon character.
The Superbird comes equipped with a 7.0L Hemi engine producing 425HP. It can hit 60MPH in 5.5 seconds.
Moreover, there were originally 1,920 Superbird cars built but most of them sat in factories unsold because people preferred the standard Dodge Daytona.
Consequentially, many of the unsold Superbirds were converted into standard Daytonas and sold on.
More Content: Ferrari 330 P4 Best Drift Tune
Car Specs
This Plymouth Superbird pushes a nice 836 horsepower with 790 lbs of torque. This car is perfect for oval tracks which is perfect because it was a purpose-built for NASCAR.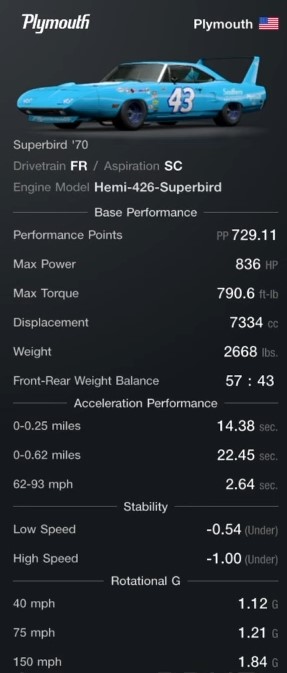 Max Power: 836HP
Max Torque: 790.6 ft-lb
Displacement: 7334cc
Car Parts
First, slap on the following parts to make the Superbird top speed tune. Next, make sure to put on only weight reduction 1, 2, and 3.
Engine Tuning
Bore Up
Stroke Up
Engine Balance Tuning
Polish Ports
High Lift Cam Shaft
Racing Crank Shaft
Bodywork
Weight Reduction: 1, 2, and 3
Increase Body Rigidity
Plymouth Superbird 70 Best Top Speed Tune – Car Settings
Here are the car settings for the Plymouth Superbird 70 top-speed tune. Firstly, make sure to make changes to the transmission because this is where you will get most of the speed from the tune.
Tires
Front: Heavy Wet Racing
Rear: Soft Racing
Suspension
Body Height Adjustment: 115: 130
Anti-Roll Bar: 8:7
Damping Ratio(Compression): 27:27
Damping Ratio(Expansion): 43:43
Natural Frequency: 3.04: 2.84
Negative Camber Angle: 2.5:1.7
Toe Angle: 0.02:0.08
Differential Gear
Differential: Fully Custom
Initial Torque: 0:18
Acceleration Sensitivity: 0:25
Braking Sensitivity: 0:40
Torque-Vectoring Centre Differential: None
Front/Rear Torque Distribution: 0:100
Aerodynamics
ECU
ECU: Full Control Computer
Output Adjustment: 100
Performance Adjustment
Ballast: 0
Ballast Positioning: 0
Power Restrictor: 100
Transmission
Transmission: Fully Custom Racing
Top Speed: 180
Transmission Manual Adjustment
1st: 2.519
2nd: 1.627
3rd: 1.181
4th: 0.933
5th: 0.769
Final: 2.125
Nitro/Overtake
Nitro Overtake: 0
Output Adjustment: 70
Supercharger
Turbocharger: None
Anti-lag System: None
Anti-Lag System: Off
Intercooler: Racing
Supercharger: High End Torque
Intake & Exhaust
Air Cleaner: Racing Air Filter
Muffler: Racing
Exhaust Manifold: Racing
Brakes
Brake System: Racing Slotted Discs
Brake Pads: Racing
Handbrake: Handbrake for drifting
Handbrake Torque: 100
Brake Balance: Brake Controller
Front/Rear Balance: 0
Steering
Change Steering Angle: Steering Angle Adapter
4WS System: None
Rear Steering Angle: 0
Drivetrain
Clutch & Flywheel: Racing
Propellor Shaft: Normal
Conclusion
This Plymouth Superbird 70 top-speed tune was originally made by JohnnySDVR. If you're looking for awesome GT7 tunes check out his YouTube channel.