This GT7 tuning guide takes you through the Honda NSX 17 Top Speed Tune. Below you will find the car parts and car settings made to make the tune.
Vehicle History
This Honda NSX 17 is a two-seater mid-engine electric sports car produced by Honda in the United States. In the USA, Kuwait, and China, the Honda NSX is marketed as the Acura NSX.
The car's production started in 2016 and is planned to end in 2022 when the Type-S is released.
Theres been approximately 2,908 units sold worldwide from 2016 to 2021.
Further Reading: Plymouth Superbird 70 Best Top Speed Tune
Car Specs
This Honda NSX 17 speed tune pushes 852HP with 540.7 lbs of torque. You can get a whopping 1278 horse power out of her with NOS.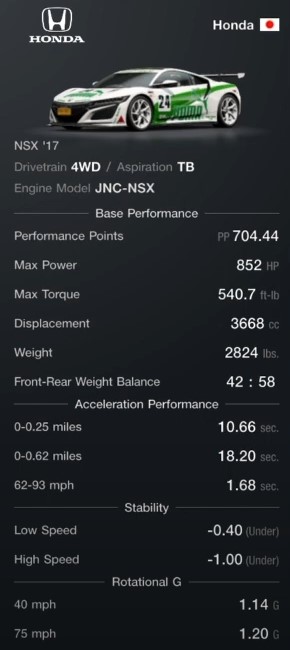 Performance Points: 704.44
Max Power: 852HP
Max Torque: 540.7ft-lb
Displacement: 3668cc
Car Parts
Place the following parts in the NSX. Let us know in the comment section below if you changed up the parts and what worked for you.
Engine Tuning
Bore Up
Stroke Up
Engine Balance Tuning
Polish Ports
High Lift Cam Shaft
Racing Crank Shaft
Bodywork
Weight Reduction: 1, 2, and 3
Increase Body Rigidity
Honda NSX 17 Top Speed Tune – Car Settings
These are the following settings made to the Honda NSX to make this top-speed tune. Don't forget to complete the transmission adjustment. This is important for maximizing every bit of speed from each gear.
Tires
Front: Heavy Wet Racing
Rear: Soft Racing
Suspension
Body Height Adjustment: 81: 81
Anti-Roll Bar: 9: 9
Damping Ratio(Compression): 29: 29
Damping Ratio(Expansion): 42: 42
Natural Frequency: 2.70: 2.70
Negative Camber Angle: 2.4: 1.8
Toe Angle: 0.03: 0.08
Differential Gear
Differential: Fully Custom
Initial Torque: 16:16
Acceleration Sensitivity: 28:28
Braking Sensitivity: 45:45
Torque-Vectoring Centre Differential: Normal
Front/Rear Torque Distribution: N/A
Aerodynamics
ECU
ECU: Full Control Computer
Output Adjustment: 100
Performance Adjustment
Ballast: 0
Ballast Positioning: 0
Power Restrictor: 100
Transmission
Transmission: Fully Custom Racing
Top Speed: 250
Transmission Manual Adjustment
1st: 1.775
2nd: 1.378
3rd: 1.125
4th: 0.981
5th: 0.843
6th: 0.730
7th: 0.609
Final: 3.717
Nitro/Overtake
Nitro Overtake: Nitro
Output Adjustment: 50
Supercharger
Turbocharger: High RPM
Anti-lag: Anti-Lag System
Anti-Lag System: Strong
Intercooler: Racnig Intercooler
Supercharger: None
Intake & Exhaust
Air Cleaner: Racing Air Filter
Muffler: Racing
Exhaust Manifold: Racing
Brakes
Brake System: Racing(Slotted Discs)
Brake Pads: Racing
Handbrake: Drifting Handbrake
Handbrake Torque: 100
Brake Balance: Brake Controller
Front/Rear Balance: 0
Steering
Change Steering Angle: Normal
4WS System: None
Rear Steering Angle: N/A
Drivetrain
Clutch & Flywheel: Racing
Propellor Shaft: Normal
Conclusion
This tune was originally made by JohnnySDVR. We highly recommend checking out his GT7 tunes.