This build guide takes you through the Lexus SC300 best drift tune and breaks down every part and tuning you need to change to get the perfect SC300 drift whip.
The Lexus SC300 is a beauty on those corners and looks even more beautiful slammed to the ground with her front and rear track width maxed out.
Check out the in-depth guide below.
Vehicle History
The Lexus SC model is a luxury car made by Lexus. Lexus is a luxury car division of Toyota. The SC models were built between 1991 and 2010. The SC300 is a part of the first generation of SC models produced between 1991 and 2000.
Drift Tune Specs
Below are the stats for the Lexus SC300 drift build. As you can see the drift tune is A class and has 785HP with 0.90 of lateral Gs. She's a beast!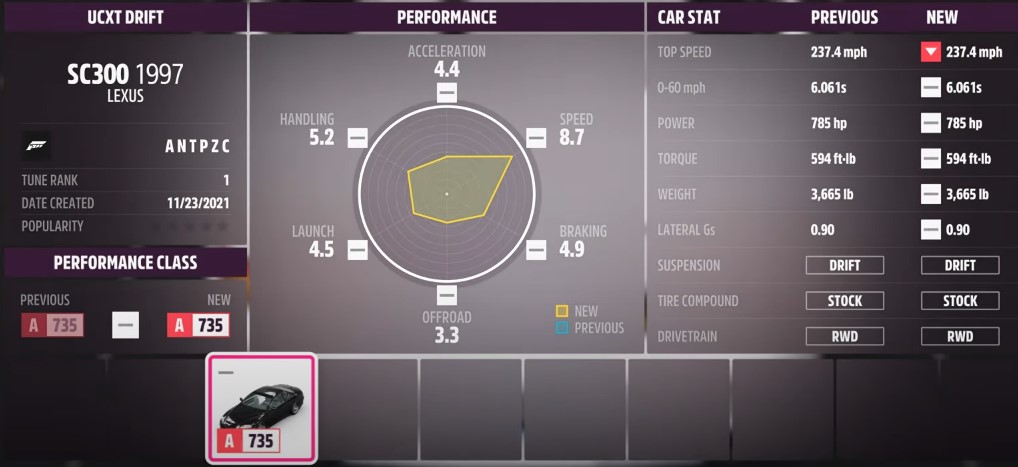 Drift Car Parts
All drift parts below should be applied to the car. Please copy the parts step by step to make sure you don't miss out on any. Cosmetics such as bodykits and rims, etc can be changed but this doesn't make a difference to the performance of the tune.
Engine Swap: 2.6L I6 TT
Tire: Stock
Front Tire Width: 215mm
Rear Tire Width: 235mm
Front Track Width: Upgraded Max
Rear Track Width: Upgraded Max
Clutch: Race
Transmission: Race
Driveline: Race
Differential: Race
Brakes: Race
Spring and Dampers: Drift
Front Anti Rollbar: Race
Rear Anti Rollbar: Race
Chassis Reinforcement Roll Cage: Sport
Weight Reduction: Stock
Intake: Race
Fuel System: Race
Ignition: Race
Exhaust: Sport
Camshaft: Race
Valves: Race
Displacement: Race Engine Block
Pistons/ Compression: Race
Twin Turbo: Race
Intercooler: Race
Oil/Cooling: Race
Flywheel: Stock
Drift Tuning
Below are the exact drift tune stats for the SC300 best drift tune in Horizon 5. It's tweaked well and shouldn't need any adjustments. Please note that sometimes Forza updates the stats and how they are shown. Please adjust accordingly or let us know in the comments if you noticed anything incorrect.
Tires
Gearing
Final Drive: 2.95
1st: 3.50
2nd: 2.50
3rd: 1.80
4th: 1.50
5th: 1.20
6th: 0.90
Alignment
Camber
Toe
Front Caster
Antiroll Bars
Springs
Ride Height
Damping
Rebound Stiffness
Bump Stiffness
Aero
None
Brake
Braking Force
Balance: 25%
Pressure: 20%
Differential
Acceleration: 100%
Deceleration: 100%
Summary
That's sums up the drift tune for the SC300. Make sure to leave a comment below and let us what you think of the tune. Don't be afraid to share this post with your friends.
This tune was originally built by UCXT Ant, check out their channel sometime.
While you're here, we have loads of other Forza Horizon 5 drift builds that you check out.