If you find yourself wanting to play Street Racing Syndicate again. The best way to play it again is to download it from Steam. When I bought it, it was only 3 bucks. A bargain really! Although, it is 15 years old. The game was released in August 2004. Crazy to think it was that long ago.
Any new standard PC can run this game quite easily. Check out the system requirements below:
Street Racing Syndicate Minimum Requirements
| | | |
| --- | --- | --- |
| OS | Processor | Graphics |
| Windows 7/8 | 1 GHz | 32 MB DirectX 9.0b compatible video card |
How to Mod Street Racing Syndicate to Widescreen
It's actually easy to upgrade the game to widescreen. Below will show you step by step.
Step 1: Download the modded SRS file
The first step is to download the modded srs.exe file from the link below. This is a file I uploaded to Google Drive from my computer. So don't worry, no viruses included.
Step 2: Replace old srs.exe
Secondly, go to your Street Racing Syndicate root folder and copy and paste the downloaded srs.exe file into the root folder. This will replace your old srs.exe file. I recommend making a backup copy of the original srs.exe file somewhere else on your computer. In the example below, mine is located in the steamapps common folder.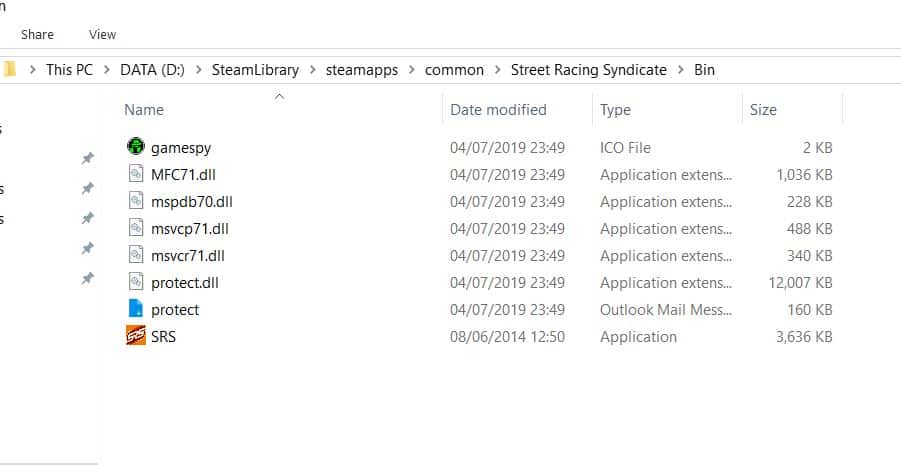 Step 3: Boot the Game as Administrator
The final step is to boot the game and make sure to right-click and run as administrator. Your Street Racing Syndicate game should run on Widescreen.
Possible Troubleshooting
System Error
Sometimes when running the game you may get this error.
"The code execution cannot proceed because MSVCP71.dd was not found. Reinstalling the program may fix this problem."
If this happens, go to the SRS root folder. Find the srs.exe file and right-click, run as administrator from within the root folder. The game should now boot in widescreen.
Explore some more AWESOME gaming guides while you're here…
Apex Legends BattleField Battle Royale Blackout Call of Duty COD Mobile Cold War Crash Team Racing Nitro Fueled Crypto DS4 Emulators Firestorm Fortnite Forza Forza Horizon 4 Gran Turismo Speed Tunes GTA GTA San Andreas Horizon 5 Launchbox Madden NFL 20 Minecraft Modern Warfare Mods MW2 MW Gunfight Tips Need For Speed NFSHeat NFS Unbound No Mans Sky P2E PCSX2 Play2Earn PS4 PUBG Racer Rocket League RPCS3 Skyrim Streamer Tips Streaming Tech Tips Temtem Warzone XDefiant