MEXC or MEXC Global is a cryptocurrency service provider founded in 2018. It now has over 6 million users in 70 countries around the world. If you're new to the platform. You're probably wondering how do I add money to my MEXC account?
We've got you covered…
In this post were going to show you step by step how to deposit USDT or tethered US Dollar into your MEXC account from both mobile and computer. However, this tutorial works for any other cryptocurrency.
How to Buy Crypto using Credit Card on MEXC – Desktop
Firstly, it's important to note that you need to complete the identity verification process before you can deposit funds into your account on MEXC.
So make sure you have completed this step first or you won't be able to deposit funds into your account.
Step 1 – Use Third Party Payment
The first step is to make sure you're logged in to your account from your desktop.
Secondly, from the home page, click on the drop-down menu Buy Crypto. Then select Third-Party Payment. This will take you to the payment portal where you can buy crypto with FIAT using your credit or debit card. Check out the image below.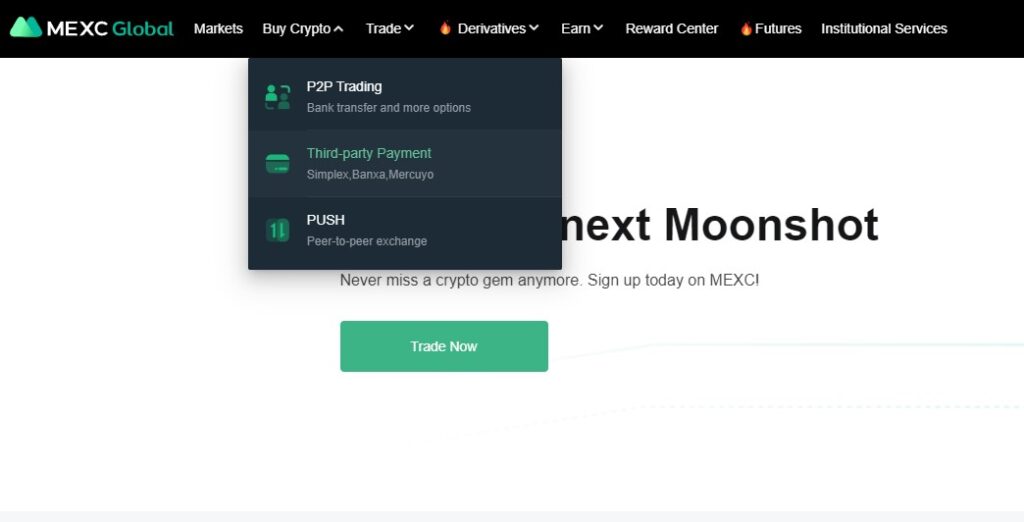 Step 2 – Select The Currency And Crypto
The payment portal looks like the image below. On the left, you input the amount you want to pay. You can choose a range of different currencies but USD is the default. $100 is the minimum as of now.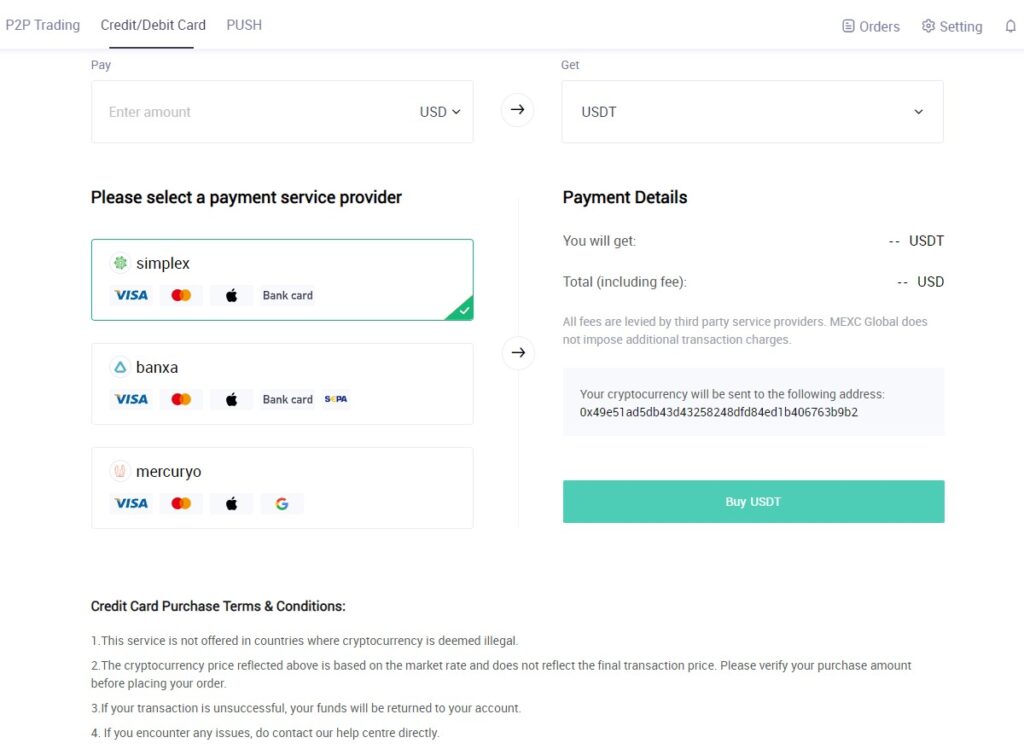 On the right, you can choose which cryptocurrency you want to get. By default, the crypto type is set to Bitcoin(BTC).
You can change this by selecting the arrow that opens a drop-down menu.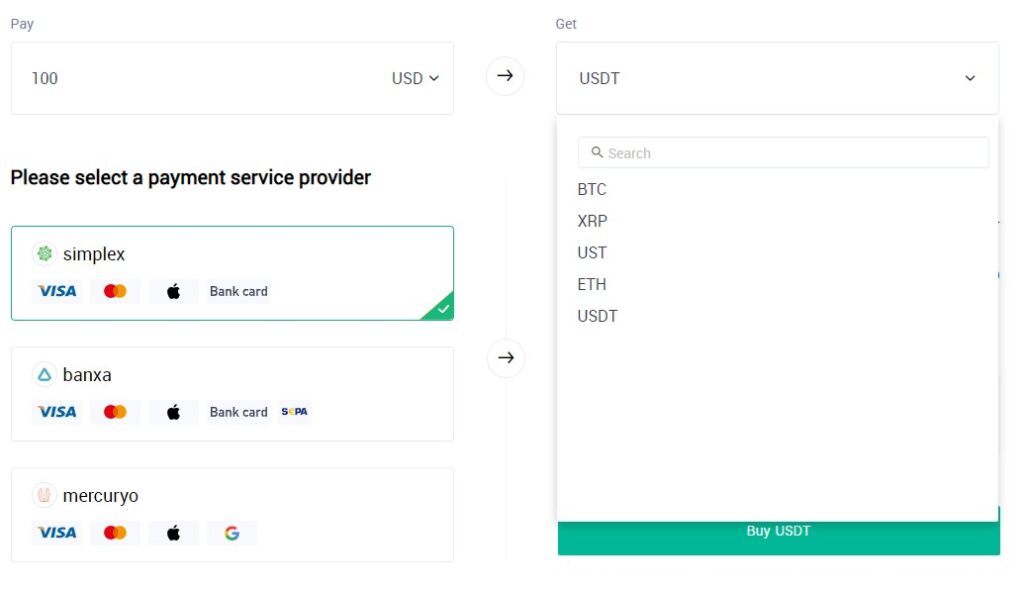 Next, it gives you the option to choose a payment service provider. Each provider will offer slightly different rates depending on the type of crypto you buy.
It's up to you to choose which one suits you best. We find simplex is the one we use most.
After you have inputted the amount you want to buy and chosen a service provider. The next step is to click the green button and complete the purchase.
You will be shown a Disclaimer that you are accessing a third-party website. This is the payment service provider's website that you must use to complete the transaction. Click Accept and Continue.
Next, fill out your card details and complete the verification process. The verification process normally involves uploading your ID to the portal.
This step is required for all transactions.
Finally, your transaction will be processed. It will take up from a few minutes to a few hours for the crypto to be available in your account.
Explore More: Cryptocurrency guides and updates!
How to Buy Crypto using Credit Card on MEXC – Mobile
Buying crypto using a card on the MEXC app is similar to the desktop. However, it's just a different layout.
When you're new to the app, it can seem overwhelming. But don't worry, we've broken down the process into a few easy steps.
Firstly, from the MEXC app home screen, select the P2P Trading tab.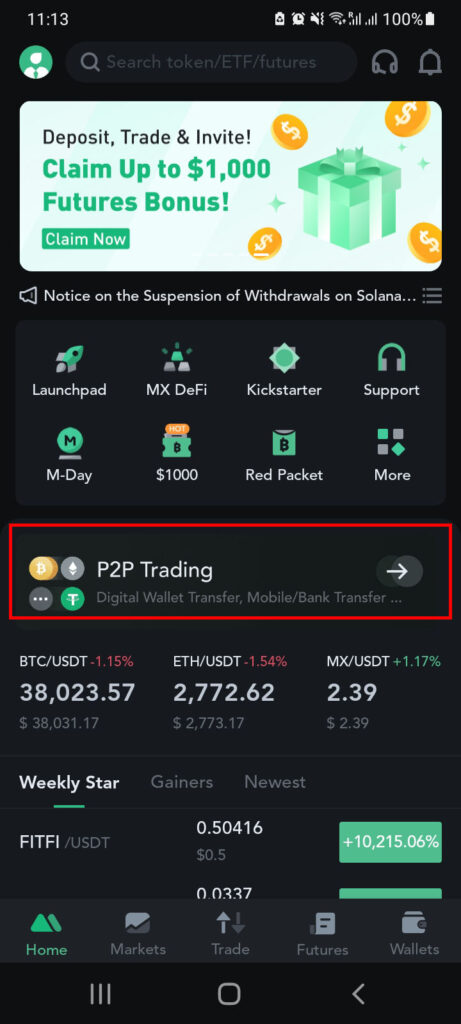 Secondly, this will take you to the P2P Trading window. Scroll down and select the option to "Use Visa/Mastercard to buy digital assets".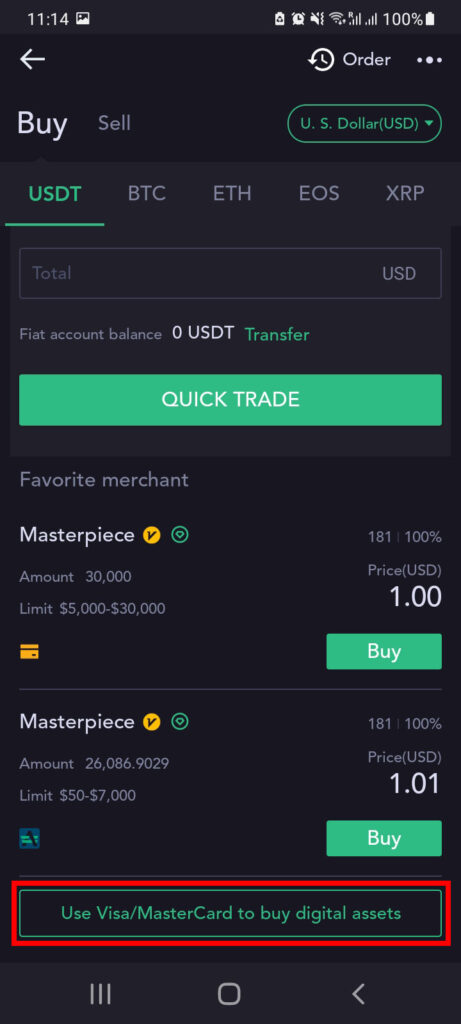 When you select this, you are taken to a screen where you can fill in the details of your order. See the image below.
Fill out what currency you want to use to pay for the crypto. Then choose the crypto you wish to get.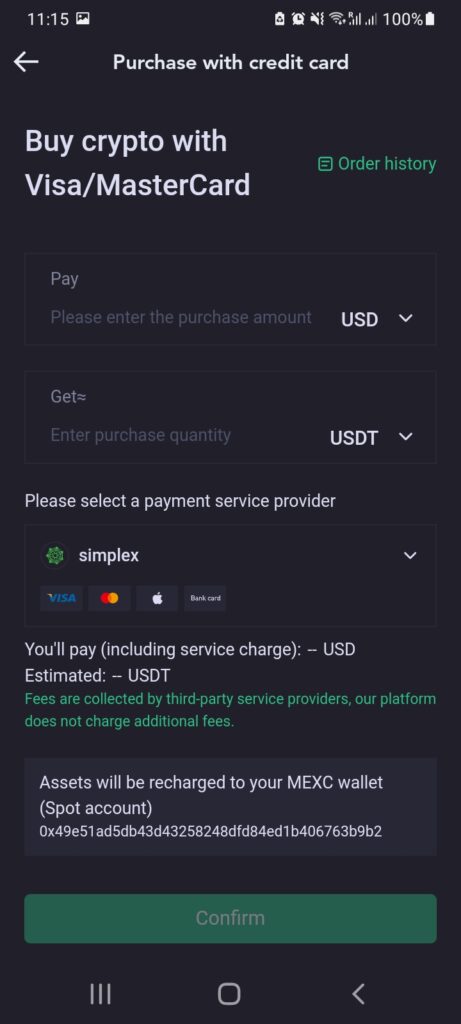 You have the option of choosing a payment provider. We tend to use simplex most of the time but check the other options to see if they have a better rate.
After you confirm the order, fill in your card details and complete the ID verification process.
Your crypto should be deposited into your account within a few minutes to a few hours.