This GT7 tuning guide shows you how to make the Honda Integra Type R DC2 '98 Best Track Tune. Crank nearly 700 Performance points out of this monster!
Vehicle History
The Honda Integra Type R DC2 is a high-performance version of the Honda Integra.
It was produced from 1997 to 2001, and it is considered to be one of the most iconic Honda models ever made.
The Type R DC2 was powered by a 1.8L engine that produced 190 horsepower, making it one of the most powerful Honda models ever made at the time.
It also featured a number of performance upgrades, including upgraded brakes and suspension, as well as a sportier body kit.
The Honda Integra Type R DC2 quickly gained a reputation for being one of the best performing front-wheel-drive cars ever made, and it has developed a large following among enthusiasts over the years.
Many consider it to be the quintessential Honda sports car, and it is often praised for its superb handling and blistering performance.
While it may not be the most practical car ever made, the Honda Integra Type R DC2 is, without doubt, one of the most exciting and fun-to-drive cars ever made.
Check out more of our Gran Turismo tuning guides while you're here.
Car Specs
Max Power: 366BHP
Max Torque: 213.7ftlb
Displacement: 1887cc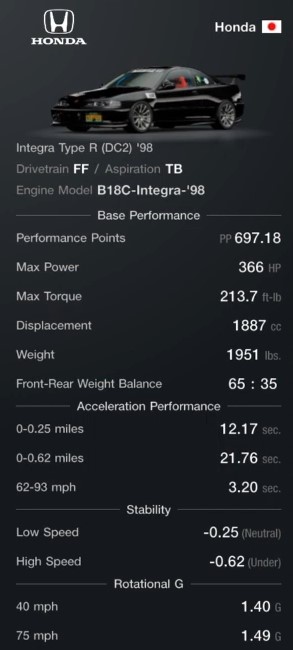 Car Parts
Engine Tuning
Bore Up
Stroke Up
Engine Balance Tuning
Polish Ports
High Lift Cam Shaft
Racing Crank Shaft
Bodywork
Weight Reduction: Weight Reduction 1, 2, and 3
Increase Body Rigidity
Honda Integra Type R DC2 '98 Best Track Tune – Car Settings
Tires
Front: Racing soft
Rear: Racing Soft
Suspension
Body Height Adjustment: 86:87
Anti-Roll Bar: 6:5
Damping Ratio(Compression): 32:32
Damping Ratio(Expansion): 44:44
Natural Frequency: 1.90:2.20
Negative Camber Angle: 1.8:0.6
Toe Angle: 0.09:0.12
Differential Gear
Differential: Fully Custom
Initial Torque: 10:0
Acceleration Sensitivity: 40:0
Braking Sensitivity: 50:0
Torque-Vectoring Centre Differential: None
Front/Rear Torque Distribution: 100:0
Aerodynamics
ECU
ECU: Full Control Computer
Output Adjustment: 100
Performance Adjustment
Ballast: 0
Ballast Positioning: 0
Power Restrictor: 100
Transmission
Transmission: Fully Custom Racing
Top Speed: 240
Transmission Manual Adjustment
1st: 2.677
2nd: 1.796
3rd: 1.261
4th: 0.920
5th: 0.692
Final: 4.681
Nitro/Overtake
Nitro Overtake: None
Output Adjustment: 0
Supercharger
Turbocharger: Medium RPM
Anti-lag System: None
Anti-Lag System: Off
Intercooler: Racing Intercooler
Supercharger: None
Intake & Exhaust
Air Cleaner: Racing Airfilter
Muffler: Racing Muffler
Exhaust Manifold: Racing
Brakes
Brake System: Carbon
Brake Pads: Racing
Handbrake: Normal
Handbrake Torque: 0
Brake Balance: Brake Controller
Front/Rear Balance: 1
Steering
Change Steering Angle: Normal
4WS System: None
Rear Steering Angle: N/A
Drivetrain
Clutch & Flywheel: Racing
Propellor Shaft: None
Conclusion
This tune was originally made by JohnnySDVR. Check out his content on YouTube sometime.