This guide goes through the Nissan Fairlady Z 300ZX Best Speed Tune in Gran Turismo 7. We give you the tuning and parts needed to make this 270+ MPH beast.
Vehicle History
The history of the Nissan Fairlady Z 300ZX is a rich and interesting one.
The car has been around since the early 1980s and has remained a popular choice for drivers ever since.
Here's a look at the history of this iconic car.
The Nissan Fairlady Z 300ZX was first introduced in Japan in 1982.
It was designed as a successor to the popular Nissan 240Z, and it quickly gained a following among drivers.
The car was praised for its stylish design and impressive performance.
In 1985, the Nissan Fairlady Z 300ZX made its debut in the United States.
It was met with great enthusiasm from American drivers, and quickly became one of the most popular sports cars on the market.
Check out more of our GT7 Best Speed Tunes while you're hanging around.
Car Specs
Top Speed: 275MPH
Max Power: 691BHP
Max Torque: 540.6ft-lb
Displacement: 3109cc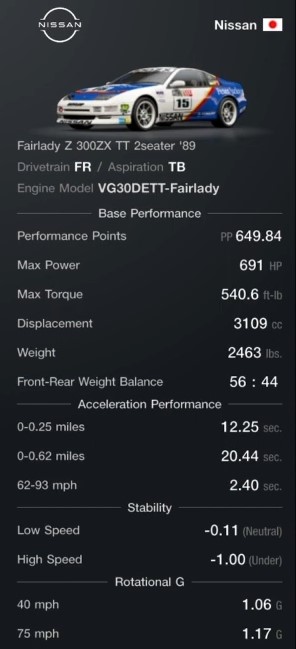 Car Parts
Below are the car parts need to make the tune for the Fairlady. Make sure to add these parts before moving on to the car settings.
Engine Tuning
Bore Up
Stroke Up
Engine Balance Tuning
Polish Ports
High Lift Cam Shaft
Titanium Connecting Rods and Pistons
Racing Crank Shaft
Bodywork
Weight Reduction 1, 2, and 3
Increase Body Rigidity
Nissan Fairlady Z 300ZX Best Speed Tune – Car Settings
Copy the following car settings to make the Fairlady Z tune. You can try it out and mess around with it. We recommend using nitrous for maximum speed. Let us know in the comment section if you liked the tune.
Tires
Front: Heavy Wet
Rear: Soft
Suspension
Body Height Adjustment: 97:99
Anti-Roll Bar: 8:7
Damping Ratio(Compression): 27:27
Damping Ratio(Expansion): 41:41
Natural Frequency: 2.28:2.08
Negative Camber Angle: 2.8:1.6
Toe Angle: 0.06:0.09
Differential Gear
Differential: Fully Custom
Initial Torque: 0:20
Acceleration Sensitivity: 0:30
Braking Sensitivity: 0:45
Torque-Vectoring Centre Differential: None
Front/Rear Torque Distribution: 0:100
Aerodynamics
ECU
ECU: Fully Custom
Output Adjustment: ECU
Performance Adjustment
Ballast: 0
Ballast Positioning: 0
Power Restrictor: 100
Transmission
Transmission: Fully Custom: Manual
Top Speed: 200
Transmission Manual Adjustment
1st: 2.527
2nd: 1.617
3rd: 1.113
4th: 0.799
5th: 0.582
Final: 3.300
Nitro/Overtake
Nitro Overtake: Nitrous
Output Adjustment: 100
Supercharger
Turbocharger: High RPM
Anti-lag System: Anti Lag
Anti-Lag System: On
Intercooler: Racing
Supercharger: None
Intake & Exhaust
Air Cleaner: Racing Air Filter
Muffler: Racing
Exhaust Manifold: Racing
Brakes
Brake System: Racing Slotted Discs
Brake Pads: Racing
Handbrake: Normal
Handbrake Torque: 0
Brake Balance: Brake Controller
Front/Rear Balance: 0
Steering
Change Steering Angle: Normal
4WS System: None
Rear Steering Angle: N/A
Drivetrain
Clutch & Flywheel: Racing
Propellor Shaft: Normal
Conclusion
This tune was originally made by JohnnySDVR. Check out his awesome content on YT some time.