This guide goes in-depth into the Fennec Best Class Setups & Attachments and breaks down stats like damage, fire rate, and recoil pattern. 
We also suggest the best attachments to use on the Fennec SMG and finally give our top 3 recommended class setups for the weapon. 
The Vectors back baby, now renamed to the Fennec in Modern Warfare 2019. This beast is a fast-firing submachine gun great for close-range rush type gameplay. 
Weapon background
The Fennec has appeared in previous Call of Duty's in the past as the Vector. Stretching all the way back as far as MW2. It was an absolute animal in Black Ops 2.
Stats
Damage: Head: 40-24, Body: 25-15, Legs: 22-13
Rate of Fire: 1080 RPM
Recoil: Moderate to Low
Time To Kill: 167ms at full health
We can see from the stats above that the Fennec mostly kills in 4 shots in medium to close range. This also depends on whether you land all your shots. By far the weapons best feature is its insane rate of fire at 1080 rounds per minute. This is the fastest RPM of any gun in the game. However, a fast fire rate combined with low recoil was always this weapon's strong point even in past COD titles.
Best Attachments
The best attachments for the Fennec SMG in Modern Warfare are the:
Stippled Grip Tape
ZLR Deadfall Barrel
40 round mag attachment
The Stippled Grip Tape allows super snappy sprint out times at 100ms. The Deadfall barrel increases range making the weapon more viable in medium-range combat. The 40 round mags are essential on the Fennec as the weapon only comes with a 25 round magazine.
Best Class Setups
Here are the top 3 best class setups for the Fennec SMG. We have included 3 classes to suit a range of playstyles. 
Class 1 – Fennec Double Time
This class is great for overall speed and hitting those higher killstreaks easier. Attach the following onto the Fennec:
ZLR 18" Deadfall
APX5 Holographic Sight
FORGE TAC CQS
Tactical Foregrip
Stippled Grip Tape
Class Setup
The rest of the class is geared towards speed and aggression. Double Time is great for getting around the map fast and Tune Up gets you your field upgrade a lot quicker. Hardline will help you get your killstreaks faster.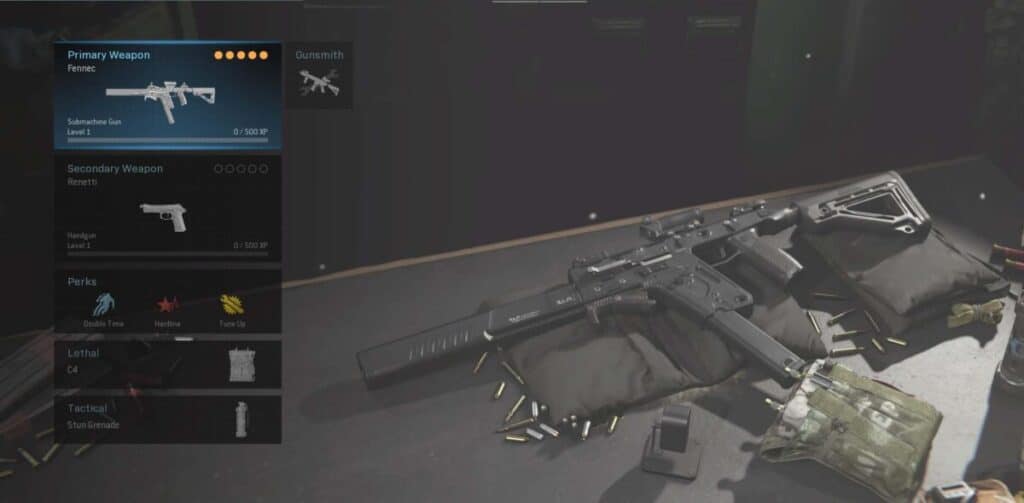 Secondary: The Renetti pistol is slick and powerful. 
Perk 1: Double Time
Perk 2: Hardline
Perk 3: Tune Up
Lethal: C4
Tactical: Stun Grenade
Class 2 – Fennec Warzone
The Fennec Warzone class is great for dominating in Battle Royale. Perfect for close range as well as long-range. You need to try it. Load the Fennec with the following attachments: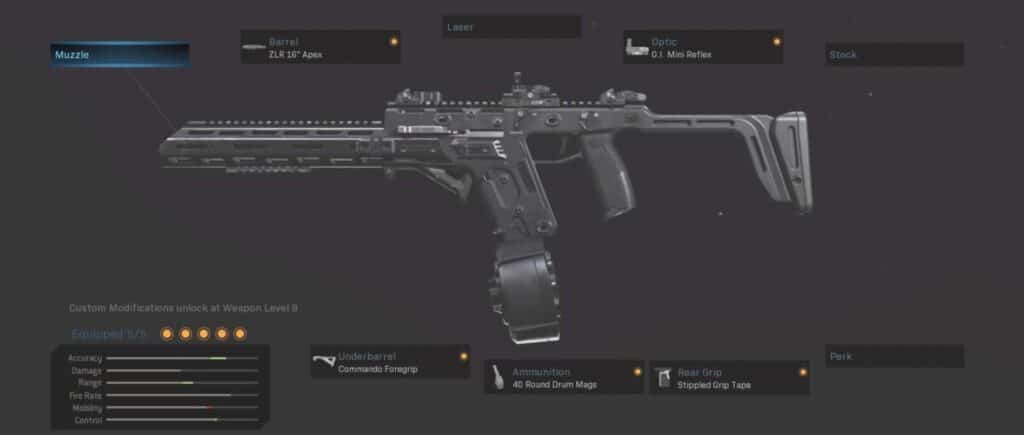 ZLR 16" Apex
G.I. Mini Reflex
Commando Foregrip
40 Round Drum Mags
Stippled Grip Tape
Class Setup
The remainder of the class is perfect for Warzone. E.O.D is very effective for countering claymores and C4, Overkill allows the AX-50 as secondary, and Amped will have you switching to your sniper quicker.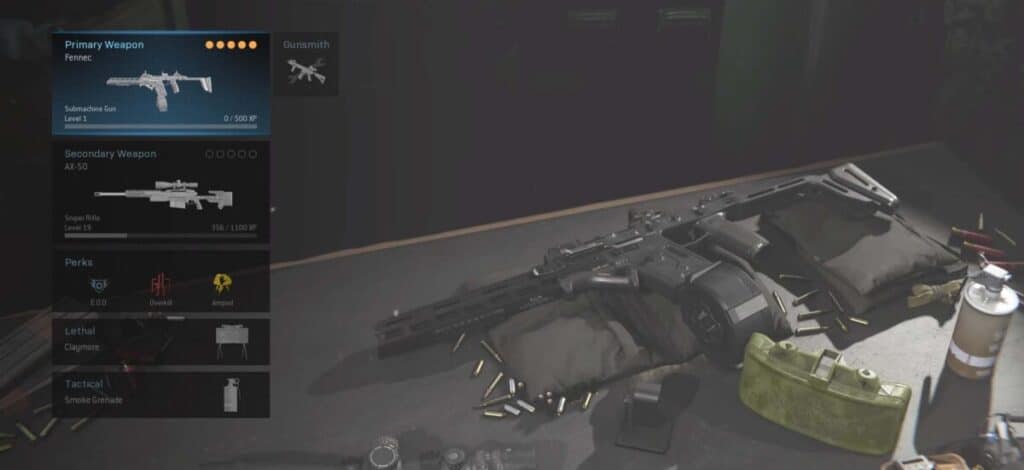 Secondary: AX50 is the best sniper for fast and snappy encounters in Warzone.
Perk 1: E.O.D.
Perk 2: Overkill
Perk 3: Amped
Lethal: Claymore
Tactical: Smoke Grenade
Class 3 – Fennec Objective
The final Fennec class is made for objective-based game mode such as Domination and Hardpoint. Load these attachments on the SMG: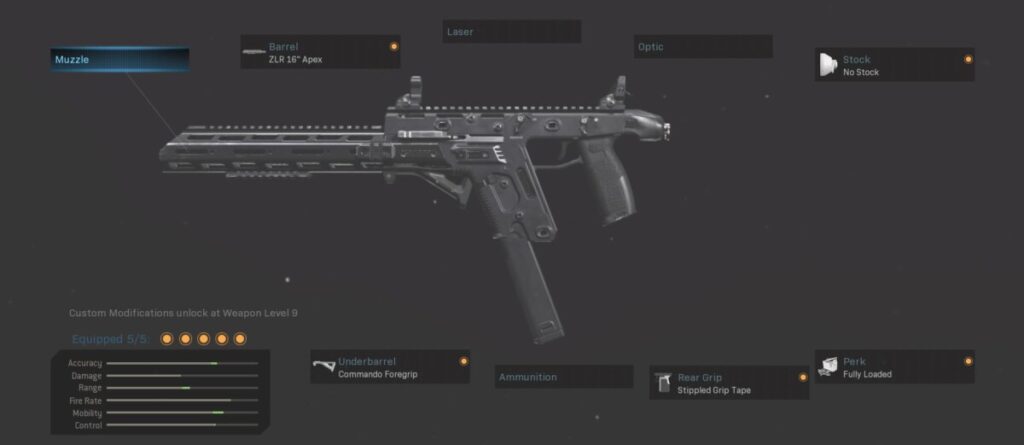 ZLR 16" Apex
No Stock
Commando Foregrip
Stippled Grip Tape
Fully Loaded
Class Setup
The rest of this class is great for maximizing equipment and ammo. All perks used will keep you protected from explosives, keep your equipment loaded and protect you from enemy equipment.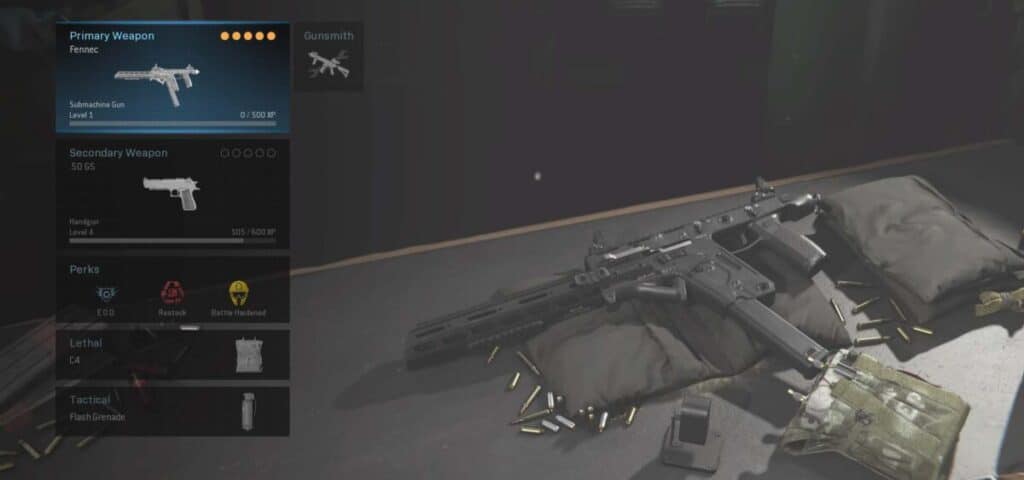 Secondary: .50 GS is a god tier pistol. Check out our review here.
Perk 1: E.O.D.
Perk 2: Restock
Perk 3: Battle Hardened
Lethal: C4
Tactical: Flash Grenade