Today's Forza Horizon 5 tuning guide looks at the BMW M8 Best Drift Tune. We list the parts and tuning needed to make the tune.
Vehicle Overview
The BMW M8 Competition is a high-performance variant of the BMW 8 Series. It was first introduced in 2018 as a more powerful alternative to the standard M8.
The M8 Competition features a twin-turbocharged V8 engine that produces 625 horsepower and 750 Newton meters of torque.
This allows the car to accelerate from 0-100 kilometers per hour in just 3.2 seconds. The M8 Competition also features an upgraded suspension and brakes, as well as unique exterior and interior design elements.
The BMW M8 Competition has its roots in motorsport. In fact, the very first M8s were racing cars that competed in the 24 Hours of Le Mans in 1988.
These race cars featured a 5.0-liter V12 engine that produced over 600 horsepower. The M8 Competition follows this tradition of high performance and luxury.
Today, the BMW M8 Competition is one of the most powerful and exclusive cars in the world. It combines incredible performance with sumptuous luxury, making it a truly unique driving experience.
More Horizon 5 Tuning Guides: M8 Competition Drag Tune
Drag Tune Specs
Top Speed: 155.9MPH
0-60MPH: 3.026s
0-100MPH: 6.176s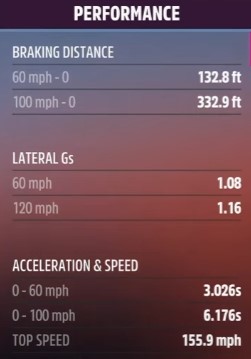 BMW M8 Best Drift Tune – Parts
Add the following parts to make the BMW M8 Best Drift Tune. Copy the parts below. However, we have listed the body parts here. These are optional as they don't make a difference to the performance of the tune. The body parts are the AC Schnitzer Sport Front Bumper, Stock Rear Wing, AC Rear Bumper, AC Side Skirts, and the AC Street Hood.
Engine: Stock
Drivetrain: RWD
Tire: Drift
Front Tire Width: 285mm
Rear Tire Width: 285mm
Front Track Width: Max
Rear Track Width: Max
Transmission: Race 6 Speed Transmission
Driveline: Race
Differential: Drift
Spring and Dampers: Drift
Front Anti Rollbar: Race
Rear Anti Rollbar: Race
Chassis Reinforcement Roll Cage: Race
Weight Reduction: Race
Intake: Race
Fuel System: Race
Ignition: Race
Camshaft: Race
Valves: Race
Exhaust: Race
Displacement: Race
Pistons/ Compression: Race
Twin Turbo: Race
Oil/Cooling: Race
Flywheel: Race
Drag Tuning
The following tuning has been applied to make the drift tune. Take it out onto the canyons and test it out for yourself. Let us know in the comment section below if you like it or if you would make any changes.
Tires
Gearing
Final Drive: 4.10
1st: 2.24
2nd: 1.64
3rd: 1.28
4th: 1.16
5th: 1.08
6th: 0.98
Alignment
Camber
Toe
Front Caster
Antiroll Bars
Springs
Ride Height
Damping
Rebound Stiffness
Bump Stiffness
Aero
None
Brake
Braking Force
Balance: 80%
Pressure: 65%
Differential
Front
Acceleration: 100%
Deceleration: 100%
Summary
This tune was created by JonezN4K. Check out his YT channel sometime.